USD/JPY
US Treasury Secretary Steven Mnuchin reiterated his view about the strength of the US dollar. Mnuchin said in an interview that "I think that over long periods of time, the strength of the dollar is a good thing. It's a function of the confidence and the strength of the US economy."
Mnuchin discussed Trump's tax reforms and confirmed that the US tax code was not revised due to the failure in replacing Obamacare and acknowledged that the implementation of the US tax reforms will further be delayed.
The US economy is currently low on confidence and President Donald Trump stated that the infrastructure spending would be bundled as part of other bills. He also stated that the healthcare bill will be implemented. The Trump's administration prefers a weaker greenback and the Federal Reserve's less hawkish policy suggests that the greenback is unlikely to rise further.
With the tax reforms being delayed, the infrastructure spending combined with the hawkish market sentiment for Fed rate hikes continues to weigh on the currency. As a result, the dollar has not benefited much and has been going down.
The USD/JPY pair on the 4-hour chart is currently at a key area where price has found some support. The 50EMA and 100SMA indicates that the pair may continue with the original downtrend and the price action changes the movement for the pair to shift to the downside with oscillator at 20.0 levels.
This suggests the pair for some downward bias and sees the price in the region of 108.02. The USD/JPY remains bearish with minor resistances intact and deeper decline is still expected for the pair as long as resistances hold the area. Such a decline is viewed as a correction and may continue with the original trend.
We'd expect resistance and intraday bias to remain bearish and we must wait for the price action to move once the dust settles around the first target for further price action signaling.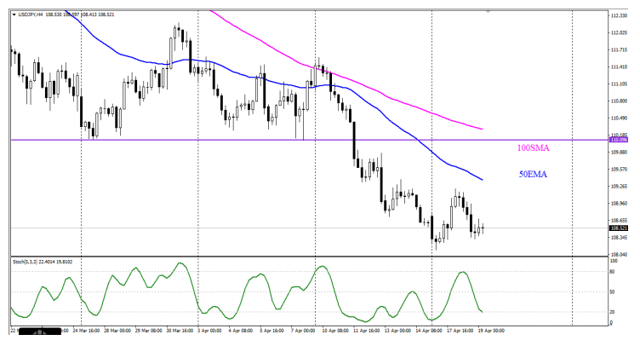 For more daily market insights, visit NoaFX Knowledge Center.