EUR/JPY
The estimate of the Euro area's international trade in goods surplus came at €17.8 bn.
Japan's trade surplus showed an increase in the imports growth when compared with the exports. The Finance Ministry reported a merchandise trade surplus of ¥614.7 billion in March, when compared to February's trade surplus. The Japanese imports rose by 15.8% in March, following a gain in February. The exports are seen rising continuously in the past few months.
Tokyo showed a seasonally adjusted trade surplus of ¥172.2 billion last month. One of the major growth signs of the economy is based on the performance of the export sector. The International Monetary Fund (NYSE:IMF) stated that the rising export rate is the reason for Japan to remain as the world's third largest economy.
Despite the expansion of GDP by 1% last year, Japan's statistics bureau reported that the inflation looked to have reached its low point. The Bank of Japan (BoJ) did not change the monetary policy last month and a next meeting is scheduled for next week.
The EUR/JPY pair seems to have found support at the 50EMA after breaking the MA and settling above it. The pair looks to move upward with price action candle formation calling for some upward movement after the price has found support (former resistance/support) and close below a well-defined floor around 116.543.
This should occur under normal circumstances and attract more buying. The oscillator is currently above 50.0 levels and shows some strength. If a bounce takes place, the EUR/JPY could climb back to the top of the channel and test resistance at the key area.
The pair moves towards the level of 117.488 which is also the 100SMA. Before making any further movement with the still bullish scenario, we shall look for the pair to move to our levels.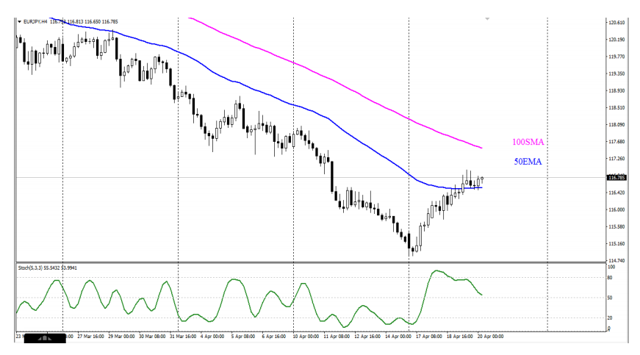 For more daily market insights, visit NoaFX Knowledge Center.