CAD/JPY
After a four month consecutive increase, the wholesale sales in Canada dropped down by 0.2% from $58.9 billion in February. Sales went down in four of seven subsectors, which accounted to 54% of the total wholesale sales. The housing prices increased in Canada when policy makers introduced measures to raise the home prices.
Ontario Premier Kathleen Wynne and her Finance Minister Charles Sousa put in place a 15% foreign buyer's tax in the Greater Toronto Area last week. Similar tax moves were made in Vancouver last year. These tax measures have been implemented after statements from bank officials including Bank of Canada Governor Stephen Poloz and Finance Minister Bill Morneau.
Outside the housing market, the consumer sentiment may also be getting a lift from a solid labor market and output growth. According to the Canadian Real Estate Association, the housing prices in the Toronto region rose by 6.2 % in March and have jumped almost to 30% in the past 12 months.
Japanese finance minister Taro Aso mentioned that the economy has prospered due to the benefits of free trade, and he shared the importance of free trade at the G20 summit.
The CAD/JPY pair price showed a bearish bias domination by providing a new negative close below 81.783 levels to keep the expected negative stability. Breaking 80.796 levels will extend the losses in the near and medium period to reach correction levels at 79.521, forming the first main station of the bearish bias.
The stochastic stability within the oversold level reinforces our bearish expectations, which provides an extra negative momentum that allows it to resume the bearish attack and achieve the suggested target. With the pair being rejected at 100SMA, breaking the 50EMA will continue with its original decline and we look for further downfall from here as the pair has been strongly rejected at the resistance levels.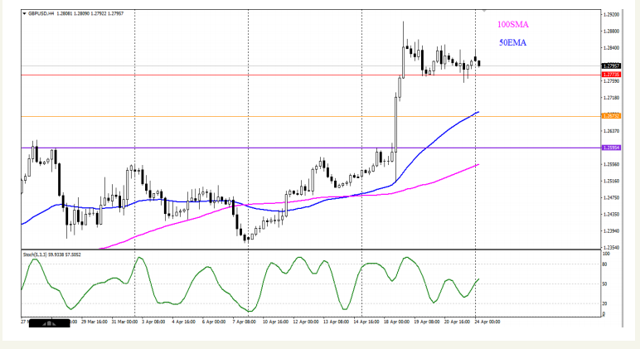 For more daily Forex signals, visit NoaFX Knowledge Center.