EUR/USD
Euro zone and International Monetary Fund officials will meet to discuss the issue regarding the debt relief for Greece later in the day along with meeting of G7 finance ministers and central bankers.
The meetings are scheduled to help determine how euro zone lenders, who hold Greece debt, should ensure the fullfilment of their promise of debt relief to Greece from last year to satisfy the International Monetary Fund.
The International Monetary Fund believes that debt relief is needed to restore confidence in Greece. The final decision on how to phrase the debt for Greece shall be taken during the next meeting of all euro zone.
The Federal Reserve may look forward for the future interest rate but not at a fast pace since the U.S. unemployment numbers are moving much lower. Many feel that the rate increase may not occur any time soon, at least until the end of the year. When Fed officials make their statement during their June 13-14 policy meeting, they may indicate a steeper path of rate hikes.
Fed Chair Janet Yellen has tried to pull the labor force by keeping rates low gradually to preserve the expansion. Yellen and the Federal Open Market Committee are keeping the inflation under control while they allow the economy to probe the limits of labor market. While inflation does look under control, it has been above the FOMC's target.
The price of EUR/USD forms an obstacle against the negative attempts at 1.0877 and keeping the sideways stability below the main bearish resistance that located at current levels. In spite of the repeated positive attempts for the price action, its attempt to settle above the resistance levels has failed with 50EMA and 100SMA. The pair now will probably be preferring the bearish domination. The price gets a new negative momentum by bearish momentum and stochastic surpass below 50.0 level to expect the price decline towards 1.0798 that forms the first negative target in the near period. Therefore, we will keep preferring the bearish bias in the upcoming period, with a strong barrier against the positive attempts, and keep waiting for the price to reach our wild levels. Gathering some new negative momentum since this morning to notice its decline below resistance level.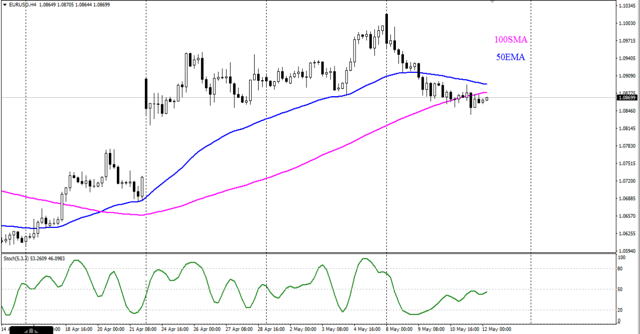 For more daily market insights, visit NoaFX Knowledge Center.