AUD/USD
Reserve Bank of Australia's (NYSE:RBA) Deputy Governor Guy Debelle stated that the cross currency basis increase is not a sign of stress and it can remain consistent with functioning markets. He added that "Most of the time, the basis is not a sign of stress."
Brainard, a member of the US Federal Reserve's Board of Governors, made no comments regarding the economic and monetary policy and stated that the labor market has grown stronger when compared to other sectors. The U.S. Treasury bond yields moved in yesterday due to lack of fresh fundamental news. All comments from the Federal Reserve speakers were mostly ignored as they didn't provide any major impact.
President Trump plans to release a $4.1 trillion budget for 2018 that targets the food stamp program and cuts deeply into programs for the poor. The White House looks to reduce $38 bln from farm bill programs and has made various provisions for $600 mln. The White House sees 10-year Treasury note averaging 2.7 percent in 2017 and a 3-month Treasury bill rate averaging 0.8 percent in 2017. Also, the White House sees the US Jobless rates averaging 4.6 percent in 2017.
The AUD/USD pair kept its stability above 0.7472 levels and provides a good positive support to the price. This keeps the bullish trend scenario valid for the upcoming period, waiting to test 0.7543 levels. It is important to monitor the price behavior when reaching it, as breaching this level represents the key for the pair to reach 0.7551 as a next main station.
The stochastic rises currently at 50.0 levels and supports the bullish bouncing from the trend line to resume the bullish trend with price action producing a good support from the 50SMA and 100EMA. The pair shows a bullish wave above support levels, and pushes the price to achieve higher levels.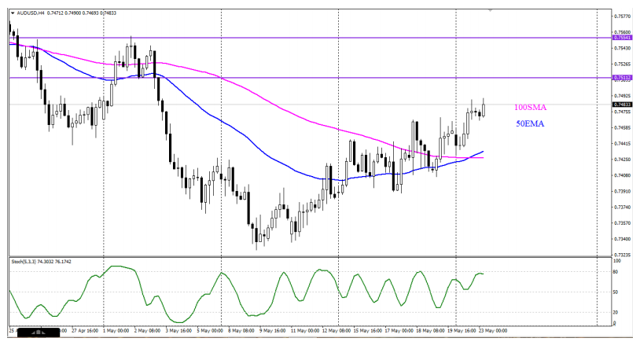 For more daily market insights, visit NoaFX Knowledge Center.