Philadelphia's Fed President Patrick Harker stated that two more rate hikes is needed this year. He mentioned that "Things are looking good, we're essentially at normal now and I continue to see two more rate hikes as appropriate this year." The U.S Treasury bonds went up yesterday after Trump announced his budget plans.
With the FOMC minutes coming up, the U.S. dollar looks to get back some momentum. The U.S. flash manufacturing PMI dropped down from 52.8 to 52.5 versus the forecasted value of 53.2. The U.S. flash services PMI went up from 53.1 to 54.0 versus the forecasted value of 53.3.
The Richmond Manufacturing Index dropped down from 20 to 1 versus the consensus at 15. The U.S. new home sales slipped from 642K to 569K versus the estimated value of 611K.
Minneapolis Fed President Neel Kashkari said that he needs to see more economic data before deciding on a possible rate hike in June. In particular, he acknowledged that the U.S. economy is moving closer towards full employment. However, the wage inflation has been slow and it should pull in more workers, lessening the remaining slack in the labor market.
Gold price achieved a strong rejection at 1260.6 levels and settled below it, putting the price under negative correctional pressure. The pair targets 1237.1 levels now, representing resistance.
The stochastic signals which are currently at 50.0 levels, continues to provide a negative resistance for the price, with price action testing the 50EMA support area. This pair has a strong rejection around this area and continues to be bearish.
Therefore, these factors encourage us to prefer the overall bearish trend in the upcoming period, and its continuation is conditioned by holding below the resistance levels. Breaking these levels represents a negative factor that will push the price for more downside moves on the long term.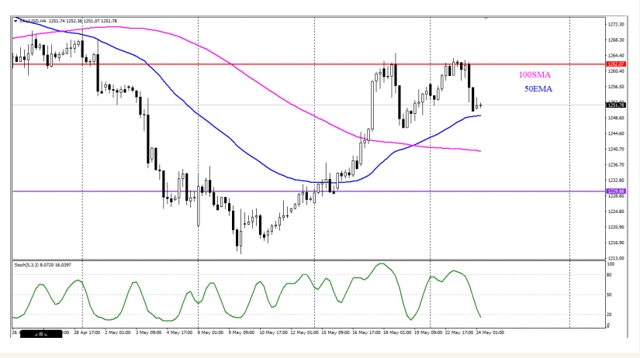 For more daily market insights, visit NoaFX Knowledge Center.