Robert Kaplan, President of the Federal Reserve Bank of Dallas stated that he sees two more rate hikes this year. Kaplan doubted Trump's plans of a 3% economic growth and said that they are continuing to achieve a 2% growth.
Kaplan is surely looking for two more interest rate hike this year and plans to reduce the $4.5 trillion balance sheet. Most FOMC members welcomed the decision of the central bank and found it appropriate for a rate hike soon.
Lael Brainard, a member of the U.S. Federal Reserve's Board of Governors stated that an interest rate hike will happen shortly, but the inflation numbers are lower than expected and this could impact the chances of the rate hikes. Most of the investors and traders see an 80% chance of a rate hike in the Fed's June 13-14th meeting. The rate hikes in June would push the Fed's target range from 1% to 1.25%.
Chris Rupkey, a chief economist of a bank said that "Fed officials can continue with their gradual pace of rate hikes in June as the economy remains on course for stronger growth this quarter and throughout the rest of the year." The United States Consumer Spending showed a massive increase in four months and indicated that the Fed will hike interest rates in June.
Gold price has been unable to break at 1267.63 levels and settled below this level, putting the price under negative correctional pressure. The stochastic signal is currently below 50.0 levels and continues to provide a negative resistance for the price rejection around this area.
Therefore these factors encourage us to keep preferring the overall bearish trend in the upcoming period and its continuation is conditioned by holding below the resistance levels. With the 50EMA approaching, we may see some delayed move where breaking this price level represents a negative factor that will push the price for more downside moves on the longest term mainly at 1249.74. Once broken, it will move the pair down to 1247.00 levels and a break in the newly found support line is bound to find the support and resistance, and may hold the flip zone.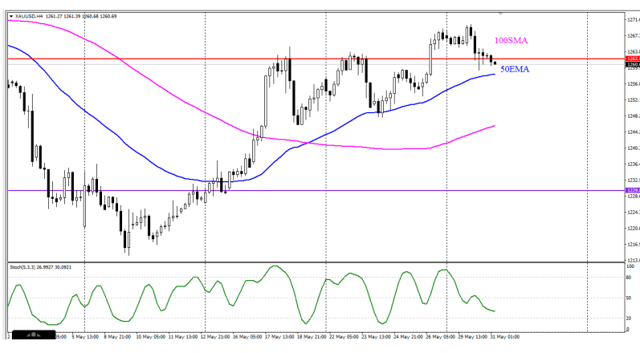 For more daily market insights visit NoaFX Knowledge Center