EUR/USD
The ABS Loan-level data is an important initiative by the Eurozone and has always ensured high transparency. Currently, several works are going on to revive the European ABS markets to ensure more transparency.
Yves Mersch, Member of the Executive Board of the ECB, mentioned in a statement that there would be more transparency in the form of Asset-backed securities (ABS) Loan-level data going forward.
The main challenge of the Non-Performing Loan (NPL) markets is the lack of a systematic and standardized access to high quality data on the non-performing loans. Creating an EU reporting system for loans would be one possible way to address the large stock of non-performing loans.
Continuous efforts to regulate and standardize the NPLs would pave the way for an active and happening NPL market. European Central Bank (ECB) Governing Council member Ewald Nowotny stated that the inflation target of 2 percent should not be very narrow and include a certain level of flexibility. After a bank holiday in the United States due to Independence Day celebrations, the dollar remained steady and continued to capture the market's attention.
EUR/USD pair is looking for a consolidation pattern from 1.1339 levels and is still in progress with support holding the levels. The price action produced a strong bullish momentum at the close of the previous candle and made some pull back indicating a shift in momentum to an upside bias with the pair closing above the break of the trend line.
The pair looks for a corrective upward bias with price action confirming the bullish movement and the medium term rally from current levels. With the pair finding support and the oscillator rising near 50.0 levels, sustained trading above 1.1437 will confirm a strong long term momentum. This will remain as the favorable case as the pair trading near the 50EMA finds a strong support. Hence, we prefer an upward bias and look to retest the resistance at 1.1437 areas.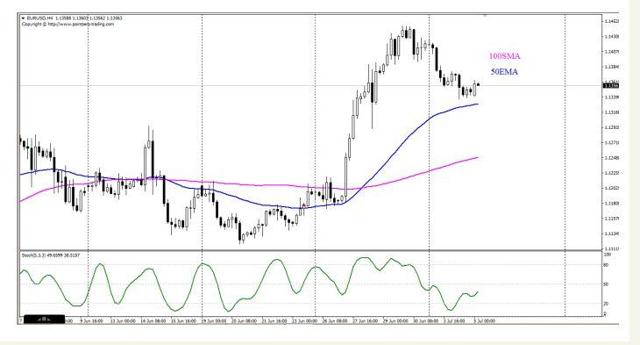 For more daily market insights, visit NoaFX Knowledge Center.