GBP/USD
Bank of England (BOE) Governor Mark Carney recently mentioned that he saw a strong demand for sterling as the markets reacted to the hawkish comments made by Carney. He also stated that a need has come for the banks to raise the interest rates before the end of this year. Carney said that "These are some of the issues that the MPC will debate in the coming months."
The BoE continues to prefer a stronger pound as the advantages of a weaker currency have been less than expected. Although the advantages are less than expected, the costs of the currency decline are going higher than the expected rates.
Bank of England (BOE) Deputy Governor Broadbent stated that the bank saw negative effects of a weakening GDP for exports and investment. BoE's chief economist Andy Haldane mentioned that the cost of living was one of the primary reasons to tighten the monetary policy.
The FOMC minutes were one of the most anticipated economic events. Contrary to market expectations of an interest rate hike and balance sheet trimming, the central bank officials were deeply concerned about the Fed's declining inflation rates. The minutes reported that "several preferred to announce a start to the process within a couple of months."
GBP/USD trading above 1.2900 levels gets a good support base that reinforces the expectations of continuing the bullish bias in the upcoming period. The way is open to head towards the recently recorded top at 1.30263 on the near term basis. The pair remains bullish for the moment with the pair trading on rebound after testing support area and that makes the trading settle now as appearing in the chart. Some consolidations would be seen with a bullish momentum and a further rise is expected from current levels with price action indicating a bullish momentum with the oscillator above 50.0 levels. We can see the pair showing signs of medium term bullish movement to upward bias and expected target projection of 1.3026 levels. The pair bouncing off the 50EMA support clearly indicates the shift in momentum towards upward bias and looks to consolidate from the support area.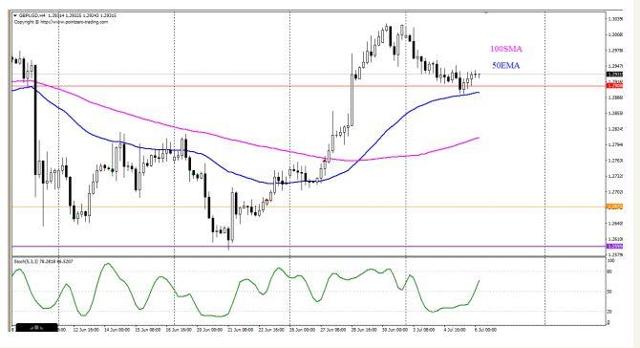 For more daily Forex market analysis, visit NoaFX Knowledge Center.