GBP/USD
The UK consumer spending growth dropped to 2.5 percent in June when compared to 2.8 percent in May. Extensive spending was seen on the household goods. Data releases from the British Retail Consortium (BRC) and KPMG revealed that the total sales rose by 2 percent in June. The total food sales were also seen expanding by 4.7 percent in June.
After the disappointing report from the UK last week, many suggested that the economy is no longer strong and hardy as it was earlier. With the Manufacturing PMI, Construction PMI and Services PMI being considered as the leading indicators of businesses, all the data readings showed a slower pace of growth. However, the three indicators showed gains with respect to the employment components in June.
The Bank of England (BOE) Governor Mark Carney and his officials are watching out on the inflation rates and are planning on the possible interest rate hikes for this year. Traders expect the central bank to implement proposals which will not cause any harm to consumer spending and overall growth.
The monetary policy decision would have an influence on the market's reaction to the sterling pound. In the latest monetary policy meeting, the policymakers opted for the potential interest rate hikes in order to keep the rising inflation in check.
The Fed's labor market conditions index came in weaker than expectations with a value of 1.5 versus the consensus at 2.5. The U.S. Consumer Credit report went above expectations with a value of $18.4 billion in May and crossed the consensus value of $12.1 billion. The consumer credit report revealed that the consumers showed an increased credit card spending, higher auto loans and student loans.
GBP/USD recently broke down and the moving averages are already in a downtrend mode. As for now, a bearish movement can be seen on the pair. With the 50EMA broken below and rejected now, we can see that the pair is currently trading sideways because the bulls are trying to push the pair back up above the broken levels. Anyhow, as mentioned earlier, we're mainly bearish on the pair. As such, we're waiting for a clear break past 1.2808 and then 1.2779 levels to confirm that the bears are in control. Given that the stochastic is already below 50.0 levels, the pair got violently rejected when it retested the resistance at 1.2898 levels. The most recent price action looks for further down fall and retests the 100SMA.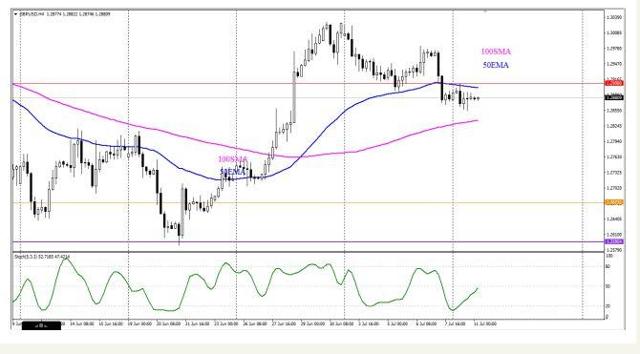 For more daily market insights, visit NoaFX Knowledge Center.