USD/CHF
The U.S. Federal Reserve Chairwoman Janet Yellen mentioned in her testimony to the Congress that the Fed would increase the interest rates at a slower pace than originally expected. Yellen also said that tightening the labor market would exert pressure on the wage rates.
After the U.S. Retail Sales and CPI data releases on Friday, it looks like the Fed might take some time to raise the interest rates. Due to the weak economic data, the value of the dollar dropped down in the markets.
As a result, the markets are now doubtful of the Fed's abilities to reduce the massive balance sheet and to hike the interest rates for this year. However, Fed funds indicate that there is a 50-50 chance of another rate hike in December.
Peter Costa, the President of the Empire Executions said that "I think that with her getting a little more dovish, I think that that may be pushed back until December, which, you know for financials may not be the great thing. But I think the financials are on a totally different footing now."
Dallas Fed Reserve President Robert Kaplan said that he is hopeful of the Fed's interest rate hike this year. He also expressed confidence over the Fed's unwinding of the balance sheet in a gradual and predictable manner.
Intraday bias in USD/CHF remains bearish with 0.9663 resistances intact. Deeper decline is expected for the pair as long as resistance holds the area. The price action stays below resistances so far at this point with the pair being rejected at this area. We view this area as a correction and continue with a downward bias. Thus, we'd expect the resistance and intraday bias to remain bearish. A break of 0.9663 levels indicates a near term bearish reversal with downside bias and oscillator below 20.0 levels. Current developments suggest that the medium term downside is expected to be further low and the focus shall be at 0.9604. Any break here should make lower lows with 0.9596 levels. With the pair being rejected at the 100SMA and 50EMA, further decline can be seen.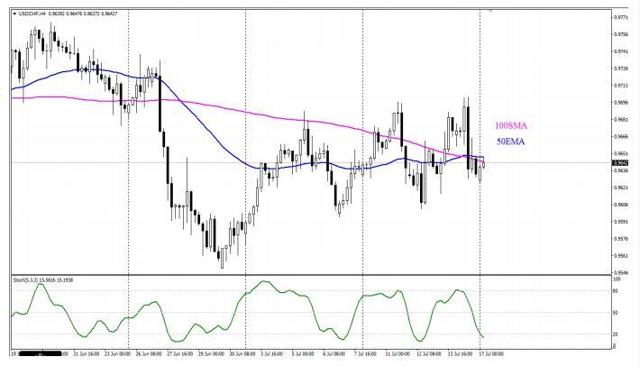 For more daily Forex signals, visit NoaFX Knowledge Center.