EUR/USD 
The European Central Bank (ECB) President Mario Draghi and his officials are struggling to make some adjustments in their message for the bond-buying program. Draghi will get another chance today to pass on his message in a news conference following the governing council's meeting.
The ECB has pledged to buy $69.1 billion worth bonds every month throughout 2017. Traders and investors are curious to know the plans of the ECB for 2018. Many economists expect the ECB to continue with its bond-buying program as it is the only way by which the bank can begin to raise the interest rates.
Traders should pay close attention to the ECB's Rate Decision later in the day. At this point, the ECB looks to keep the interest rates unchanged. ECB President Mario Draghi is expected to deliver his speech soon after the ECB's announcement and press conference.
Patrick, a senior investment manager stated that "Mario Draghi's speech last month helped to give wings to this mood of central bank hawkishness. We've seen financial conditions tighten since he spoke so he will be at pains to go no further than he already has on the hawkish tone."
The ECB's main role is to maintain the price stability along with the inflation target of 2 percent. Due to the major economic event release today, the interest rate decision might trigger a bearish trend in the EUR/USD pair and keep the markets volatile for the day.
In the news conference, ECB's President Draghi might convey the importance of the economic momentum which will give enough confidence to the policymakers to achieve the 2 percent inflation target.
Greenback began to slowly recover after a struggling U.S. data release last week. The U.S. Housing Starts report showed an improvement in the single family residential construction sector.
EUR/USD remains bearish with 1.1552 resistances intact and deeper decline is still expected for the pair as long as resistance holds the area. The price action stays below the resistances so far at this point and such a decline is viewed as a correction. Thus, we'd expect the resistance to hold the area. The pair remains bearish with a break at 1.1534 levels indicating a near term bearish reversal and a downside bias. With the stochastic oscillator currently below 50.0 levels, current developments suggest that the medium term downside are expected to be further low and the focus shall be at 1.1484 levels. Though the 50EMA and 100SMA are above the current levels, the price action suggests that the pair looks to retest the 50EMA first.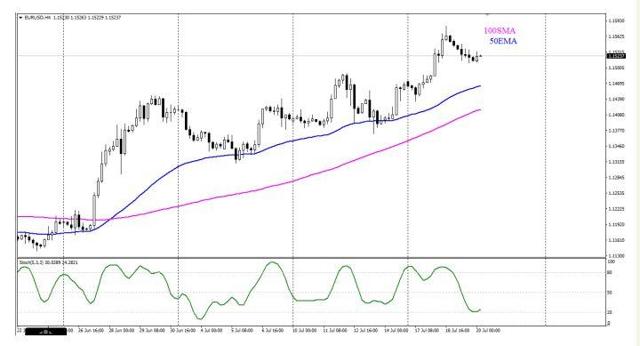 For more daily market insights, visit NoaFX Knowledge Center.