By the end of the year, due to the slow UK economic growth, Sterling will plunge by double-digits and on an annualized basis the growth will weaken below 1%. The Bank of England is back in action now by maintaining the interest rates. The overall expected growth for the year 2017 is expected to be 1.5%. If the situation prevails, BOE would hold off their decision of raising the interest rates. Depreciating home prices and weak wage growth should be a point of concern at this time.
With the ongoing problem of contemplating on the $4.2 trillion bond portfolio, Federal Reserve is fazed with another new problem. Yes, the prospects for tighter monetary policy in Europe and other countries is expected to put the Federal Reserve in more trouble. The next Fed Policymakers meet which will be happening on July 25 and 26th will mainly focus on either deciding the start date to reduce the bold holdings or it will focus on evaluating on the global monetary policy by taking in more amount of time.
Fed's program named 'Quantitative easing', a six-year program in which they bought U.S Treasuries and mortgage-backed securities (MBS) to maintain the interest rates and to encourage borrowing and economic recovery. Due to the raising interest rates for the third time in six months, a plan was announced to keep the situation under control. The plan primarily focuses on allowing $6 billion a month in treasuries mature without reinvestment. It also aims to increase the amount at three month intervals up to $30 billion.
Right now, the Fed's concern must be only on determining how the other Central banks' plans and policies would threaten and affect theirs.
Intraday bias in GBP/USD remains bullish for the moment with the support intact. The price action is holding the support levels at 1.2956, and the near term outlook stays strongly bullish. A further rise is expected from current levels with the price action indicating a strong consolidation pattern. We expect to see an upward bias. An upside breakout through 1.3009 is expected. The pair is trading on trend line with the oscillator having risen above 50.0 levels and still rising. We can see the pair showing sign of medium term bullish movement to upward bias and its target projection of 1.3104 level. A break here later could test 1.3122 levels. Hence, we'd be expecting resumption of a larger up-trend from the current resistance turned support levels. The pair's bouncing off from the 50EMA and 100SMA clearly indicates that the pair has shifted the trend yet again and looks for a retest of the resistance area.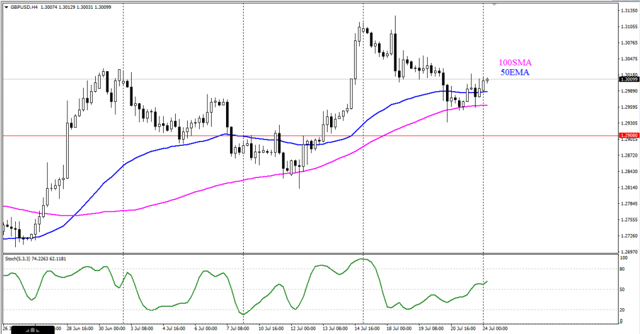 For more daily market insights visit NoaFX Knowledge Center