The perpetual shortfall in inflation is a major concern for the Federal Reserve presently. The three interest-rate increases and the beginning of reducing the $4.5 trillion balance sheet is a little wobbly because of the slowdown in inflation. The Fed is trying to balance the inflation figures against the major economic backdrop of job growth and easier financial conditions. If the situation continues to prevail, then it would be harrying for the policy makers to rein in the existing rate hike plans.
According to the fundamental forecast, if the financial conditions have mollified, in response to the Fed's five rate hikes, then Fed's situation will be a little stable. But halting the current path of monetary policy will only pave way for more tension in the financial markets. Falling dollar is seen as one of the reasons to prove the inflation forecasts by Fed.
Policy makers can take a breath for a while as two of the three rate hikes will be completed this year and the market participants don't expect any important changes or a third rate hike till December. Instead of stressing too much on the issue, the Fed will alternate between concern on low inflation and tight labor markets.
At the June Federal Open Market Committee Meeting, the Fed will lay out the plan to stabilize the balance sheet and the timeline will be decided by the policy makers during this meet. The FOMC will announce the July meeting decisions and release the statements which won't be followed by the press conference by the Fed Chairwoman Janet Yellen. Considering the market, there won't be any changes in the policy or a surprising shift in the statement.
The USD/JPY pair closed trading above 111.532 levels to get good support base. This reinforces the expectations of continuing the bullish bias after seeing some correction, providing signals for the price recovery in the upcoming days. This is supported by stochastic positivity that appears clearly on the daily time frame rising above 80.0 levels. The pair remains bullish for the moment while trading on rebound after testing barriers. That makes the trading settle now at the support area that appears in the chart. Some consolidations would be seen with a bullish momentum and a further rise is expected from current levels on the new found support area. With the beginning of the new trend and the first main target located at 112.465, breaking above the 50EMA level and holding above it will push the price to resume its bullish momentum. The next target is located at 112.923 levels.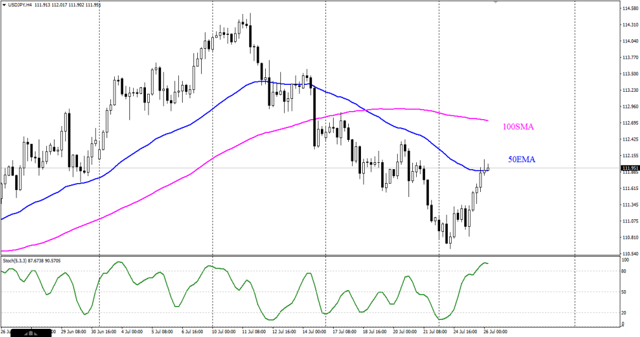 For more daily market insights visit NoaFX Knowledge Center