Yesterday, San Francisco Fed President John Williams stated that "The U.S. economy will likely be strong enough for the Federal Reserve to trim its bond holdings in September". He also told that "the process would be nice and easy and it will take about four years to get the balance sheet down to a reasonable size".
During last month meeting, the Fed said that the bond holdings will be brought to a close soon. This reassures the fact that the balance sheet would shrink in by September.
Presently, the Fed is maintaining the size of the balance sheet by reinvesting the principal of maturing securities. The Fed is now planning to allow $10 billion of securities run-off every month. During the course of time, they will increase the cap gradually till it reaches a security of $50 billion per month.
William is expecting the unemployment rate to go down a bit this year and raising of the rates gradually is to maintain stability of the economy.
Special transitory factor is one of the major reasons for holding the inflation below the 2% annual rate. This statement made by Fed Chairwoman Janet is also agreed by the San Francisco Fed President.
Intraday bias in XAU/USD remains bearish with the 1269.35 minor resistance intact. The pair is expecting a deeper decline as long as resistances holds the area. So far, at this point, the price action stays below resistances with the pair being rejected at resistance around this area. We view this as a correction and as a downward bias. Thus, we'd expect the resistance and the intraday bias to remain bearish with a break of 1261.82. This indicates that near term bearish reversal has taken place and turns its outlook to continue with downside bias. The oscillator staying below 50.0 levels is a clear indication of trend reversal shifting the momentum. Current developments suggest that the medium term downside implies a further low and the focus shall be at 1254.89. The break here should make lower lows with 1251.75 levels. With the 50EMA breached, we shall look for further downfall on the pair. Though the breach has been short lived, we will look for the pair to retest the 100SMA.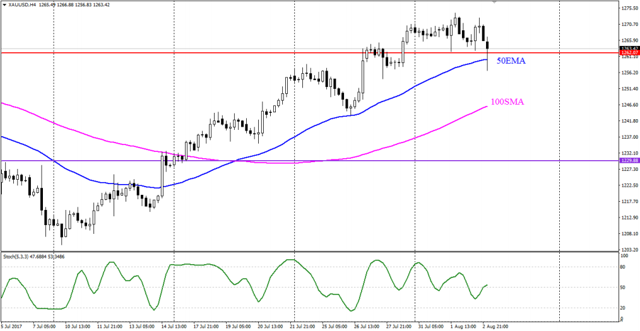 For more daily market insights visit NoaFX Knowledge Center