What's in the News?
Situations are getting worse day by day in U.S. Presently, the U.S fiscal outlook is a matter of concern and it also stands as a limitation against which new proposals must be judged. On the other side, the policymakers and news headlines are concerned mainly on the debates regarding health care and tax policy.
The new projections from the Social Security and Medicare Boards of Trustees and the Congressional Budget Office (CBO) show that the deficits can be manageable in the short run. The projections also show that both debt and deficits will increase in the near future. Continuing federal deficits and increasing federal debt will pave way for the reduction in economic growth and cause burdens on future generations.
The investors are awaiting the inflation data the coming week as it may signal the weakness in currency's strength this year. Employment data strengthened the monetary policy tightening by the U.S Federal Reserve. But the Fed can remain still when it comes to inflation because the market is not expecting any rise.
The tax and non-interest spending changes is very much essential to bring the debt-GDP ratio to the mentioned level. The longer the policymakers take to implement the fiscal adjustments, the greater those adjustments will have to be reached the given debt-GDP ratio target. If any new additions are made to the new policies to projected deficits will simply increase the size of the required adjustment.
What do the Charts Say?
The USD/JPY pair closed trading above 110.025 levels to get good support base. This reinforces the expectations of continuing the bullish bias and providing signals for the price recovery in the upcoming days. The pair is supported by stochastic positivity that appears clearly on the daily time frame and is rising above 20.0 levels. The pair remains bullish for the moment with the pair trading on rebound after testing barriers. This makes the trading settle now at the support area that appears in the chart.
Some consolidations would be seen with bullish momentum and further rise is expected from current levels on the new found support area and beginning of the new trend. The first main target located at 111.986 points that breaking 112.450 level besides holding above it will push the price to resume its bullish stance. The price action tried to break above 50EMA and has not been successful thus far but is slowly gaining the momentum to shift the trend towards upside.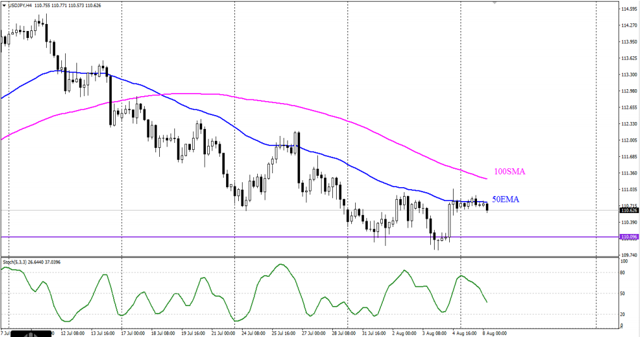 For more daily market insights visit NoaFX Knowledge Center