What's in the News?
Trimming the $4.5 trillion balance sheet has been the talk of the town for a long time. Yesterday, one of the members of the Federal Reserve's interest-setting committee made the point that it would be better if the Central bank announces its balance sheet reduction next month. He also emphasized that it would be good if the bank waits till December before increasing the key interest rate.
Charles Evans, the president of the Fed's regional bank in Chicago looks little unfazed regarding the balance sheet reduction. He is not expecting a great impact in the market because of this move. He also feels strongly that waiting until December will give some time for the Fed to assess about the trend of inflation.
Presently, there are two main goals for the Fed. One is to follow the interest-rate policies which will improve employment and price stability. Central bank has now met its goal by succeeding on the employment front with the jobless rate at a 16-year low of 4.3%. But it is still facing problems to lift prices.
In June, the Fed had released a plan to reduce its bond holdings at a monthly pace of $10 billion and in July, they were planning to start the process.
The $4.5 trillion balance sheet is five times massive than it was when the financial crisis hit the U.S in 2008. The main purpose of the bond purchases was to put downward pressure on the long-term interest rates.
What do the Charts Say?
The USD/CHF pair shows more fluctuation near 0.9642 level keeping the stability of the daily close below it until now. This keeps the correctional bearish trend scenario valid until now. The pair is waiting to resume the bearish wave that targets 0.9543 levels on the near term basis. It is important to note that breaching 0.96427 levels will complete conformation. This move will push the price to test the most important support for the short term trading at 0.9543 directly before any new attempt to change directions. This reminds you that these levels represent the next trend keys, with Stochastic settles clearly within the 50.0 areas. This will support the attempts to gather the negative momentum and confirm the attempt to reach the waited targeted levels. However, the pair found some support at the 100SMA but has been rejected with 50EMA and continues to keep the price action below the MA.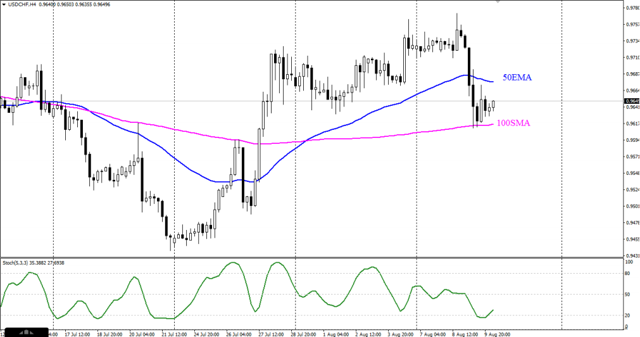 For more daily market insights visit NoaFX Knowledge Center