What's in the News?
According to the latest wages report released by the Australian Bureau of Statistics in May, we can understand that due to the fall in nominal wages, the real wages were falling. The latest report released today shows that for the sixth consecutive quarter, the annual growth in wages has recorded its lowest level.
Adding to the woes, the workers are now suffering because of zero real wages growth in the June-quarter. Employment growth also remains monotonous. Due to the trend seen in the flat wages, we can see the private sector credit than real wages drive growth in consumer spending. Considering the flat wages growth, even the estimates given by the Australian Government for fiscal outcomes is not achievable right now. The much expected tax receipts will also not improve in line with the projections.
The major discussion about Unemployment is that 'unemployment is a result of excessive real wages and moderating real wages should drive stronger employment growth.' Results prove that both the employment growth and real wages growth are responding positively to the total spending growth and increasing economic activity.
What do the Charts Say?
Intraday bias in AUD/USD trading above 0.7818 level is waiting to get a good support base. This reinforces the expectations of changing towards the bullish bias in the upcoming period. The way is open to head towards the recently recorded top at 0.7885 on the near term basis. The pair remains bullish for the moment with the pair trading on rebound after testing barriers. This makes the trading settle now at the support area that appears in the chart. Some consolidations would be seen with bullish momentum and further rise is expected from the current levels. The pair trading on rebound is found at the latest trend line support and with the oscillator at 50.0 levels. We can see the pair showing sign of medium term bullish movement to upward bias. An upside breakout through 0.7885 is expected and will target projection of 0.7911 level. We shall look for a retest of the 50EMA levels and price action momentum, once the MA has reached for further move on the pair.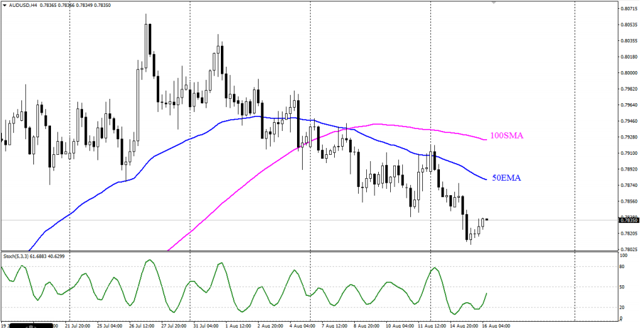 For more daily market insights visit  NoaFX Knowledge Center