What's in the News?
Britain fears and releases waiver for people crossing the Northern Ireland Border under the new plans which as they predict might create a 'back door' with the European Union after the Brexit. They are also pursuing a series of waivers for goods.
To preserve and maintain the Good Friday Peace agreement, the Government has decided not to put any border posts with Ireland when UK leaves the EU.
During the latest Federal Reserve Open Market Committee meeting held last month, there was no change in the interest rates and the Fed Funds rate were maintained at 1.00-1.25% range.
The centre of argument during the meeting was on inflation, asset prices and financial stability. Keeping in mind about the lower inflation, the FOMC has made an agreement to watch the inflation developments closely.
Even though, the members are worried about the inflation, FOMC has decided to remain calm regarding the decision of increasing the interest rates.
Hoping that short term-interest rates would be lifted, the Fed has tightened the policy twice this year. There was a split among officials after the Fed's July meeting. One group wants to wait and the other group is ready to move forward with the rate hikes.
What do the Charts Say?
The GBP/USD pair closed trading above 1.2846 levels to get a good support base. This reinforces the expectations of changing for some correction towards the bullish bias and providing signals for the price recovery in the upcoming sessions. The pair is supported by stochastic positivity that appears clearly on the daily time frame and rising above 50.0 levels. The pair remains bullish for the moment with the pair trading on rebound after testing barriers. This makes the trading settle now at the support area that appears in the chart. Some consolidations would be seen with bullish momentum and further rise is expected from current levels on the new found support area. The beginning of the new trend and the first main target located at 1.2962, points that breaking 1.2962 level besides holding above it will push the price to resume its with bullish that its next target located at 1.298 level. The pair looks to break past the 50EMA for a test of the 100SMA.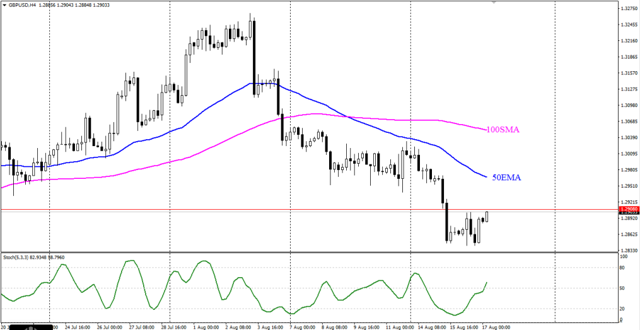 For more market insights visit  NoaFX Knowledge Center.