What's in the News?
According to the Federal Reserve, the factory production has gone down by 0.1% last month and overall industrial production has increased by 0.2%. As expected, the leading indicators increased in July. This reflects an improving economic outlook.
According to the economists poll by Reuters, as predicted, the leading indicators increased by 0.3% in July. The figure is low from a gain of 0.6% in the previous month.
"The large negative contribution from housing permits, a reversal from June, was more than offset by gains in the financial indicators, new orders and sentiment," said Ataman Ozyildirim, Director of Business Cycles and Growth Research at The Conference Board.
Index indicator is watched keenly to assess the stability and health of the U.S Economy. Apart from this, the Conference Board tracks 10 components, including stock prices and average weekly claims for unemployment insurance.
After the release of FOMC minutes yesterday, the focus on US inflation has increased. But many participants strongly feel that the inflation will remain below 2% target for a long time. Due to the fall in inflation, the FOMC feels that before moving ahead with the rate hikes, they need to focus towards their planned target.
What do the Charts Say?
Intraday bias in NZD/USD remains bullish for the moment with support intact and price action holding support levels at 0.7257. The pair's near term outlook stays bullish. A further rise is expected from current levels with price action indicating a consolidation pattern with an upward bias. An upside breakout through 0.7318 is expected. Currently, the pair is trading at rebound on new trend line with the oscillator risen above 20.0 levels. We can see the rebound on the pair showing sign of medium term bullish movement to upward bias and it will target projection of 0.7318 levels. A break here later to test levels of 0.7327. Hence, we'd be expecting resumption of larger up trend from current levels resistance turned support levels. However, we look for further confirmation around the 50EMA area break and above this shall be an important area. We will also keep looking for a retest of the 100SMA area.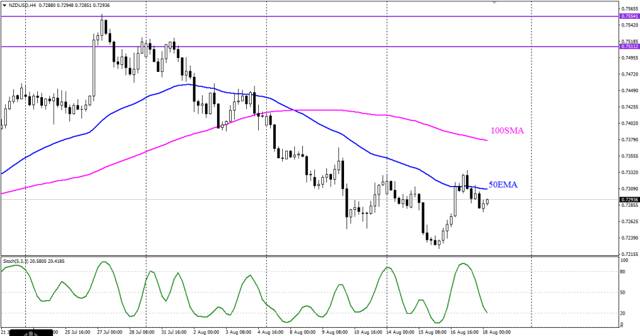 For more daily market insights visit NoaFX Knowledge Center.