What's in the News?
Wall Street has been expecting that Donald Trump's election would bring in a new business-friendly era in Washington. Dalio was one of the investors who believed that the new administration would perform well for the country's growth, but things have been unpleasant so far.
According to the Atlanta Fed, the GDP has increased 1.9% and it is expected to increase 3.8% in the third quarter. The Unemployment rate has been recorded the lowest when compared to 16 years data. Also, the stock market had hit a series of new records before edging lower recently.
Central bankers will gather from Thursday through Saturday in Wyoming. The entire market's focus will be on Yellen's speech where she would be emphasizing on financial stability. The U.S government bonds have strengthened this year. Reflecting investors demand for safe-assests and their clarification regarding the prospects of strong U.S economic growth and inflation under Trump is being continued.
The Jackson Hole Symposium's focus for this year will be on "fostering a dynamic global economy." The early actions taken by the US officials has helped the world's largest economy to recover. This has helped the Fed to exit from its extraordinary measures and start removing accommodation.
What do the Charts Say?
Intraday bias in NZD/USD is trading above 0.7311 level. The pair gets a good support base that reinforces the expectations of continuing the bullish bias in the upcoming period. After some consolidations, the way is open to head towards the recently recorded top at 0.7380 on the near term basis. The pair remains bullish for the moment with the pair trading on rebound after testing barriers. This makes the trading settle now above the support area that appears in the chart. Some consolidations would be seen with bullish momentum. A further rise is expected from current levels. The pair is trading on rebound that is found at the latest trend line support, with the oscillator at 50.0 levels. We can see the pair showing signs of medium term bullish movement to upward bias after pair rebound on the 50EMA. We look for a retest of the 100SMA and will target projection of 0.7380 levels. Hence, we'd be expecting resumption of larger up trend from the current resistance-turned-support levels.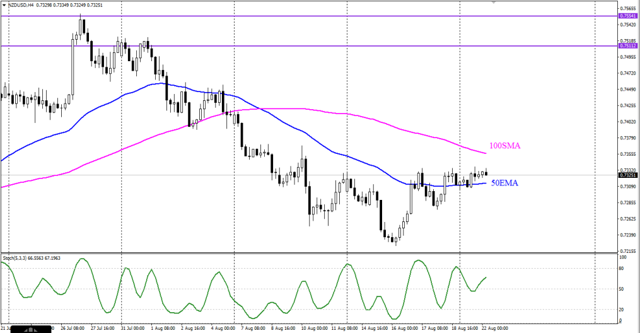 For more daily market insights visit NoaFX Knowledge Center.