Economy
New Zealand's economy is small and open. In present time it is largely deregulated and more internationally competitive. The production base has diversified to include a range of elaborately transformed manufactures, while maintaining a large agriculture sector, which accounts for 70 per cent of exports. In 2012 the country's main merchandise export markets were Australia, China and the United States. The main sources of merchandise imports of the country were China, Australia, and the United States. The country has a population of around 4.4 million in 2012. The rate of natural increase is about 1.0% per year.
Financial Markets
NZX has three securities market which are the NZSX (New Zealand Stock Market), the NZDX (New Zealand Debt Market) and the NZAX (New Zealand Alternative Market). All these markets form a diverse offering for companies wishing to raise capital and for investors looking for secure investment products. These feature many of the nation's most established and proven companies and also offer new opportunities for emerging new companies and listed issuers. Here I have collected few High dividend paying stock New Zealand that are offering good yield and will be a profitable investment for investors.
Hallenstein Glassons Holdings Limited (HLG) is a retailer of men's and women's clothing in New Zealand and Australia. The company's operations are under the brands Glassons, Hallensteins and Storm. During the fiscal year ended August 1, 2012 the stores were opened in Chapel Street, Melbourne, and Carindale, Brisbane. It has a forward dividend yield of 7.00% and a market cap of 295.95 Million.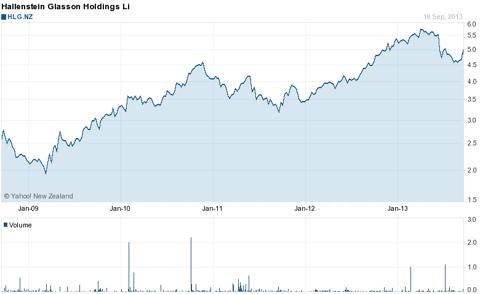 The Colonial Motor Company Limited (CMO) is performing well from past few years. It is currently paying 6.32% dividend yield and has a market cap of 155.30 Million. It owns motor vehicle dealerships throughout the country and has 12 dealerships that focus on Ford. Seven of these dealerships also have the Mazda franchise.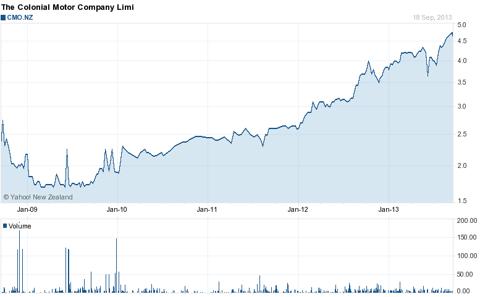 Hellaby Holdings Limited (HBY) Company which has a dividend yield of 4.56% and a market capitalization of 215.98 Million. It has a variable investment horizon and its portfolio will evolve over time. The company will create attractive long-term shareholder value through a combination of performance improvement and organic growth in the business it owns and through smart acquisitions and divestments. In April 2013 it acquired 85% interest in Contract Resources Holdings Ltd.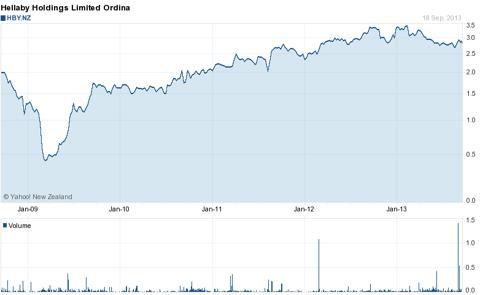 Turners Auctions Limited (TUA) is listed on New Zealand Stock Exchange with a dividend yield of 7.85% and market capitalization of 52.29 Million. It has 16 branches in New Zealand. The Auctions business operates in two markets first used vehicles and second commercial goods. Finance also provides a range of mechanical breakdown insurance and motor vehicle insurance.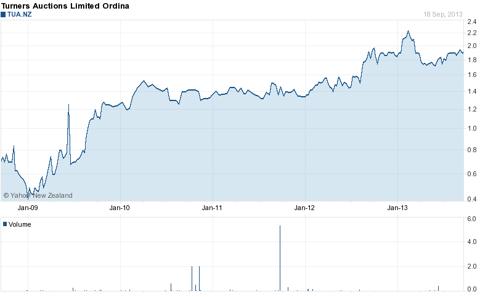 Smiths City Group Limited (SCY) is operating with three business divisions such as retail, property and consumer finance. It is not only one of the country's leading retailers but it does more than its competitors and with the minimum of fuss or disruption to the customer. The stock is currently paying a dividend yield of 5.56% and has a market capitalization of 33.20 Million.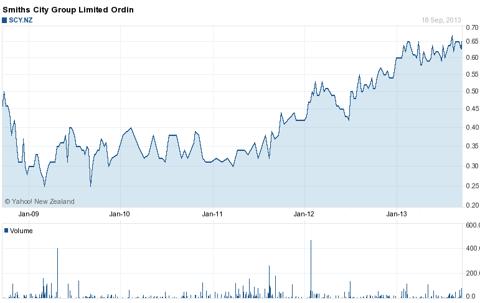 Find out more dividend data related to the stock such as
new zealand dividend, new zealand dividends from the site http://nz.dividendinvestor.com/