GE Pension Plan Underfunding

Further to abovementioned article, below is an analysis of changes in the underfunding of General Electric (GE) pension plans.
In the comments to the published article, FinancialDave has estimated return on plan assets at ~13% for FY 2017 which could result in plan assets increasing, subject to levels of company contributions to assets and beneficiary payments out of assets in 2017.
It should also be noted any interest rates increase could result in use of a higher discount rate in actuarial assessments of present value of plan obligations, thus reducing reported plan obligations.
Thanks to FinancialDave for drawing these considerations to attention. I will plan to update the table below when 2017 results are to hand.

TABLE - GE Pension Plan Underfunding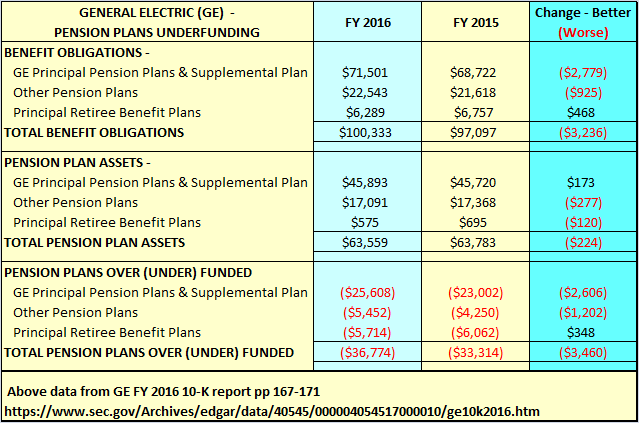 Disclaimer: The opinions in this document are for informational and educational purposes only and should not be construed as a recommendation to buy or sell the stocks mentioned or to solicit transactions or clients. Past performance of the companies discussed may not continue and the companies may not achieve the earnings growth as predicted. The information in this document is believed to be accurate, but under no circumstances should a person act upon the information contained within. I do not recommend that anyone act upon any investment information without first consulting an investment advisor and/or a tax advisor as to the suitability of such investments for their specific situation.
Disclosure: I/we have no positions in any stocks mentioned, and no plans to initiate any positions within the next 72 hours.