JOE MAC'S MARKET VIEWPOINT: The January Effect Defect
January 30, 2015
---
According to Wall Street lore, as the stock market in January goes, so goes the year. It's been a tumultuous start to the year, with stocks struggling, oil slumping, and deflation fears looming. With the S&P 500 down over 2% in January, the barometer is forecasting a bleak year for U.S. equities. I agree with that conclusion, not because I'm superstitious about the January Barometer, which only seems to work about half the time these days, but rather for fundamental reasons.
BROKEN BAROMETER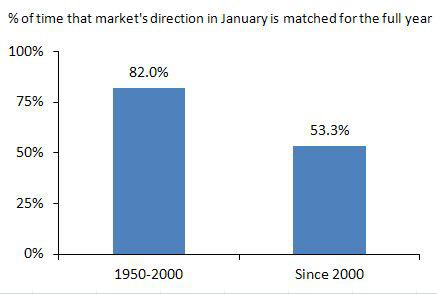 Source: Bloomberg, McAlinden Research
While stocks were declining through January, bond yields were dropping as well, both adjusting to the new conventional wisdom that inflation is dead. As oil prices have plunged, the Fed's measure of 5-year inflation expectations has dropped from 2.5% to just 1.8%. It is still trending down, leading to renewed fears of outright deflation.
Forgive my being a bit snarky, but the only deflation I see around me is in major league footballs. Oil prices are down as a result of a supply shock, but other prices are still going up. My subway fare is about to jump another 10%, my cable bill is rising, and let's not even talk about health insurance. The core CPI, which excludes food and energy, is still rising at an annual rate of 1.6%. Deflation occurs when there is a drop in the general price level, not just oil, and that's not happening.
INFLATION EXPECTATIONS CAUGHT IN OIL'S DOWNDRAFT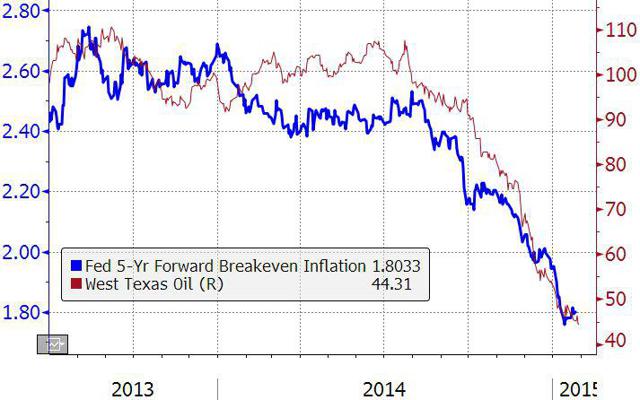 Source: Bloomberg, McAlinden Research
My sense is that we are in for a whopper of a correction sometime this year, but not because of deflation. Some analysts who are focused on the Fed's inflation mandate are looking at the crash in oil prices and the strong dollar as a reason to delay the first interest rate hike, possibly into next year. That's not what the Fed says. In its statement after January's meeting, the Fed noted that it expects inflation to pick up after the "transitory effects" of cheap energy dissipate. When further strength in the U.S. economy shows up in the next few months, I expect that more and more FOMC members will be making hawkish comments. In March, a new set of quarterly forecasts from the FOMC is likely to suggest a more rapid move toward normalization of rates than the market now expects and I think a double digit correction will ensue.
So what happens after the correction? I believe the bull market will resume and that small caps will outperform because of strong domestic economic growth as the rest of the world weakens and the dollar continues to strengthen. Global firms (typically large caps) will suffer from weakness in their non-U.S. operations. Big exporters (also, more typically large caps) will be hurt by the weaker demand overseas and reduced competitiveness of U.S.-made goods. Companies with a high percentage of revenues from foreign subsidiaries (again, mostly large caps) will also be hurt by an adverse currency translation effect. The big companies in the S&P 500 derive over 40% of sales from outside the U.S. and some of the consumer giants get as much as three quarters. By contrast, the foreign revenue percentage for the Russell 2000 is in the teens!
In sum, I think the January Barometer might indeed be warning us about the prospects for U.S. equities in 2015, not because of calendar anomalies, but because of macroeconomic and monetary policy cycle fundamentals. Of course no one knows what the pattern for stock prices will be in the year ahead. My best guess is that it will be highly volatile, ending flat at best for the year but with a nasty double-digit correction along the way. I wrote last year that I saw many similarities between 1987, when a similar pattern unfolded, and the current situation for stocks. So the bottom line is I am bearish on U.S. large caps and bonds, positive on the relative performance of U.S. small caps, and getting positive on equities in Europe and negative on emerging market debt.

---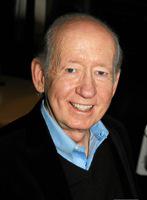 Joseph McAlinden, CFA, is the founder of McAlinden Research Partners and its parent company, Catalpa Capital Advisors. He has over 50 years of investment experience. Previously, he was at Morgan Stanley Investment Management for over 12 years, first as chief investment officer and then as chief global strategist. During his 10 year tenure as CIO, Joe was responsible for directing MSIM's daily investment activities and oversaw more than $400 billion in assets. As chief global strategist, he developed and articulated the firm's investment policy and outlook. Joe frequently appears in the financial media including Bloomberg Television. Follow JoeMac on Twitter
Disclosure: The author has no positions in any stocks mentioned, and no plans to initiate any positions within the next 72 hours.