BUSINESS OVERVIEW
Teva pharmaceuticals (NYSE:TEVA) is a pharmaceutical company that operates globally, with significant foothold in United States, Europe, and various other markets worldwide. They possibly hold the most impressive generic medication expertise and portfolio along with a focused specialty portfolio. In 2017, they announced a new organizational structure and leadership which results in the amalgamation of the portfolios under one organization operating through three regions, North America, Europe and Growth Markets. Additionally, each region is set to manage the full extent of portfolios which includes their generics, speciality and over-the-counter (OTC).
Teva pharmaceuticals' generic medications include chemical and therapeutic equivalents of originator medicines in various dosage forms i.e. tablets, capsules, injectable, inhalants, liquids, ointments and creams, and it also includes the OTC as well. The company states that they are the leading generic drug company in the United States and Europe, with significant presence in the rest of the world. Their specialty medications for core therapeutic areas such as, central nervous system (NYSE:CNS) – COPAXONE and AUSTEDO, respiratory medicines – ProAir and QVAR, and oncology – BENDEKA and GRANIX. In 2017, the company's generics line accounted for 55% of their total revenue, followed by 35% of their speciality medication line, which is slightly lower compared to 2016 (40%). Additionally, in 2017, TEVA led the U.S. generic market in total prescriptions and new prescriptions, with an estimated 583 million total prescriptions, representing 15.2% of total U.S. generic prescriptions, according to IQVIA data.
GENERIC MEDICATION OVERVIEW
TEVA is the leading generic drug company in the United States with over 500 generic prescription and OTC products in more than 1,800 dosage strengths and packaging sizes, including oral solid dosage forms, injectable products, inhaled products, liquids, ointments and creams. Most of their generic sales in the United States are made to retail drug chains, mail order distributors and wholesalers, which continue to be impacted by customer consolidation and alliances.
TEVA is also the leading generic pharmaceutical company in Europe, and among the top three companies in more than 25 markets across Europe. No single market in Europe represents more than 25% of their total European generic revenues, and as a result they are not dependent on any single market that could be affected by pricing reforms or changes in public policy. In Europe, they also out-license certain generic pharmaceutical products. TEVA's rest of the world (ROW) markets include all countries other than the United States and those included within the European region. The ROW is comprised of more than 25 countries, covering 40% of the global pharmaceutical market. Revenues of generic medicines in the United States, their largest generics market, was $5.0 billion, an increase of $480 million, or 11%, compared to 2016.
Generic Medicines Gross Profit
In 2017, gross profit and gross profit margin from their generic medicines segment was $5.1 billion USD compared to $5.7 billion USD in 2016 (a decrease of $581 million or -10%), $4.9 billion USD in 2015, and 41.7% in 2017 which was a decrease from 47.5% in 2016, 46.5% in 2015, respectively. The lower gross profit was mainly attributed mostly to higher production expenses, and lower gross profit in the United States and ROW due to price erosion. This loss was partially offset by higher gross profit in Europe and higher gross profit from API sales to third parties.
Generic Medicines Profit
In 2017 the profit of generic medicines segment was $2.8 billion, compared to $3.3 billion in 2016 and $2.9 billion in 2015. The decrease was mainly due to lower gross profit and higher R&D expenses, partially offset by lower sales and marketing expenses. The generic medicines profit as a percentage of generic medicine revenue was 23.1% in 2017, compared to 27.6% in 2016 and 27.8% in 2015. This decline was mostly attributed to lower gross profit margins – see blow.
SPECIALTY MEDICATION OVERVIEW
In 2017, the specialty medicines revenues were $7.9 billion USD compared to $8.67 billion USD in 2016 ( -9%) and $8.33 billion USD in 2015. Specialty medicines revenues in the United States were $5.7 billion, a decrease of 15% compared to 2016. Specialty medicines revenues in Europe were $1.8 billion, an increase of approximately 10%, compared to 2016. Specialty medicines revenues in our ROW markets were $448 million, an increase of 27% compared to 2016.
CNS Portfolio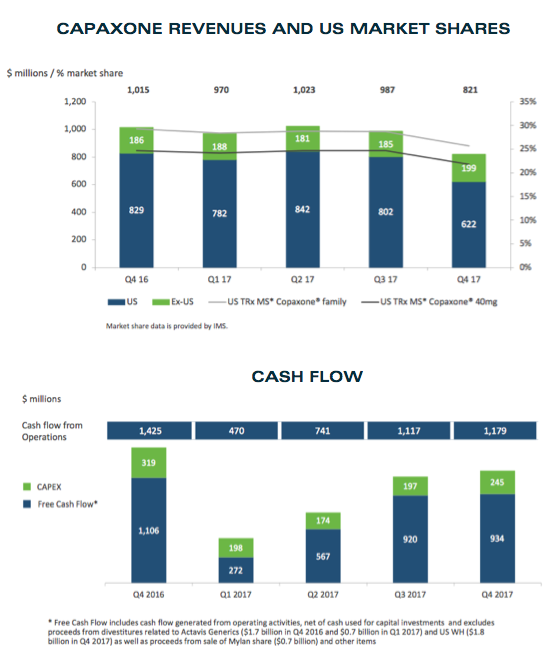 Teva Pharmaceutical Capaxone revenue.
Majority of TEVA's revenue in their specialty medications is attributed to their CNS line, more specifically COPAXONE. COPAXONE's revenues in the United States in 2017 decreased by 12% to $3.0 billion, mainly due to generic competition which resulted in higher rebates and lower volumes, partially offset by a price increase of 7.9% in January 2017 for both the 20 mg/mL and 40 mg/mL versions. With regards to AZILECT and NUVIGIL, the sales were $170 million (-59% compared to 2016) and $61 million (-70% compared to 2016), respectively.
Respiratory Portfolio
ProAir revenues in 2017 were $501 million(-11% compared to 2016) and QVAR revenues were $361 million (-22% compared to 2016), mainly due to negative net pricing effects. ProAir is the second-largest short-acting beta-agonist in the market, with an exit market share of 47% in terms of total number of prescriptions during the fourth quarter of 2017, flat compared to the fourth quarter of 2016. QVAR maintained its second-place position in the inhaled corticosteroids category in the United States, with an exit market share of 35.3% in terms of total number of prescriptions during the fourth quarter of 2017, a decrease of 3.2% compared to the fourth quarter of 2016.
Oncology Portfolio
BENDEKA and TREANDA, combined revenues were $658 million in 2017, compared to $661 million in 2016.
Global Women's Health Products
Revenues from TEVA's global women's health products were $426 million in 2017 (-7% compared to 2016 – mostly attributed to sale of PARAGARD and PLAN B ONE-STEP in November 2017).
In 2017, gross profit from their specialty medicines segment was $6.9 billion (-9% compared to $7.6 billion in 2016). The lower gross profit was mainly a result of lower revenues. The gross profit margin for specialty medicines segment in 2017 was 86.9%, compared to 87.1% in 2016. The decrease in gross profit margin was mainly a result of lower sales of COPAXONE. In 2017, TEVA's profit of specialty medicines segment was $4.3 billion, compared to $4.7 billion in 2016, a decrease of 7%.
OVERVIEW OF OTHER ACTIVITIES
TEVA's other sources of revenues includes primarily sales of third-party products for which they act as distributor in certain countries. In the United States, their Anda business distributes generic, specialty and OTC pharmaceutical products from various third-party manufacturers, as well as their own products, to independent retail pharmacies, pharmacy retail chains, hospitals and physician offices. Anda is able to compete in the secondary distribution market by maintaining high inventory levels for a broad offering of products, next day delivery throughout the United States, competitive pricing and high-level customer service. TEVA also sells medical devices.
TEVA's revenues from other activities in 2017 were $2.2 billion, an increase of 79% compared to revenues of $1.2 billion in 2016. The increase was mainly related to the inclusion of Anda's revenues commencing in the fourth quarter of 2016.
CONSOLIDATED FINANCIAL OVERVIEW
TEVA's revenues in 2017 were $22.4 billion (+2% compared to 2016 - $21.9 billion), primarily attributed to
An increase in generic medicines segment from the inclusion of Actavis Generics revenues for the full year of 2017, compared to five months in 2016, partially offset by the adverse market dynamics in the United States.
The acquisition of Anda in the fourth quarter of 2016.
Partially offset by a decrease in their specialty medicines segment due to generic competition to certain of key products – decline in sales of budesonide (the generic equivalent of Pulmicort®) and methylphenidate extended release tablets (Concerta® authorized generic) due to increased competition.
Exchange rate movements during 2017 in comparison with 2016 negatively impacted revenues by $914 million.
In 2017, gross profit was $10.8 billion (-9% compared to 2016). The decrease in gross profit as a percentage of revenues primarily reflects lower profitability of generic segment (-3.3%), higher amortization of purchased intangible assets (-1.6%), lower profitability of specialty medicines segment (-1.5%), the inclusion of Anda (-1.4%), lower profitability of other activities (-0.5%), partially offset by lower inventory step-up expenses (+ 1.4%), inventory related expenses in connection with the devaluation in Venezuela (+0.5%) and lower costs related to regulatory actions taken in certain facilities (+0.5%).
In 2017, TEVA reported a net loss $16.3 billion, (net income of $329 million in 2016 and $1.6 billion in 2015). This decrease was primarily due to goodwill impairment, an impairment of long-lived assets and lower profit in their generic medicines segment, partially offset by an income tax benefit in 2017 and lower legal settlements and loss contingencies.
During their previous conference call, Michael McClellan, the newly hired executive VP and CFO, stated that in 2018 they expect total revenues to be approximately $18.3 – 18.8 billion (-16%-18%, compared to $22.4 billion in 2017). He attributed this decline three factors, COPAXONE, U.S. generics and ProAir. Global COPAXONE sales are expected to be approximately $1.8 billion in 2018 (from $3.8 billion in 2017). U.S. generic sales consistent with the current segmentation are expected to be approximately $4 billion, a decline of roughly 20% versus 2017 due to ongoing price erosion in base business as well as other products that have enjoyed periods of exclusivity, including the generic Concerta. Lastly, expect to see a generic competition for ProAir franchise in the U.S. during the second half of the 2018.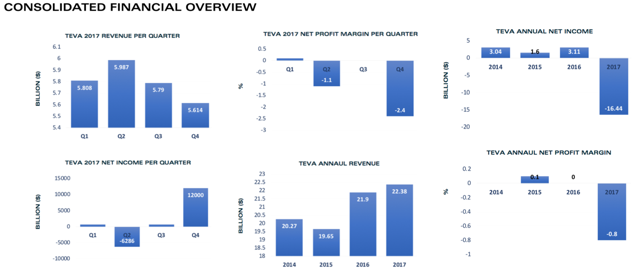 Teva Pharmaceutical consolidated financial overview.

Teva Pharmaceutical 2017 debt movement (left) and annual revenue.

Teva pharmaceutical revenue breakdown.
BASIS FOR DECLINE IN SHAREHOLDER VALUE
The downfall of TEVA began when they purchased Actavis – Allergan's generic drug division in August 2016, for $33.43 billion in cash and approximately 100,000,000 TEVA shares, worth about $5.3 billion at the time, which Allergan agreed to hold for at least one year [1]. This move made TEVA the largest generic drug producer in the world, and also increased Q1-2017 sales to $5.63B compared to $4.81B in Q1-2016 (+17%). This deal closed at the time which the generic drug prices took a dive in the United States. Various variables played a role in negatively impacting TEVA's generic business in U.S. in 2017, these included:
Additional pricing pressure as a result of customer consolidation into larger buying groups capable of extracting greater price reductions.
An accelerated FDA approval process for generic versions of off-patent medicines, resulting in increased competition for these products
Delays in the launch of some of their new generic products.
On December 22nd 2016, Teva LLC (Teva Russia – the wholly-owned Russian subsidiary), agreed to resolve criminal charges and to pay a criminal penalty of more than $283 million in connection with schemes involving the bribery of government officials in Russia, Ukraine and Mexico in violation of the Foreign Corrupt Practices Act (OTCPK:FCPA) [2]. In related proceedings, the U.S. Securities and Exchange Commission (SEC) filed a cease and desist order against Teva, whereby the company agreed to pay approximately $236 million in disgorgement to the SEC, including prejudgment interest. Thus, the combined total amount of U.S. criminal and regulatory penalties to be paid by Teva is nearly $520 million [3].
On July of 2017, TEVA filed a lawsuit in federal court of Pennsylvania, alleging that its ex-chief of regulatory affairs for its American generics business was passing trade secrets to her boyfriend who happened to be the CEO of the generics industry rival Apotex. The lawsuit states that for a period of two years, Teva employee Barinder Sandhu copied company files onto flash drives and passed them to Apotex CEO Jeremy Desai. The documents included confidential communications with the FDA about an unnamed drug Teva was developing, which Apotex reportedly used to "speed the regulatory approval of its competing product," according to the lawsuit [4].
August of 2017, TEVA announced that the full-year profit expectations would be falling short of estimates. Additionally, they announced that they would be cutting their dividend by 75% (from $0.34USD/share to $0.085USD/share), the reason behind this move was to save $ 1billion annually in hope to pay off the immense amount the debt that they had accumulated mostly attributed to the purchasing Actavis. On November 1st, 2017, Allergan announced that it will begin to unload shares of TEVA as they had lost approximately 60% of their value since the time of purchase only a year prior [5].
In addition to accumulating such debt, TEVA seems to be losing the legal battle to keep generic versions of its brand-name drug COPAXONE out of the market. On January 2017, US district court invalidated four patents on TEVA's multiple sclerosis therapy drug, COPAXONE, which means that the generic version of the 40mg of the drug could be manufactured, which was detrimental to TEVA's plan to switch patients from a 20mg once/daily to the 40mg tree times a week version of the drug [6]. This news is detrimental as COPAXONE accounts for the majority of their CNS/MS specialty line, which accounted for 17% of the total revenue in 2017. Mylan' generic, which lunched a lower price than COPAXONE, caused TEVA to increase rebates in order to slow down their market share losses. Thus, there has been a 25% decline in COPAXONE revenue in U.S., and 19% Global decline to $821m in the last quarter.
In December 2017, TEVA reported that as a part of their restructuring plan, they would suspend dividends on ordinary shares and ADSs and they would evaluate dividends on mandatory convertible preferred shares on a quarterly basis [7].
FUTURE SPECIALTY ASSET GROWTH DRIVERS
AUSTEDO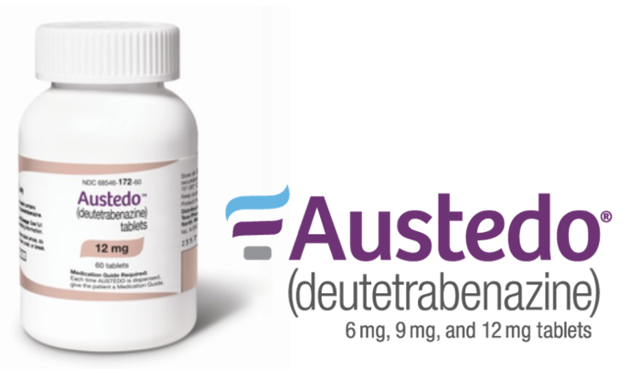 On September, 19, 2017, TEVA entered into a partnership agreement with Nuvelution Pharma, Inc. ("Nuvelution") for development of AUSTEDO for the treatment of Tourette syndrome in pediatric patients in the United States. Nuvelution will fund and manage phase 3 clinical development, driving all operational aspects of the program. Upon successful completion of the development TEVA will lead the regulatory approval process and be responsible for commercialization. Upon U.S. FDA approval of AUSTEDO for Tourette syndrome, TEVA will pay Nuvelution pre-agreed compensation for their contribution to their partnership. TEVA lunched AUSTEDO, which is an oral deutetrabenazine (DEU) – reversible inhibitor of vesicular monoamine transporter type 2 (VMAT2) – last year for both tardive dyskinesia and chorea in Huntington's disease (NYSE:HD).
HD is a hereditary neurodegenerative condition characterized by progressive motor, cognitive, and behavioral dysfunction [8]. The worldwide prevalence of HD is 2.71/100,000, however, it appears that Europeans, Australians and North Americans have a higher prevalence rate of 5.70/100,000compared to Asian countries – 0.4/100,000 people. Additionally, the incidence in Asia ranges from 0.046- 0.16 per 100,000 per year, whereas incidence in Europe, North America, and Australia ranges from 0.11-0.8 per 100,000 per year, with no indication of increase or decrease in incidence over time [10]. With the current world population of 7.6 billion people and a prevalence of 2.71/100,000 people, it would suggest that there may be about 27,000 people suffering from HD, however, there are more than 35,000 in U.S. alone [11].
Tardive dyskinesia (NYSE:TD) is the collection of involuntary movements of the tongue, lips, face, trunk, and extremities, pathogenesis of which is associated with dopamine and dopamine receptors in patients' brain. TD is common in patients who have been on dopamine-receptor blocking agents (DRBA) for an extensive period of time. The prevalence of TD has been estimated to range from 20-50%, with a higher prevalence in those treated with first-generation (30%) [10] than those treated with for second-generation (13-20%) [11] agents. The incidence of TD has been reported to be approximately 5% and 3% per year for first-generation and second-generation antipsychotic drugs.
Although, initially, DRBA were used for treatment of schizophrenia and schizoaffective disorder, they have also been used in mood disorders such as major depression and bipolar disease. The current estimates state that there are 6 million individuals in the United States with these diagnoses who have received antipsychotic drugs. It is estimated that currently, in United States there are 300,000 patients who suffer from moderate-server TD, which is the patient population that AUSTEDO will be targeting [12].
Over the years, physicians have used variety of off-label methods to treat TD, such as using Botox injections to VMAT2 inhibitors such as tetrabenazine (NYSEARCA:TBZ). The FDA approved tetrabenazine in 2008 as a treatment for the jerky, involuntary movements associated with Huntington's disease—called chorea—but not for tardive dyskinesia [13]. The precise mechanism of action of which deutetrabenazine is unknown, however, it is known that the major circulating metabolites of deutetrabenazine, alpha-dihydrotetrabenazine (α-HTBZ) and beta-dihydrotetrabenazine (β-HTBZ), are reversible inhibitors of VMAT2, resulting in decreased uptake of monoamines – such as dopamine – into synaptic vesicles and depletion of monoamine stores [14].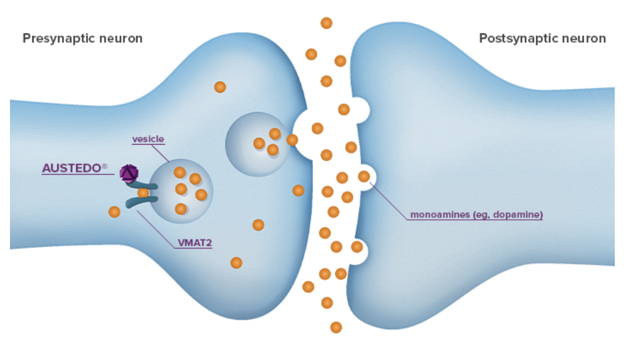 AUSTEDO mechanism of action.
DEU is an analogue of TBZ, which by strategic placement of deuterium (heavy hydrogen isotope) drug developers were able to prolongs half‐life, reduces metabolism variability. Thus, reducing dose, dosing frequency and improved tolerability, compared to tetrabenazine [15]. A recent study, compared the data collected during the randomized control trial for both TBZ and DEU. The study found that both TBZ and DEU had only a mild effect on chorea compared to placebo, however, when compared to each other, TBZ and DEU did not significantly differ in chorea score or total motor score. Depression and somnolence, which were evaluated using rating scales, favored DEU significantly over TBZ in both clinical domains [16].

AUSTEDO (DEU) is not the only VMAT2 – inhibitor on the market, INGREZZA (Valbenazine)- Neurocrine Biosciences – was approved by the FDA for the treatment of TD [17], on April of 2017. Neurocrine Biosciences established the wholesale acquisition cost for a 30-count bottle of INGREZZA 40mg capsules at $5,275 [18]. INGREZZA's annual wholesale acquisition cost (WAC) falls within $76,000, which is still higher than TEVA's AUSTEDO with an annual WAC of $60,000 decrease from $90,000 as it was approved for TD) [19]. The cost of both drugs is staggering, especially considering that the patient global impression of change (PGIC) scale – based on patient self-reporting, not outside raters of symptoms – did not show a significant difference compared to the placebo, however, patients did favor the two drugs [20]. This begs the question, if patients are not necessarily feeling much different, will the choose to stay on these drugs long-term.
TEVA was very positive about this drug during their conference call, stating that they are happy thus far with the progress and patient adoption and they foresee that by start of 2019 and forward, investors should begin to see increased revenue acquired from sales of AUSTEDO. TEVA is also conducting further clinical trials in Tourette syndrome in hope to broaden the clinical basis for AUSTEDO and thereby also increase the growth potential in the marketplace. Tourette syndrome (NYSE:TS) is a neurological disorder characterized by repetitive, stereotyped, involuntary movements and vocalizations called tics [21]. The prevalence of chronic tic disorders – which includes TS – is about 2 - 4%, however, the prevalence of TS may range between 0.1 – 1%. The pathophysiology of TS is still unclear; however, the treatment of TS is very similar to TD as most effective drugs to date have been antipsychotics with postsynaptic blocking properties [22]. FDA approval could bring additional revenue to TEVA; however, the cost of this medication is still a concern and will certainly play a role in its adoption. TEVA stated that the total sales of AUSTEDO in Q4 – 2017 were approximately $17 million and were in line with their expectations. AUSTEDO could be a potential blockbuster drug for TEVA and help fill in the gap left with COPAXONE. It is challenging to truly forecast the earning potential of this medication as there are various factors in play, the adoption of AUSTEDO over INGREZZA by physicians and patients, and whether it is approved for TS can all play a significant role in the true earning potential of this drug. The general consensus for peak sale estimates are that it could range somewhere between $700 million to $1.5 billion.
FREMANEZUMAB
On May 12, 2017, TEVA entered into a license and collaboration agreement with Otsuka Pharmaceutical Co. Ltd. ("Otsuka") providing Otsuka with an exclusive license to conduct phase 2 and 3 clinical trials for Fremanezumab in Japan and, once approved, to commercialize the product in Japan. Otsuka paid TEVA an upfront payment of $50 million in consideration for the transaction and we may receive additional milestone payments upon filing with Japanese regulatory authorities, receipt of regulatory approval and achievement of certain revenue targets. Otsuka will also pay TEVA royalties on Fremanezumab sales in Japan.
Fremanezumab, a humanized monoclonal antibody targeting calcitonin gene–related peptide (CGRP), is being investigated as a preventive treatment for migraine [23]. Migraine is described as a complex neurological disorder that is characterized by recurrent pulsating headaches of at least moderate severity [24]. It is estimated that there is a global prevalence of 15% - 18%. However, chronic migraine – occurrence of at least 15 days with headache per month for at least 3 months – effects approximately 2% of the population [25].
Fremanezumab (TEV-48125) is a humanized IgG2a monoclonal antibody that selectively and potently binds to calcitonin gene–related peptide (CGRP), which is the neuropeptide that is believed to be involved in central and peripheral pathophysiological events of migraine. Fremanezumab targets both α and β isoforms of the CGRP in the synaptic cleft and not the receptor, has flexible dosing, and is administered via subcutaneous injection [26]. In a phase 3 randomized, double-blinded, placebo-controlled parallel trial, researchers randomized 1130 eligible patients to receive a single dose of Fremanezumab at baseline (group 1), a dose at baseline, week 4 and 8 (group 2), and a placebo (group 3). The primary end point was the mean change in the monthly average number of headache days during the 12 weeks after the first dose. Of 1130 patients enrolled, 376 were randomly assigned to fremanezumab quarterly, 379 to fremanezumab monthly, and 375 to placebo. The mean number of baseline headache days per month was 13.2, 12.8, and 13.3, respectively. The least-squares mean (±SE) reduction in the average number of headache days per month was 4.3 ± 0.3 with fremanezumab quarterly, 4.6 ± 0.3 with fremanezumab monthly, and 2.5 ± 0.3 with placebo. The percentage of patients with a reduction of at least 50% in the average number of headache days per month was 38% in the fremanezumab-quarterly group, 41% in the fremanezumab-monthly group, and 18% in the placebo group. Abnormalities of hepatic function occurred in 5 patients in each fremanezumab group (1%) and 3 patients in the placebo group (<1%). Additionally, injection site pain and injection-site induration and erythema (swelling and redness) was common, however, the severity of injection-site reactions did not differ significantly among the trial groups. The most common adverse event was injection-site pain, which occurred in 30% of the patients in the fremanezumab-quarterly group, 26% of those in the fremanezumab-monthly group, and 28% of those in the placebo group [27].

Primary and Secondary End Points. Panel A shows the change from baseline in the average number of headache days per month during the 12-week period after the first dose of the trial regimen (primary end point), and Panel B shows the change from baseline in the average number of migraine days per month during the 12-week period after the first dose of the trial regimen (secondary end point). A headache day was defined as a calendar day in which headache pain lasted at least 4 consecutive hours and had a peak severity of at least a moderate level, or a day in which acute migraine–specific medication (triptans or ergots) was used to treat a headache of any severity or duration. A migraine day was defined as a calendar day in which headache pain lasted at least 4 consecutive hours and met criteria for migraine (with or without aura) or probable migraine (subtype in which only one migraine criterion is absent), or a day in which acute migraine–specific medication (triptans or ergots) was used to treat a headache of any duration. An asterisk denotes P=0.006 for the comparison with placebo, and a dagger P<0.001 for the comparison with placebo. I bars indicate standard errors. Changes from baseline to weeks 4, 8, and 12 are part of exploratory analyses.
TEVA was able to secure a priority review at the FDA for this drug which would reduce the number of months from 10 to just 6 months, putting the PDUFA in June 2018, which is just one month after its competition drug Erenumab which is being manufactured by Amgen Inc., which has a PDUFA of May 2018. Additionally, Fremanezumab is also being investigated for the prevention of chronic and episodic cluster headache as part of the Phase III ENFORCE clinical research program. It has also been granted fast track designation by the FDA. Trials expected to be completed by 2019. They have also initiated phase 2 trials for post traumatic headaches.
According to GlobalData estimates, the drug sales for migraine in 2016 were approximately $3.3 billion across the seven major markets. They also believe that over the next 10 years, the market could grow to approximately $8.7 billion at a compound annual growth rate (OTCPK:CAGR) of 10.3%. North America is the current leader in global migraine drugs market. It is estimated to retain its leading share by rising at a CAGR of 3.4% from 2017 to 2025 which would potentially be a $2.13 billion by 2025-end. Europe is second to North America, and they are forecasted to have a $741.4 million market by 2025-end with a CAGR of 3.4% [28]. With a price tag estimated to be about $8500/year, one could assume that this may also become a nine-figure drug for TEVA.
FASINUMAB
Fasinumab is a fully human monoclonal antibody that targets NGF, a protein that plays a central role in the regulation of pain signalling. There is evidence that NGF levels are elevated in patients with chronic pain conditions. In September 2016, TEVA entered into a collaboration agreement with Regeneron Pharmaceuticals to develop and commercialize fasinumab in the United States, the European Union and certain other markets. TEVA paid Regeneron $250 million upfront and will share equally with Regeneron in the global commercial benefits of this product, as well as ongoing associated research and development costs of approximately $1.0 billion. Fasinumab is currently in phase 3 clinical development for the treatment of pain associated with osteoarthritis with three trials in progress. In December 2017, Regeneron initiated a phase 3 efficacy and safety study of fasinumab in patients with moderate-to-severe chronic low back pain and osteoarthritis of the hip or knee.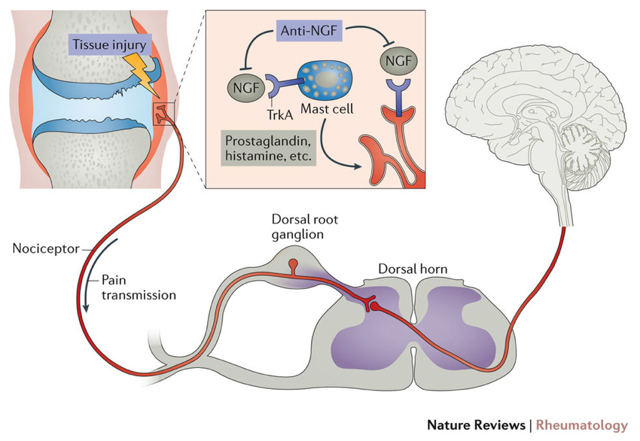 The neurotrophin β-nerve growth factor (NGF) is released upon injury and causes pain by activating its receptor (TrkA) on nociceptors and mast cells (which causes the release of inflammatory mediators such as histamine), leading to transmission of pain signals from the periphery to the spinal cord and brain via the dorsal ganglion. Inhibitors of NGF have shown promise in clinical trials of musculoskeletal pain.
Source: Lane et. Al. 2017
The global pain management market is valued at $35.5 billion at the manufacturers' level for 2016. BCC Research projects growth over the forecast period at a compound annual growth rate (OTCPK:CAGR) of 7.6%, which will result in sales totaling $52.0 billion by 2022. The current market for pain management is valued at $36.1 billion, which constitutes as prescription pharmaceuticals and the device segment. It is estimated that the global market for pain management will grow from nearly $36.1 billion in 2017 to $52.0 billion by 2022, with a compound annual growth rate (OTCPK:CAGR) of 7.6% for the period of 2017-2022. Additionally, it is believed that the pharmaceutical segment will grow from $32.3 billion in 2017 to $47.6 billion by 2022, rising at a CAGR of 8.1%. The global pain management therapeutics market is presently dominated by two products: opioids and Nonsteroidal Anti-inflammatory Drugs (NSAIDS). Collectively, they account for more than 52% of market share, with North America accounting for more than 56% of total consumers [29].
TEVA is planning to market fasinumab for lower back pain and osteoarthritis. The prevalence of lower back pain is estimated to range between 1.0 – 58.1% with a mean of 18.1% and a one-year prevalence ranging from 0.8 – 82.5% with a mean of 38.1% [30]. Chronic low back pain prevalence has been suggested to be 4.2% in individuals aged between 24 and 39 years old and 19.6% in those aged between 20 and 59 [31]. Osteoarthritis (NYSE:OA) is the most common joint disorder in United States, with the prevalence of knee OA being approximately 10% and 13% in male and females aged 60 or older, respectively [32]. The prevalence of symptomatic hip, knee, and foot OA has been suggested to be 4.2%, 15.4%, 0.1-61% [33].
Studies suggest that by blocking nerve growth factor (NGF) is elevated in the synovial fluid the fluid between patients' joints – of patients suffering from various forms of arthritis, including OA, thus, the thesis was presented that by selectively blocking NGF may be a viable solution for providing pain relief. Preliminary studies have demonstrated significant improvements in patient pain compared to the placebo, and the improvements seen were compounded when used in conjunction with NSAIDS [34].
With the ongoing worldwide opioid epidemic, and the way it has touched many communities, the demand for such product is undeniable. Additionally, long-term use of NSAIDs can have detrimental gastrointestinal and renal effects. Thus, Fasinumab may provide some hope for patients suffering from chronic pain. How much of the market share will Fasinumab grab? That is hard to determine, with the emergent of cannabinoids as potent and cost-effective method of pain management it is hard to determine what the exact adoption rate will be. It is imperative to note that majority of the patients suffering from such condition will be of low social economic status. With the emergence and validation of cannabinoids and how cost effective they can be, it is hard to imagine Fasinumab, a human monoclonal antibody, will cost less than a few hundred dollars per month. However, this is all speculation, and we will have to wait upon completion of phase 3 clinical trials to make further evaluation of this drug.
RESTRUCTURING PLAN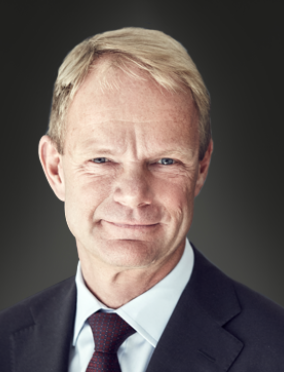 Kare Shultz, CEO
In September 2017, Kare Shultz was appointed new CEO of TEVA which ended their long battle with finding a fitting CEO. Mr. Shultz is a seasoned veteran in the healthcare industry who has distinguished himself through his experience leading financial and restructuring initiatives at global companies. He has served as the President and Chief Executive Officer of H. Lundbeck A/S, which he joined as the company was facing the loss of critical patents. Mr. Schultz conducted a top to bottom evaluation of the business and implemented a robust turnaround strategy that involved cutting operating costs while targeting new product launches. Prior to joining Lundbeck, Mr. Schultz worked for nearly three decades at Novo Nordisk [35].
As a part of their restructuring plan, in December 2017, TEVA announced a comprehensive restructuring plan intended to significantly reduce cost base, unify and simplify organization and improve business performance, profitability, cash flow generation and productivity [36]. This plan consisted of the following steps:
Global workforce reduction of 14,000(about 25% of total workforce – approximately 50% expected to be completed by Q2-2018).
Closure and divestments of 12 manufacturing plants – 6 announced since December 2017; expect to announce 6 more by YE 2018.
Suspension of dividends on ordinary shares and ADSs. Dividends on mandatory convertible preferred shares to be evaluated on a quarterly basis.
No annual bonuses were paid in 2017.
Simplification of organizational structure by reducing layers of management, streamlining processes and divesting/closing certain R&D facilities.
Restructuring charge of $700M to be recorded in 2018.
Generic medication portfolio optimization – they have begun initial discussions with key customers regarding unprofitable products – either in the form of price adjustments or discontinuation of the products.
Reviewing of all R&D programs – they have cut roughly 27% of programs that fell outside of core expertise area and where it's very speculative whether they would be able to turn a profit from these programs.
Total cost base to be reduced $3.0 billion (from a base of $16.1 billion this year) by the end of 2019. More than half should be achieved in 2018; full amount by 2019.
As a part of the restructuring plan, TEVA managed to shed some of its Women's Healthcare products. On November 1, 2017, they completed the sale of PARAGARD ®, a copper releasing intrauterine contraceptive manufactured and sold in the United States, to CooperSurgical for $1.1 billion USD in cash. On November 2, 2017, TEVA completed the sale of PLAN B ONE-STEP ® and their brands of emergency contraception TAKE ACTION ®, AFTERA ® and NEXT CHOICE ONE DOSE ® to Foundation Consumer Healthcare for $675 million USD in cash. On January 31, 2018, TEVA announced the completion the sale of a portfolio of products to CVC Capital Partners Fund VI for $703 million USD in cash. Thus, TEVA has stated that they expect their gross debt to be lowered by approximately $3.5 billion by YE of 2018.
QUICK NOTE ON BERKSHIRE HATHAWAY
With the recent intrigue surrounding Teva pharmaceutical (TEVA) attributed to the Warren Buffet's Berkshire Hathaway's stake in the company. Berkshire Hathaway disclosed in 13F fillings with the SEC that they have purchased approximately 18,950,000 shares (1.8% of Teva Pharmaceutical's outstanding shares) for a price of $357,695,000USD. In addition to the purchase of TEVA shares, Berkshire Hathaway's (NYSE: BKR-A/BRK-B) portfolio consists of only 315,400 shares of Procter & Gamble (NYSE:PG) valued at $28,979,000USD (+0.99% from time of purchase), 327,100 shares of Johnson and Johnson (NYSE:JNJ) valued at $4,570,200USD (+7.74% from time of purchase), 3,878,524 shares of Senofi (NYSE:SNY) valued at $166,777,000USD (-14.24% from time of purchase), and 38,565,570,000 shares of DaVita Healthcare Partners (NYSE:DVA) valued at $2,786,362,000USD (+21.65% from time of purchase).
The total portfolio exposure of Berkshire Hathaway to healthcare is approximately 1.77% of their total assets, this recent purchase of TEVA is approximately 11% of their total healthcare exposure. I must note that their holding of DaVita shares makes about 82% of their total healthcare exposure. This move was surprising as Berkshire has been reducing their holdings in both JNJ and SNY. When asked about his reasoning behind this acquisition, Warren Buffet was quick to remove himself from the decision-making process and stated that it may have been one of his deputies that made the purchase. It is hard to speculate if that is true or not – most likely not, as it would be hard to imagine Berkshire taking a $358m USD without the value investor knowing.
SPECULATION: Recent reports show that Warren Buffet has agreed to join Jeff Bezos (Amazon) and Jaimie Dimon (J.P. Morgan) in a venture designed to cut health care costs and improve services of their U.S. employees [37]. This venture could mean bringing TEVA to the table as the world's largest generic medication provider.
FORWARD FORCAST
It is very difficult to be optimistic about a company that has so much uncertainty. In the mist of such uncertainty there is significant obstacles to overcome. The sales of their specialty drug CAPAXONE will continue to decrease as generic drugs begin to overtake the market share. Additionally, the Actavis – Allergan's generic drug division, acquiring a significant amount of debt as the generic medication market was declining, was poorly timed. The period of turmoil and uncertainty and the eventual discontinuation of the dividends resulted in more than 80% of shareholder value. In their recent conference call, TEVA did not present a very bullish 2018 outlook; they told investors to expect revenue decline to $18.3 - $18.8 billion (from $22.4 billion), decrease operating income to $4.0 - $4.3 billion (from $6.7 billion), decrease in EBITA to $4.7 - $5.0 billion (from $6.7 billion) and decline in EPS to $2.25 - $2.50 (from $4.01). Their guidance for 2018 has the potential loss of revenue for their 40 mg CAPAXONE factored in. In the remaining portion of this report, we will attempt to present a bullish thesis for Teva Pharmaceuticals.
The company has made significant changes in management. The new CEO, Kare Shultz, and the restructuring plan that has been set forth is very impressive. Of course, the cost reductions and the income from the divesting of non-core assets are great steps taken by the CEO to increase revenue and decrease costs of operation. The company is still looking at areas and assets that they feel they could sell – their European oncology may potentially be next. The company has also reported on average $3.0 - 5.0 billion of free cash flow (NYSE:FCF) which can be used to further reduce their debt. Many investors have stated their disappointment in discontinuation of dividends, however, that alone will save the company approximately $1.0 billion which could also be used to pay down debt.
TEVA has placed itself as the world leader in generic medicines. With the aging population, and the increase use of generic medication, investors can only expect an increase in revenues from their generics line. Thus, the long-term outlook of the company is looking promising for the world's largest generic medication producers. Investors can expect the global generic medication to begin to stabilize within the next few quarters, thus providing a better consensus on the future outlook of TEVA generic medication segment. Although, CAPAXONE on average was responsible for approximately $4.0 billion of revenue in the past three years, and management have stated that they expect that number to decrease to approximately $1.8 billion. They hope that sales of AUSTEDO will be able to somewhat makeup for the revenue lost from decreased sales of CAPAXONE, however, they do not expect to see any significant contribution from AUSTEDO sales until 2019. It is hard to really determine how well the drug will do, since a lot of that will depend on their approval for treatment of TS. Additionally, the development of fremanezumab will also be a driving factor for their future growth as it has the market demand and potential for a nine-figure drug. We are skeptical in future of fasinumab. Although the market demand is present, there will be significant competition from the emerging cannabinoid sector, which may be more cost-effective to the patients. This is a factor that cannot and should not be ignored by investors.
Deep analysis of the company's finances suggests that Teva pharmaceuticals is indeed undervalued. We values the company at $40.0, suggesting that with the current share price of $19.25 at the time of writing of this report, the company is trading at more than 50% discount, with more than 100% upside – within the next 24-36 months. This significant discount may have been what sparked the interest of the value investor Warren Buffet, who purchase shares of this company at approximately the same price. We suggest that the investors note that this is a long-term investment and should expect to wait 2-3 years prior to realizing their full returns. The company has stated that investors should not expect revenue increase until 2019 and beyond. Perhaps with the decrease in debt, Teva pharmaceuticals can return to their days of paying dividends as well, which we would not expect for the next 2-3 years. All great investors understand the concept that time is the most important element in investing. This may be the right time to invest in a company that surely has a great future ahead, the only factor would be how patient the investor can be, and is willing to wait to realize their gains.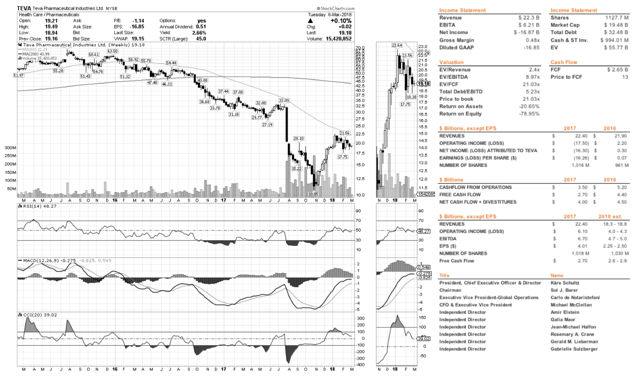 About Teva Pharmaceuticals:
Teva Pharmaceutical Industries Limited, a pharmaceutical company, develops, manufactures, markets, and distributes generic medicines and a portfolio of specialty medicines worldwide. It operates through two segments, Generic Medicines and Specialty Medicines. The Generic Medicines segment offers sterile products, hormones, narcotics, high-potency drugs, and cytotoxic substances in various dosage forms, including tablets, capsules, injectables, inhalants, liquids, ointments, and creams. This segment also develops, manufactures, and sells active pharmaceutical ingredients. The Specialty Medicines segment provides specialty medicines for use in central nervous system and respiratory indications. Its products in the central nervous system area comprise Copaxone for the treatment of relapsing forms of MS; and AUSTEDO for the treatment of tardive dyskinesia and chorea associated with Huntington disease. This segment's products in the respiratory market include ProAir, ProAir Respiclick, QVAR, Duoresp Spiromax, Qnasl, Braltus, Cinqair/Cinqaero, and Aerivio Spiromax for the treatment of asthma and chronic obstructive pulmonary disease, as well as Bendeka, Treanda, Granix, Trisenox, Lonquex, and Tevagrastim/Ratiograstim products in the oncology market. The company has collaboration arrangements with Otsuka Pharmaceutical Co. Ltd. and Regeneron Pharmaceuticals, Inc. Teva Pharmaceutical Industries Limited was founded in 1901 and is headquartered in Petach Tikva, Israel. [source: finviz.com]
RESOURCES:
Disclosure: I/we have no positions in any stocks mentioned, and no plans to initiate any positions within the next 72 hours.