The U.S. stock market keeps rising. Based on the most recent U.S. GDP figures released for Q2 2013, the Wilshire 4500 total market index to GDP ratio is now at yet another all-time high based on the index value as of 31 July.
The ratio, based on both the most recent quarterly GDP (annualised) and the 10 year average GDP, is now also substantially higher than the previous all-time high from Q1 2000. When the previous peaks were reached in 2000 and 2007, the stock market and the ratio not only plummeted, but did so quickly.
For value investors, the current record high ratio signals a highly valued stock market, which again signals lower future potential returns (see here for more on this).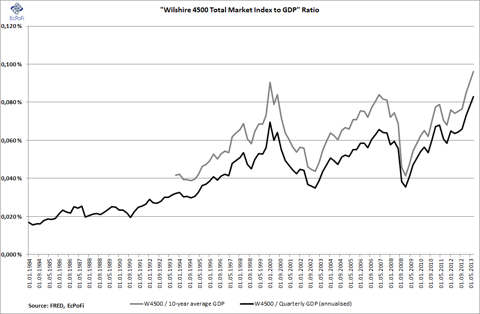 Also see: Lessons Worth Remembering: Who Predicted the Bubble? Who Predicted the Crash?
Disclosure: I have no positions in any stocks mentioned, and no plans to initiate any positions within the next 72 hours.