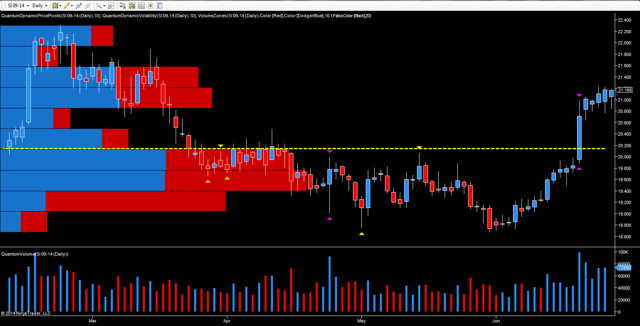 For metal investors, whether in gold or silver the last few months have been a torrid time, with June's bullish momentum for both metals providing some welcome relief. For silver, the key trading day in the month was the 19th June, with an extremely volatile day duly marked with a wide spread up candle, duly validated with the associated high volume on the daily chart. The significance of this candle cannot be underestimated as it finally breached the resistance level in the $20.20 per ounce level denoted both by the price action, but perhaps more importantly by the volume at price histogram on the left of the chart. As a result, silver is now moving higher on a deep and sustained platform of price support which extends from $19.40 per ounce through to the $20.10 per ounce price point. The subsequent price action for silver over the last few days has further validated this breakout, as the metal continues to climb higher supported by strong daily volumes. What is also interesting is the depth of the lower wicks to the candles over the last few days, once again sending a clear signal of bullish sentiment.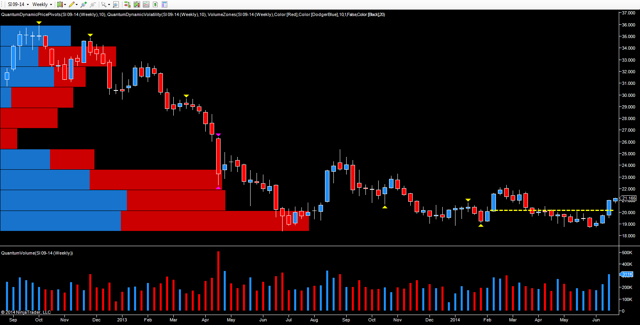 The weekly chart perhaps shows the volume price relationship even more clearly, with three weekly candles rising on rising volume, once again a strong signal of a bullish trend developing. In the medium term, if the $22.30 per ounce high of September is taken out, then we can expect to see silver continue higher in the longer term, to possibly test the $23.26 high of mid October. Whilst the recovery for silver is modest, it will no doubt be welcomed by both gold and silver bulls, although the current price action is reminiscent of that in early February, which promised much but delivered little. The answer as always lies in volume price analysis, and there is nothing to suggest, as yet, that we have reached a buying climax in this time-frame. So whilst the short term outlook is positive, the longer term remains bearish, if and until we see a true reversal in sentiment which will be clearly signalled by volume price analysis.
You can follow more of my market forecasts on my personal site at http://www.annacoulling.com
Grab a copy of my latest books on Amazon: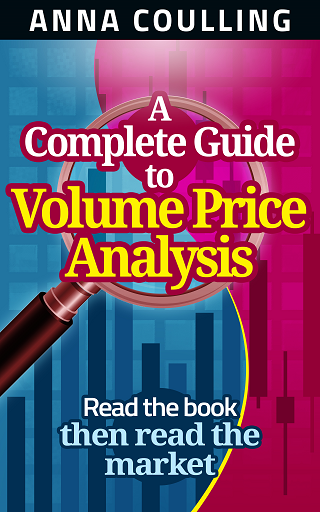 www.amazon.com/gp/product/B00DGA8LZC/ref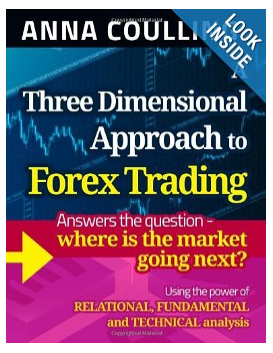 www.amazon.com/Three-Dimensional-Approach-Trading-ebook/dp/B00CX2QCVO/ref
GRAB your copy NOW!