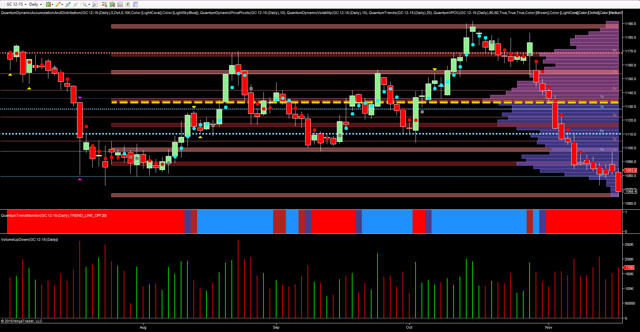 It was another gloomy day for gold bugs in yesterday's trading session with the precious metal picking up bearish momentum once again following last week's respite, which saw the metal pause and move into a congestion phase in the $1085 to $1095 per ounce area, before closing last week at $1080.90 per ounce. The question then was could things get any worse, and following the tragic events in France at the weekend, even this failed to provide any support to the metal, which closed with a bearish candle on high volume as the metal rallied but then closed back below the open on high volume. Yesterday's price action picked up this bearish momentum with the precious metal driving through the potential support platform in the $1080 per ounce area to touch a low of $1064.40 on the December GC contract, before managing to close at $1068.60 on rising volume, making this the fifteenth consecutive day of losses for gold. More worryingly still, we are now starting to approach a low volume node on the volume point of control indicator, and as such we can expect to see prices move quickly through this level in due course.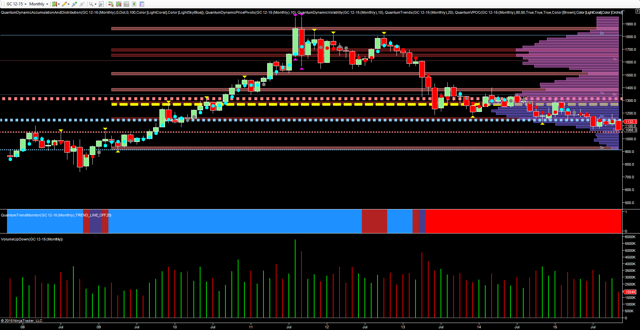 The monthly charts helps to frame the above in a more meaningful way, and clearly indicates the potential support region now waiting below in the $1050 per ounce region, as denoted by the pink dotted line. With the price action inching gold prices ever lower on the monthly timeframe, any close below the $1080 per ounce area on this timeframe will then further reinforce the heavily bearish picture for gold, and should the $1050 per ounce price point be taken out, then the next meaningful level awaits below $1000 per ounce. A psychological level indeed, and one that we may see sooner rather than later. What is perhaps self evident at present is the lack of any stopping volume, which is the pre-cursor to any buying climax, and essential for any major reversal. This is something I have said many times before, this is what we need to see for any longer term reversal in the current relentless and remorseless move lower. By Anna Coulling Charts by NinjaTrader and indicators from Quantum Trading
You can follow more of my market forecasts on my personal site at http://www.annacoulling.com
Grab a copy of my latest books on Amazon: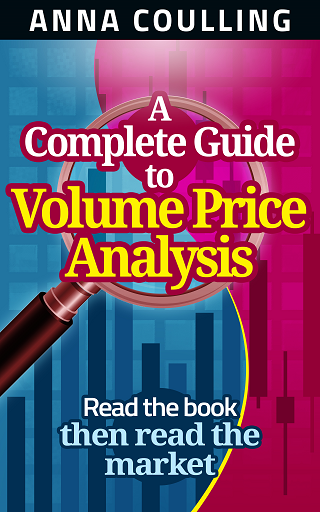 www.amazon.com/gp/product/B00DGA8LZC/ref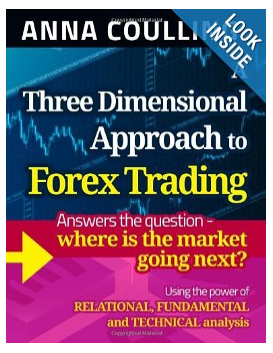 www.amazon.com/Three-Dimensional-Approach-Trading-ebook/dp/B00CX2QCVO/ref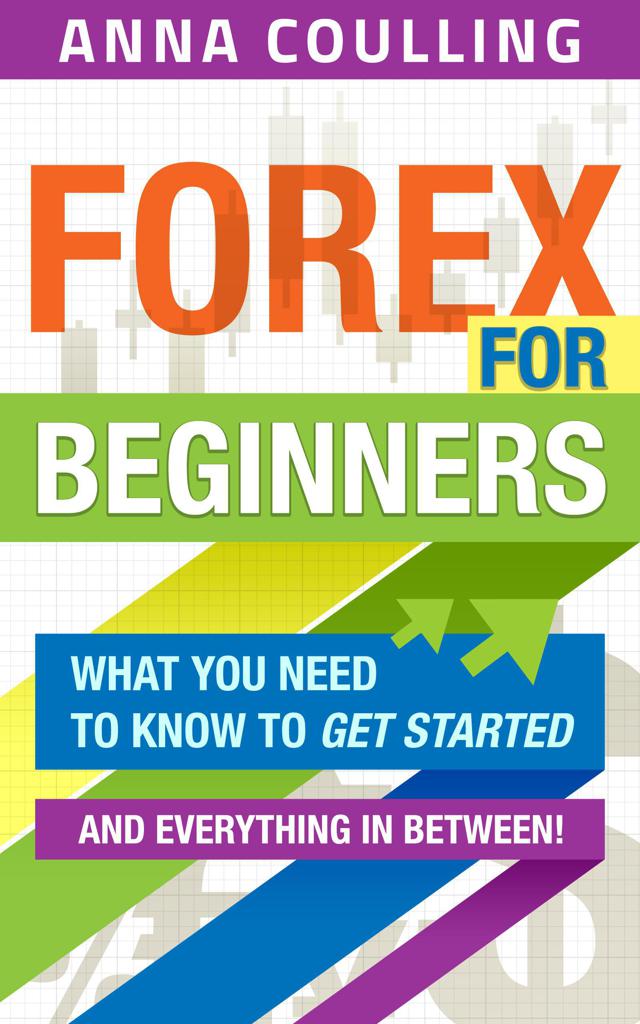 GRAB your copy NOW!