Is it wine in a can I see on the Superbowl ad? No, It's Budweiser betting on Hard Seltzers
Anheuser-Busch InBev's (NYSE: BUD) Bets hard on Hard Seltzers and splashed into the market with a Superbowl commercial. Are they too late to the game? Are they doing things right? Can Bud-Light compete with White Claw's 50% market share? We'll explore these as well as Bud's distribution model, and the choice to do a line extension of Bud Light instead of a brand-new Hard Seltzer beverage.
The beverage industry category of Hard Seltzers grew 200% last year according to Nielson, bursting into the one-billion-dollar sales range, and making up 2.5% of the entire alcohol market in the USA. USB Research estimates the category will reach $2.5 billion by 2021. Budweiser announced their new Bud Light Selzer at the end of last year.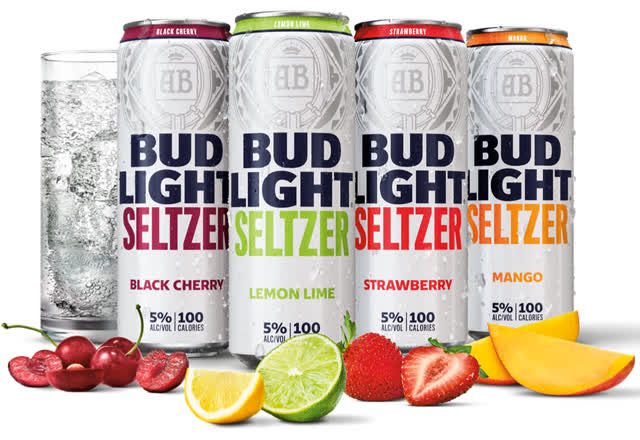 Images by Bud Light
But what are Seltzers and what's the big deal?
Seltzers with booze are not new. They are a proven drink of summer. Now, in the USA, millennials are reaching for this summery drink instead of beer and wine. The funny thing is Hard Seltzers, also known as Spiked Seltzers, are sparkling wine with alcohol. What you might not now, is that it started the other way around, as watered-down beer and wine.
Twenty years ago, I was working in Germany and Spain. While in a pub in a small village in Germany that bordered Holland, I saw a family come in to the pub. The parents ordered beer, but they ordered another drink for their teenage son. It was half pilsner beer mixed with half Sprite. Yes, that's right, what we know as Hard Seltzer, the Germans have been drinking for decades as watered-down beer for their kids.
This is not just true in Germany. When in Spain, I witnessed something similar. This time it was adults who watered-down their Tempranillo wine with sparkling water and ice. It is the most popular drink of the summer, especially in southern Spain, where scorching temperatures demand more drinking and more refreshing drinks.
When I was a teenager, I remember my mom buying wine in a box. I had a taste once and it was terrible. As I became a beverage distributor, and then beverage analyst and consultant, I paid more attention to wine and the different ways of selling it. I saw several attempts at wine in a can, popular in other countries, but not really in the USA. The snobbish wine drinkers never gave it a chance. This has all changed with millennials. They don't inherit the same drinking habits of their parents and grandparents. They're making their own way, drinking less soda, less bottled water, and more of this new wine in a can called a Hard Seltzer.
Does Budweiser have a chance to compete against White Claw? White Claw controls 50% of the Hard Seltzer market right now. Under normal circumstances, this would be a tremendous mountain to cross. These are not normal circumstances, this is Budweiser, the number one brand in beer in the nation, and more importantly, the largest network of distributors in the country.
Budweiser can launch a national advertising campaign and place products in the refrigerator of thousands of supermarkets, convenience stores and liquor stores the same week. This is almost impossible for any other brand. In fact, last week I encountered a stack of Bud Light seltzer at Vons, a Safeway supermarket brand, in San Diego, California. They didn't have space in the cooler for singles, or even for cases, but Budweiser stacked the 12-Packs on the floor next to the refrigerator.
What Budweiser is doing right:
The number one thing they're doing right is entering the category. Showing up is important, and they showed up with a new portfolio of products. Because Bud has incredible distribution, developing and launching a product quickly is very important. Bud also copied White Claws look and feel, flavors and packaging. The new Bud Hard Seltzer comes in twelve-ounce slim cans and you can buy it in different flavors: black cherry, lemon-lime, strawberry and mango. The beverage has one hundred calories and five percent alcohol by volume.
Can they catch up to White Claw and the other competitors? We'll see.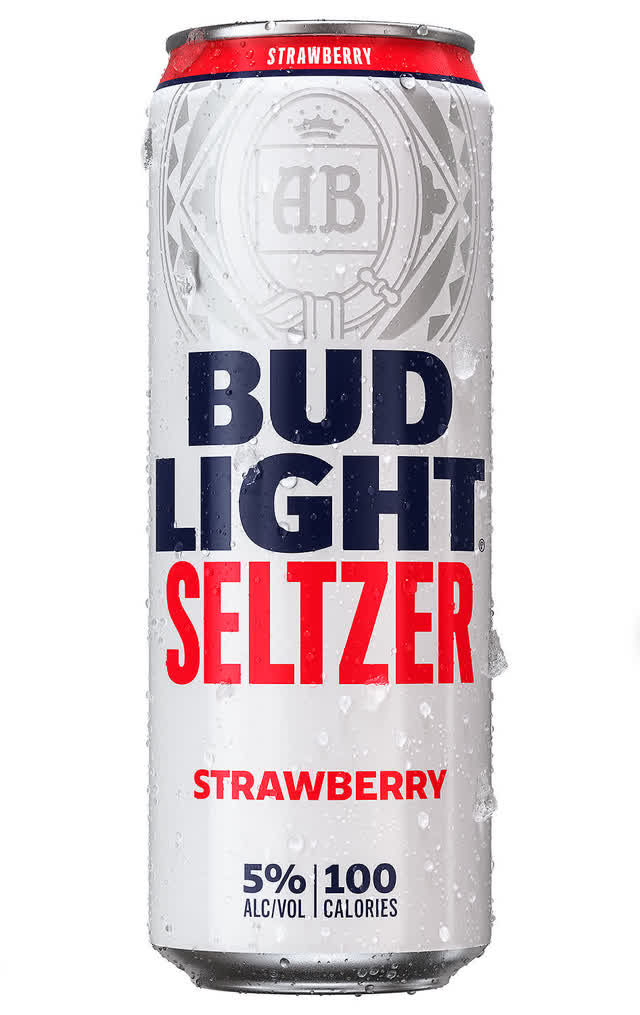 What Budweiser is doing wrong:
Large companies struggle to think outside the box, or in this case, outside the Bud. It's hard for such a large company to be entrepreneurial, new, and fresh. Therefore, instead of creating a brand-new product they did a line extension of Bud Light. I know it's difficult to be in the board room and pitch your VP a new concept, it's much easier to just go with what works. We see this repeatedly in beverages with large companies. Large companies in the beverage industry have to buy brands, not make them. Maybe this was a better option for Budweiser, to buy an existing brand complete with their visionaries, and just flex the distribution muscle. Furthermore, Bud is assuming that their new Seltzer customer is a crossover from a Bud Light drinker. I don't think so. I believe the new market is more of a craft beer drinker. Well, how can Budweiser make up for this mistake? They will have to reeducate the consumer.
Beverage Industry Insight: What you should know about beverage distribution
What does this mean for competition? Everything!
If you're Budweiser launching a new Seltzer, you already have a large network of franchised Bud distributors that must take your product. You don't have to go knocking on doors trying to get your product into distributors. This is the same for retailers. Budweiser distributors can place just about anything they want into stores and even in on-premise accounts (bars, restaurants, and all places that consume alcohol on their premises.) The hard part is coming out with products and reaching the consumer with their message.
New entrants into the FMCG space have it all backward. Producing the product is the easy part, landing distribution is a city by city, store by store operation. Sure, you can call on your local Bud distributor to sell your product. They might take your brand-new wine, or beer, or Hard Seltzer, but you still must go and open stores one by one. You prove yourself repeatedly with every salesperson, every retail account, every bar, every restaurant. Once you do this in one city, it's time to go to the next one.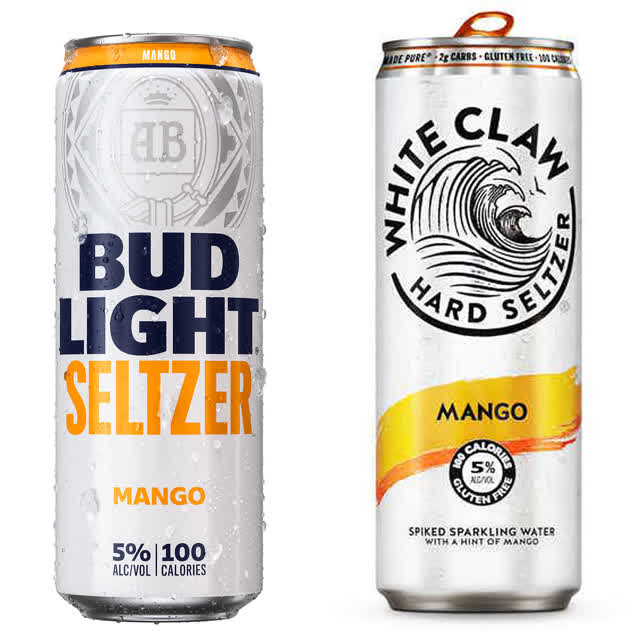 Images by Bud Light and White Claw
View from a beverage analyst
It's too early to tell if Bud Light Seltzers will make a dent in the category. They already made a dent in the retailer, at least in the space they're occupying. Go check them out at your local stores.
The new beverage category is a winner. Hard Seltzers is the place to be in the alcoholic beverage space. However, just copying the leading brand and expecting the same results is not recommended. New brands need to innovate, or at least to introduce something slightly new to the category. Maybe a nice Tempranillo red wine with bubbles would hit the spot for next summer.