In a recent article - "If 'High Yield' Is So Scary, Why Do You Own So Much? (Hey, I'm Talking To You, Equity Investor!)" - I attempted to put "high yield" investing into some perspective by:
Pointing out that virtually all the mid-cap and small-cap stock investors routinely own is issued by "non-investment grade" companies. Therefore owning the stock is even riskier than owning the high-yield bonds or senior secured loans of those same companies that many investors say they would never buy because of the excessive risk. 
Sharing a recent study by S&P Global Market Intelligence that pointed out some positive trends in interest rate coverage, leverage, default rates and upcoming debt maturities within the high yield universe.
 This new report provides additional data re the recent earnings of high yield companies (US Leveraged Loan Issuers See Earnings Boom - LeveragedLoan.com) showing, among other things, that earnings growth was the highest in three years and that interest rate coverage continues at a 10 year high, despite the significant rise in LIBOR rates.
Here is one quote from the article:
"New tax policy delivered the expected jolt to bottom-line results in the first quarter, but this was no sugar high for U.S. leveraged loan issuers, as core quarterly earnings growth bulked up to the best result in three years. The rising tide of EBITDA also bolstered key credit metrics, as this protracted credit cycle shows no signs of early-onset weakening in the broad view."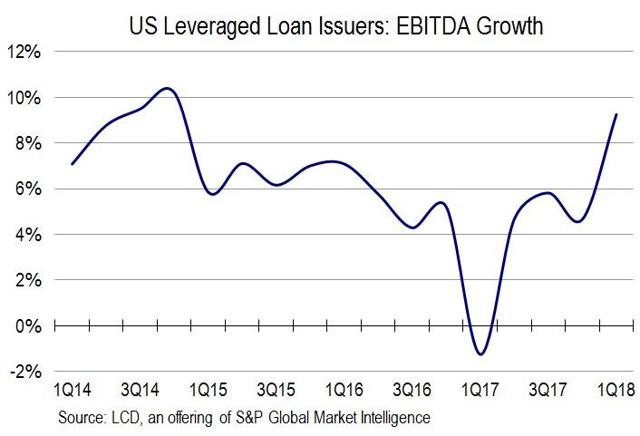 Steven Bavaria, a former executive of Bank of Boston and Standard & Poor's, is a financial writer and consultant. Check out his book Too Greedy for Adam Smith: CEO Pay and the Demise of Capitalism (link to Amazon), and his articles on "Income Factory" investing on Seeking Alpha (Steven Bavaria's Articles).