The Income Factory - Inside And Outside
Please Note: Blog posts are not selected, edited or screened by Seeking Alpha editors.
Summary
I appreciate the support from many followers and readers for my new "Inside the Income Factory" service.
I also appreciate the honesty and candor from some followers who have characterized me as essentially "selling out" to what they see as Seeking Alpha's mercenary monied interests.
While I can't please everyone, I developed my new "boutique" service in direct response to many followers who asked for more frequent feedback and inter-action.
Maintaining 4 model portfolios and generating other investment ideas on top of it is a lot more work than what my previous quarterly "after the fact" reports involved.
I hope the additional ideas and extra insight are worth it; I've tried to price at the low end of the SA recommended fee scale to make it accessible to the broadest possible audience.
A little over two months ago I launched my "Inside the Income Factory" membership service here on Seeking Alpha. I did it for several reasons:
Quite a few followers had asked for it, suggesting that my quarterly "after the fact" reports on my own investments were valuable and interesting, but wished for more frequent and actionable feedback. In other words, many people wanted to hear what I was doing and thinking when it was still fresh and possibly more relevant to their own current investment decisions.
The investment world and the range of possible economic and political scenarios we faced had changed dramatically this year, becoming more risky and unpredictable than anything that confronted us previously. I felt I needed to present more options and that a "one-size-fits-all" Income Factory would not fit everyone's needs, and might send an over-simplistic message to followers about what our actual risk/reward challenges were.
I purposely priced Inside the Income Factory at the low end of the scale that Seeking Alpha recommends, so that cost would not be much of a consideration for potential members. Readers might be interested to know that less than two and a half months after launch, we are already #34 out of a total of 177 services in terms of numbers of subscribers, thanks to the number of readers and followers who signed up and decided to continue on after the 14-day trial subscription. (Thank you all very much!) But perhaps equally interesting is the statistic that we are only in #56 place out of 177 services in terms of subscription revenue. In other words, we are charging significantly less than other services with our level of subscribers.
More important.......
More important is what we're doing, not what we're charging. I am pleased that last week we launched our 4th model portfolio, so now we have:
Our "Widow & Orphan" portfolio, which comprises 25 funds and is our core Income Factory model. It has a current distribution yield of 9.5%, and an average discount of 9%. It has essentially broken even over the past year in terms of total return (slight loss on price, slight gain on NAV). Income Factory investors who are reinvesting and compounding at that sort of reinvestment rate and discount, are likely pleased with the performance.
Our "Hunker Down" portfolio, which is intended to be an even more conservative version of our Widow & Orphan portfolio, with an even sharper focus on funds that are likely to survive if pandemic-related factors cause our economy to suffer for a more extended period. It pays a distribution yield averaging 8.4%, with an average discount of about -5%, and is up in price by about 2% since we launched it two months ago. The 16 funds in the Hunker Down portfolio include several from our Widow & Orphan - including (FOF), (UTF), (UTG), (RNP), (HYT), (VTA), (FRA) and (HYB) - plus some other solid long-term CEF performers, like (HTD), (RQI), and (LGI).
Our Taxable Income Factory portfolio, that we launched last month and is designed to maximize the amount of income distributions that comprise qualified dividends and capital gains, or - in many cases - distribute constructive return of capital ("ROC") that doesn't get taxed until the fund is sold (and then at capital gain rates). It earns an 8.4% pre-tax yield, and should provide a higher after-tax yield than the assortment of municipal bond funds that we compared it to. It holds a lot of Eaton Vance, Nuveen and John Hancock "tax advantaged" funds, as well as other equity funds that pay our mostly qualified dividends or capital gains. Most of its funds have a history of modest appreciation in addition to their distributions, so there is a possibility of a total return even better than 8.4%, providing an even greater advantage over muni funds.
Our newest model portfolio, the "Income Factory Light," was launched about a week ago and is along the lines of what I described in my recent book. It combines a traditional Income Factory with enough of a dividend growth investing ("DGI") portfolio to get the best of both worlds: a "river of cash" in steady re-investable and compoundable distributions large enough to stiffen the investor's spine even during downturns; along with a 25% or 50% (or even higher, if they prefer) slice of the portfolio capable of creating some growth over time in addition to that river of cash. Depending on the blend of Income Factory and DGI you select, I project the portfolio should yield between 6% and 8%, with additional capital appreciation bringing the total return up to 9% to 10%.
Besides regular updates of these model portfolios (two of which, the W&O and the Hunker Down, are live portfolios that I own and can track in real time), I will continue to provide additional fund and other investment ideas for members who want to:
"Soup up" their portfolios with more aggressive higher-yielding funds and stocks
Diversify beyond any of the specific portfolios with funds and investments that I personally own or are considering for my portfolio
Plus, I am always available via the "chat" feature, or through comments and direct messages, to answer questions or give opinions and feedback about specific investments, whether they are on my radar scope or not. (If I know nothing about them I'll be the first to tell you, but usually I'm curious enough to spend a few minutes looking it up and giving you a "quick & dirty" response.)
Finally, thanks to those of you who have given me such kind and generous reviews or other comments. To those of you who have told me you earned back your first year's subscription price in the first two months of ideas, all I can say is "Thanks...and I hope you'll repeat that experience over the rest of the year."
As I said, this is turning out to be hard work. But at the same time, I'm learning more by doing all this research than I ever have before, so I'm definitely getting my own "money's worth" out of it as well.
Here is the link for anyone who would like to check it out. You get a two-week free trial, so there is no risk.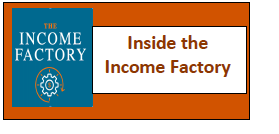 P.S. To my thousands of wonderful followers who do NOT sign up for Inside the Income Factory, I just want to say that I continue to really appreciate your support. I hope to continue to produce articles that are of interest to you, and look forward to your comments and input, as always.
Stay safe and prosperous!
Steve
Analyst's Disclosure: I am/we are long FRA, VTA, FOF, UTG, UTF, RQI, RNP, LGI, HYB, HYT.
Seeking Alpha's Disclosure: Past performance is no guarantee of future results. No recommendation or advice is being given as to whether any investment is suitable for a particular investor. Any views or opinions expressed above may not reflect those of Seeking Alpha as a whole. Seeking Alpha is not a licensed securities dealer, broker or US investment adviser or investment bank. Our analysts are third party authors that include both professional investors and individual investors who may not be licensed or certified by any institute or regulatory body.