The below chart displays the year on year growth rate of China's broadest measure of credit (The 12 Month Sum of Total Social Financing) versus the 1-year time charter rate of a Capesize vessel.
CHINA TOTAL SOCIAL FINANCING vs CAPESIZE 1 YEAR TIME CHARTER RATE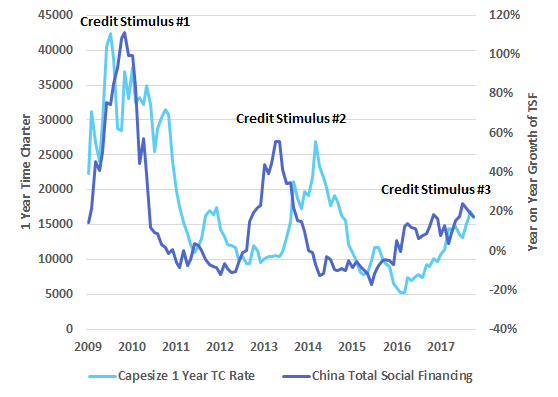 The relationship is quite clear. China's credit growth leads to increased demand for commodities and energy (infrastructure, construction) which result in increased demand for the transportation of Dry Bulk commodities like iron ore and coal. Notice the lag between the initiation of credit stimulus and the improvement in Dry Bulk markets, which is mainly due to the continuous fleet growth that had to be absorbed by demand growth (which takes time). 
China's last "credit stimulus" were launched right and the end of 2015 - perhaps as a response to the economic and financial turmoil that China (and the rest of the world) found itself in during that time.
Since then, demand for commodities rebounded strongly going along with rising commodity prices (iron ore, coal, metals, energy etc.). Dry Bulk freight of course rebounded as well after the start of 2016 saw earnings drop to below half of opex.
As the rebound in Dry Bulk markets have come on the back of another bout of credit issuance, there is no reason to expect that the upturn will end just like it did in 2014/15 (or in 2011/12 for that matter).
Indications are that the effects already are wearing off, and on the back of that it seems clear that the Dry Bulk asset values and rates are set to fall anywhere between 20%-40% lower next year compared with this year's market averages.
China's latest infrastructure stimulus surge conducted by state-owned enterprises have already lost all the growth seen last year...
CHINA STATE-OWNED FIXED ASSET INVESTMENT GROWTH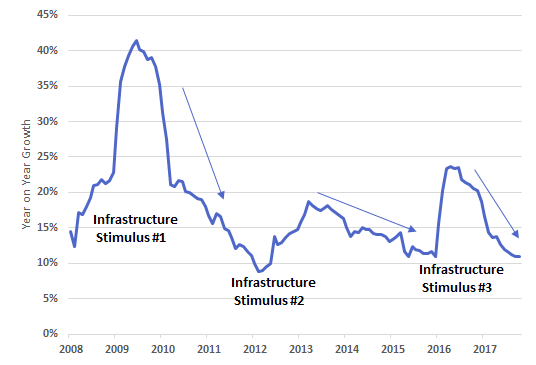 Growth in global steel output is trending downwards - similar to what were the case in 2014...
YEAR-ON-YEAR GROWTH IN GLOBAL STEEL OUTPUT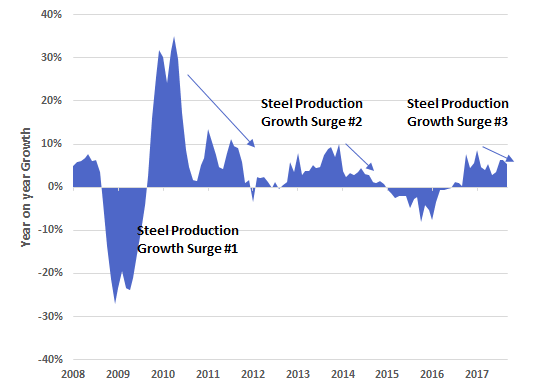 China's import demand of Coal and Iron Ore are losing momentum, again similar to 2014...
CHINA | TOTAL COAL & IRON ORE IMPORTS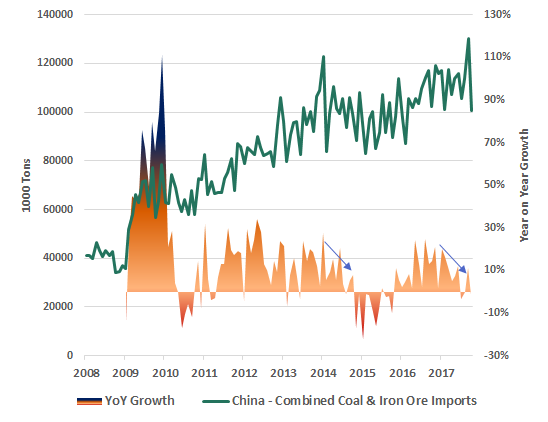 Ideas here is to take advantage of the currently strong Dry Bulk market to go short Golden Ocean, as their leveraged spot market exposure to the Capesize market is going to be painful as China's third post-08 credit stimulus ends...
GOLDEN OCEAN SHARE PRICE LAST YEAR