In July, 1986, exactly 32 years ago, I sent the first Turnaround Letter to subscribers. It looked like this: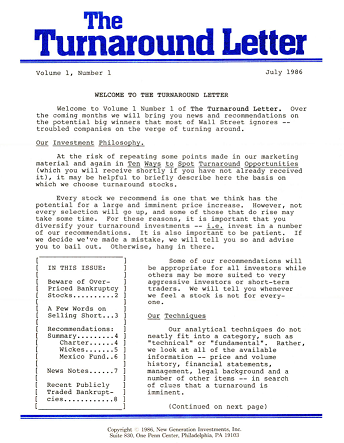 Back then, in what seems like the Stone Age compared to today, I created the first Turnaround Letter on an IBM PC that had two floppy drives and no hard drive. I uncovered most of my ideas through research found in hard copy documents at the library as the public internet was still a decade away. Primitive electronic communication was based on a Hayes modem that chattered away at 2400 bits/second, using the early dial-up service CompuServe. (Ironically, Hayes went bankrupt as it couldn't keep up with the rapidly changing technology – a useful lesson for tech investing).
Stock prices were quoted in 1/8ths, the Dow Jones Industrial Average closed the year at 1896 and the 10-year Treasury yielded 7.3%.
The technology clearly has changed since the "olden days". Today, Turnaround Letter subscribers around the globe receive the letter and other commentary instantly by email that is often read on mobile phones, along with social media posts and (coming soon) podcasts and (eventually) videos.
What hasn't changed in 32 years? Our investment philosophy of selecting out-of-favor companies with real value and imminent changes that can significantly improve the companies' prospects.
As I wrote in that first letter:
"Over the coming months we will bring you news and recommendations on the potential big winners that most of Wall Street ignores -- troubled companies on the verge of turning around."
Decades after those words were written, Wall Street still ignores turnaround stocks. We believe that even in a world where academics and commentators proclaim that the stock market is efficient and that these opportunities don't exist, Wall Street will continue to ignore these types of stocks.
Our timeless investing process, consistently applied, has helped drive The Turnaround Letter's market-beating investment returns (please see our independently-verified performance by Hulbert Ratings). We hope to continue providing these kinds of returns to you over the next 32 years.
Click here to subscribe to The Turnaround Letter on Seeking Alpha.
Disclosure: I/we have no positions in any stocks mentioned, and no plans to initiate any positions within the next 72 hours.