LAST PUBLISHED ECONOMIC INDICATORS
·      The Federal Reserve (FED) continues injecting reserves (aggressively) in the banking system. The monetary base increased by a 141 percent year-over- year (YoY) over the last 4 weeks.
·      However, the money multiplier keeps contracting: M1 contracted by 28.7 percent year-by-year and M2 by 4.9 percent.
·      Retail Sales: increased by 2.7 percent in August month-over-month (MoM), by 0.8 percent over the expected 1.9 percent. July was revised to 1.0 percent from the previous 0.5 percent.
·      Consumer Sentiment Index of Michigan University is 70.2 (above from the expected 67.0).
·      Unit car sales went up 82 percent in August.
·      PPI grew by 1.7 percent, well above the 0.8 percent expected (the leading component of the PPI continues to be the pharmaceutical sector). The core index, excluding energy and food, increased by 0.2 percent month-over-month; a 0.1 percent was expected.
·      The last Beige Book indicates the following:
o   Weak sectors getting better: Tourism, Staffing firms, Railroads (over trucking and air freight), Small parcel service firms, Automotive (cash for clunkers), Paper products/containerboard, Chemical manufacturing, Semiconductors, Entry-level housing, Grocery chains, Apparel retailing (youth).
o   Solid sectors keeping solid: IT Services, Health Services, Pharma, Aerospace, Discount stores, Public construction (roads), Food manufacturing.
o   Solid sectors getting weak: Tobacco, Oil and gas drilling.
o   Weak sectors keeping weak: Financial services, Commercial construction, Luxury goods retailers, Appliance manufacturers, Home and garden centres, High-end real estate, Multi-family housing, Commercial real estate, Coal mining producers, Electric utilities, Heavy trucks, Restaurants.

BRIEF: U.S. LABOR MARKET
     U.S. labor market is not promising and it's still not recovering. Statistically, the financial market works on a 6 to 9 months anticipation basis over the real market. Expecting that the financial market's recovery continues, I imagine that the labor market will begin to recover over the next months (I cross my fingers and hope it will be this way). Today it doesn't look very well.
     The first chart shows us the percentage of companies with one or more job offers. In 2007 it was around 25 percent, nowadays, around 8 percent.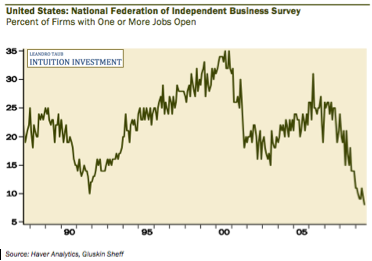 The second chart (following page) shows us the Number of unemployed people for each job offer. In 2007 the ratio was less than 2, today, there are 6 people unemployed for each new job offer.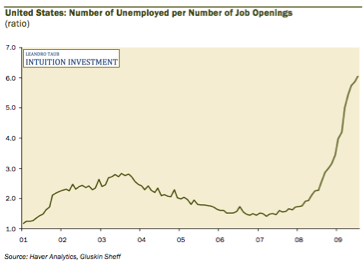 BRIEF: THE PRODUCT (OTC:GDP)
     For 60 years, government participation in the countries' product has been increasing (state's intervention in the economy):
·      U.S: from 21.4 to 38.6 percent of the product.
·      France: from 27.6 to 52.7 percent of the product.
·      England: from 34.2 to 47.6 percent of the product.
·      Germany: from 30.4 to 44 percent of the product.
     My beloved Davis Rosenberg estimates that by 2010 the 80 percent of the U.S. product's growth will be explained by the public sector incentive. 
BRIEF: FINANCIALS
"G20 outlines bank crackdown, vows to continue stimulus - Finance ministers and central bankers from the world's most powerful industrialized and developing countries agreed Saturday to deliver the remainder of a $5 trillion global fiscal stimulus while outlining a compromise on efforts to rein in pay for bankers and toughen oversight of the financial sector." MarketWatch (LONDON)
     I keep my positions in Citigroup, Bank of America and FAS. The former keeps giving excellent results, the first two increased a lot and over the last weeks suffered a strong correction (both banks reported the biggest default of credit cards since recession began). I keep favoring specially Citigroup (BAC-Merrill Lynch put a price objective of $5.75 per share and the young analyst Terence Chow tells us that in the best scenario, the share would spike to 8.74).