I had someone ask about buy / write, closed-end funds like BXMX, ETW, MCN, BDJ, BOE, BGY, EOS, or ETY. These funds can also be called option-income funds or covered-call funds.
Eaton Vance Tax-Managed Global Buy-Write Fund is a good example of how a buy/write fund will typically act depending on what asset class is being invested in and more importantly how the dividend payout is set. These funds can be OK as long as you understand them and like all CEFs only buy them when they are at a much greater than normal discount to NAV and when what they do is out of favor (not the case currently).
In the case of ETW, the dividend is set such that it roughly breaks even on price during normal times, the income from option writing mostly covering the distribution. However, in market crashes ETW will take most of the hit that the rest of the market does, but not recover to the extent most equities do when the rest of the market recovers.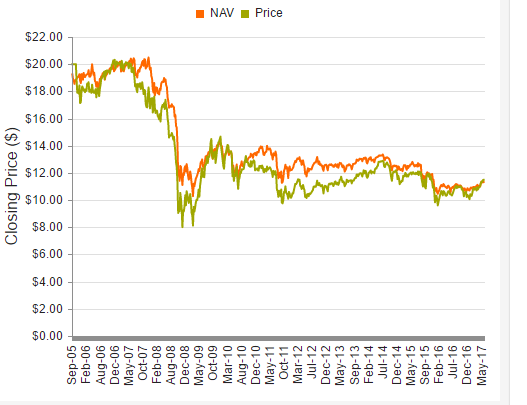 Over long periods, you can expect a price only graph of ETW to look like a staircase going in only one direction, down. Their is a significant step down in price with each market crash then a mostly flat period during the recovery, followed by another step down in the next crash. Its pretty much how its designed. All the income from the option writing is paid out as a tax advantaged dividend (return of capital for tax purposes).
ETW or similar buy/write funds can be used, they do have tax advantages for taxable funds; however, one should not expect to spend the entire amount and have them hold up on price long term.
In the case of ETW, it makes about 6% over the long term, but pays out about 10%. It and other covered call funds can also be pretty useful in situations where you are purposely trying to create a declining trust (a specific tax dodge situations where this can make sense but not applicable to most people). Alternately, if the retiree would spend only 6% of the payout, keeping the rest to be re-invested after the fund had dropped 20% or more in price from its most recent high, a covered call fund would probably work out fine. Unfortunately however, most retiree's don't do this.
Disclosure: I/we have no positions in any stocks mentioned, and no plans to initiate any positions within the next 72 hours.
Additional disclosure: I do not know you: your goals, risk tolerance, or particular situation. Therefore, I cannot recommend this or for that matter any investment to you. Do your own due diligence.