The core of this blog post was released to members of Cash Flow Kingdom in February as an earnings preview; occasional updates were then provided in the comment section.
The Turnaround Goal:
C-III Capital has an unstated quest to restructure Resource Capital (RSO) into a commercial mREIT in the image of Blackstone Mortgage Trust (BXMT).  As I like to put it, RSO wants to "B like BXMT".  If they can succeed this would be a very worthy endeavor for shareholders: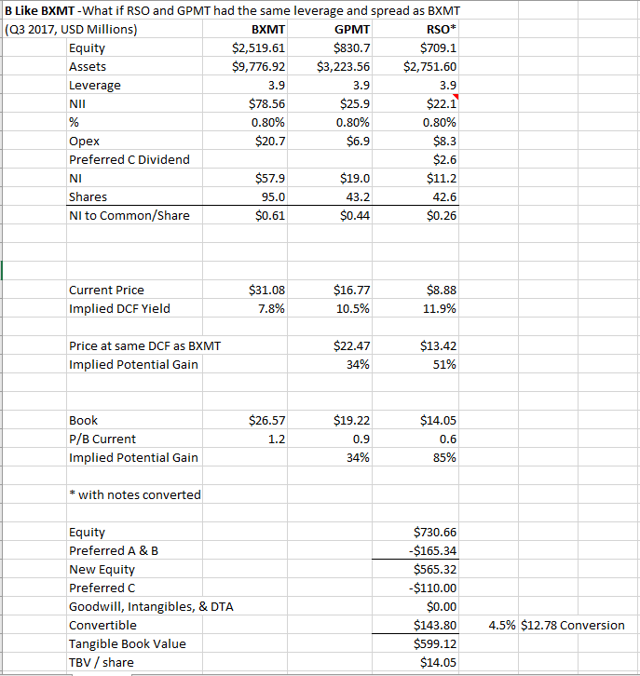 Note: I have included Granite Point Mortgage (GPMT) in the chart above, because it is also working towards a goal to, "B like BXMT". However one can already read a number of excellent in depth articles on it by Colorado Wealth Management including, "My Stocks Include This 8.97% Yield REIT, Fear Dominates Recent Price", so I will leave it to him to cover that name. I do agree with him that it is a worthwhile investment.
RSO Significantly Reduced its Cost of Capital:
In an important step, Resource Capital (RSO) recently called the rest of their preferred series B shares (disclosure I was also a RSOpB shareholder). The previous redemption of the preferred A and now the remainder of preferred B was necessary in order to help lower RSO's cost of capital. The preferred C is $110 million at 8.63% and can't be called until 2024. These preferred purchases were all clearly signalled in an August convertible debt press release. 
Next Step:

Managements next step is to get the portfolio fully levered as shown in the chart above. They need to profitably add over a billion dollars in portfolio size over the next 9 months. Given the environment, lots of money chasing flexible loans, this will not be an easy task. Portfolio growth over the last two quarters has been anemic. However, $4 billion in Assets under Management, C-III (the parent of RSO), does have the experience, knowledge, and scope in this field to make it happen. They also have a pretty clear incentive to do so.
Incentives matter:

When management made the convertible deal with noteholders back in August, "Resource Capital with convertible note offering", it was widely panned by individual investors on SA.  I on the other hand added to my existing RSO position, and explained to Cash Flow Kingdom members why this was a very important and positive move for RSO shareholders. 

As previously stated, the note was used to pay off the Preferred Series A and eventually all of B.  This was absolutely necessary because the preferred rates were simply too costly for the "B like BXMT" business model.  There wasn't enough spread between the preferred interest rate, and typical commercial real estate loan rates to make prefered financing viable.  However, the problem was this preferred was also part of equity, equity which management got a 1.5% fee on.  So if management had simply paid-off the preferred, they would also have significantly cut their own compensation.  The convertible loan deal was a brilliant solution to this problem.

The deal with the noteholders froze managements base fee for a year.  A year for them to pay off the costly series A and B (done), build the portfolio at profitable spreads (still a lot of work work needed here), and get the stock up to a price where the convertible notes would convert to equity (somewhere above $12.78).  If management can accomplish this, they will have succeeded in bringing the equity base back up, thus ensuring they don't have to take a pay cut in January 2019.  If management does not succeed, on that date their management fee will revert back to 1.5% of equity, 1.5% of a much smaller base, and they take the pay cut.  The good news for investors is either way the bottom line at RSO is going to improve.  Either they get the portfolio size, bottom line and stock price up enough for the convertible notes to convert to equity, or there is going to be a reduction in opex costs sending a greater portion of income to investors.

Apparently, management either has confidence they are going to get there, or at the least, is trying to signal to the market they are going to get there.  
Insider Buying:
In the last two days management has purchased 66k shares on the open market.  This purchases were made in the $9 - $9.30 range by a diverse set of insiders including: CEO Robert Lieber, President Matthew Stern, CFO David Bryant, Board of Directors member and Managing Director of C-II Jeff Cohen, Board of Directors member Bill Hart, Chief Legal Counsel Michele Weisbaum, and Executive VP Thomas Elliot. 

They are trying to send a message.  I think you should listen.
Disclosure: I am/we are long RSO.
Additional disclosure: This article discusses a risky investment. I do not know you: your goals, risk tolerance, or particular situation; therefore, I cannot recommend any investment to you. Please do your own additional due diligence.