If you are unfamiliar with Exantas (XAN), it used to be called Resource Capital (RSO) but has changed its name since its management was taken over by C-III Capital.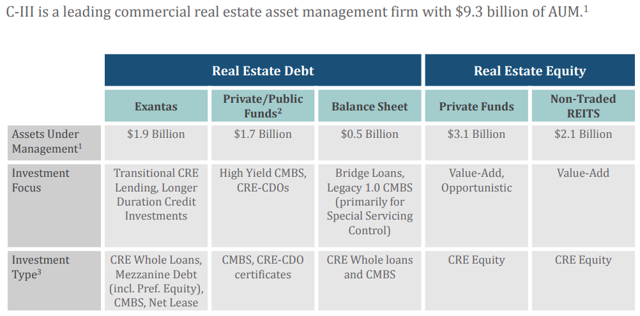 I first bought a position in the preferred at $22.33 a bit after the takeover (December 2016).  Later in January 2017 I also added an initial small position in the common at $8.50 (see Trade Disclosures in the comment section of this article).  At the time RSO was a classic turnaround in the Commercial mREIT sector.  Poor performance history, highly depressed valuation on a price to tangible book basis, but also a solid, highly experienced new management team who took it over promising to completely restructure the company-- investment portfolio, cost, debts, risk structure, etc.-- into something better. 
C-III wanted RSO to "B like BXMT".Fast forward more than 18 months and most of these turnarounds targets have been achieved.  The company now has a new name, Exantas Capital, to go along with its new management, new portfolio, lower costs structure, etc.  Along the way Cash Flow Kingdom added additional shares when milestones were achieved (e.g. especially the convertible deal, more on this later).  Members were regularly updated on all trades, with reasoning, as well as periodic updates on the companies progress (including here and here).  A 40% return on the common, and a 23% return on the preferred has been nothing to sneeze at.  Nor has been the 14% increase XAN shares have enjoyed in the last month.  Yet I believe we still have further to go.
Exantas spent most of 2017 selling off the old RSO assets and lowering their cost of capital.  This year they raised their distribution as the portfolio was rebuilt in its new format: from 5¢ per share in Q1, to 10¢ in Q2, to a recommended 15¢ for Q3.  This has not really been a surprise for those paying attention.  In fact, as the portfolio continues to grow to normal size for an mREIT of this type, I expect they will once again raise the distribution to 20¢ in Q4, and possibly even 25¢ in Q1 2019 (depending on note conversion).
Part of the reason for my confidence on timing is C-III is on a deadline.  The management team of this commercial mREIT turnaround made a deal in order to get the Preferred B refinanced into much cheaper convertible notes.  As part of this deal, they were granted a freeze in pay, but only until the beginning of 2019.  At the beginning of the new year their compensation reverts back to a % of equity under management only now without the Preferred B as part of that equity base (its now notes, and therefore no longer equity). 
Put C-III needs to get XAN's stock price above $12.78 for the convertibles to convert or they will effectively be taking about a 25% fee cut*.  Either way, a high enough stock price for the convertibles to convert, or lower management fees, current investors in XAN win.  It is no wonder management is getting more and more investor friendly, not just increasing the dividend, but also upgrading the website, doing more roadshows, insider buying, profession slide decks, etc. C-III didn't buy RSO only to subsequently take a pay cut.Q2 2018 Earnings:
XAN posted core earnings of 20¢ in Q2, covering the Q2 dividend by 2x and the new Q3 dividend by 1.3x. Economic Value Added was 27¢ thanks to a 10¢ dividend + a 17¢ increase in book value.  XAN also closed a half billion dollar securitization at the end of the quarter, freeing up funds for further reinvestment, at a very attractive rate of L+1.1% (a 3.3.% spread vs. the overall portfolio at L+4.4%).
XAN also added a net of $41 million in loans and $72 million in CMBS to the portfolio during the quarter. At $1.8 billion in total portfolio value this still isn't enough growth, but it is at least progress and we will get there. My modeling estimates they should eventually get total assets over $2 billion on today's equity by end of year.  This should be enough to raise the dividend once again to 20¢, helping to get the stock above the $12.78 price where the notes could start converting.  I further suspect that part of the understanding with these notes, was that they actually would convert at some reasonable price a bit over the $12.78 minimum.  Once that happens, equity will once again increase back to where it was prior to them calling the Preferred B and management will once again earn its fee on this restored equity base.  The new equity base would also support a further increase in assets to $2.7 billion at which point XAN is going to end up looking a lot like Blackstone Mortgage (BXMT).  BXMT currently trades at 1.2 times tangible book value, were XAN to achieve the same valuation, it would be at $16.90 per share.  More than 40% price upside from here, plus dividends along the way.
Will XAN B like BXMT?  We'll C.  
 *Note, at the time individual investors hated the deal, calling it a guaranteed pay continuation that was undeserved.  I instead saw a very elegant way to solve the Preferred B cost problem, with C-III voluntarily going on a one year put up or shut up performance schedule in the process.  I bought more RSO and Preferred B at very attractive prices, disclosing the trade and the reasoning why to Cash Flow Kingdom members.
Ask yourself, "How much money did you lose out on by not having better information on XAN over the last year?"  Don't miss out on continuing coverage of this name and other turnaround opportunities with solid cash flows.  Join Cash Flow Kingdom, the community where Cash Flow is King.
Disclosure: I am/we are long XAN.
Additional disclosure: This article discusses risky investments. I do not know your goals, risk tolerance, or particular situation; therefore, I cannot recommend any specific investment to you. Please do your own additional due diligence.