Bloomberg reports bonds and bond proxy ETFs (REITs, Utilities, Consumer Staples, etc.) are seeing major withdrawals due to fear of rising rates. IYR, the iShares Real Estate ETF, and ICF, the iShares Cohen and Steers REIT ETF, have had 18.5% and 19% of total assets redeemed in the last week. Top 10 holdings these two ETFs have in common include: PLD, SPG, AMT, EQIX, PSA, AVB, EQR, & WELL. I would be fairly cautious with these names as well as smaller REITs like SAFE who purport to offer fairly low but "safe" dividend streams. Contrary to what many might think, these investments aren't really safe. They may have little default risk; however, the more "bond-like" an investment is, the more it can fall if there is a general route/pile on effect, primarily caused by the fear of rising rates. In most cases, the distributions with these kinds of investments probably aren't worth the risk.
However, if for one reason or another you are drawn to buy these kinds of large cap, bond-like investments anyway, I would first wait a bit, and then look to Closed-End Funds 'CEFs'. When a particular category or sector falls out of favor with investors, CEFs frequently get a double whammy with both the underlying holdings falling, and the discount to NAV falling even further. A current example is First Trust (FT):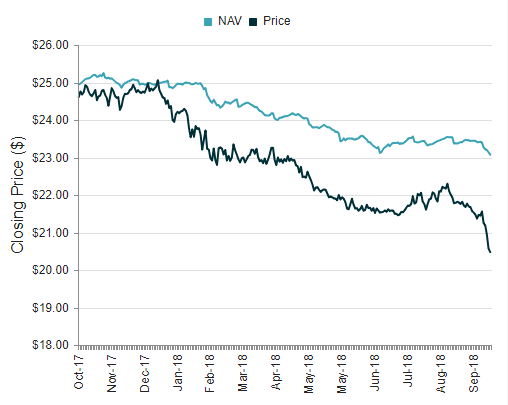 As you can see, its NAV has been falling this year and its discount to NAV widening, but it's really only in the last couple weeks that its price has really fallen off a cliff. After this kind of capitulation is when you want to consider investing.
So, if you think the market is wrong and you are right, or for diversification reason always want to hold a minimum percentage of a certain sector, CEFs which have already fallen significantly can be a good choice. They can provide both compounded upside if you are right, and some margin of error if you aren't. You only however want to consider this once the discount to NAV is already much greater than normal (z-score < -1.5). Some current examples include:
I happen to think rates are going to continue to rise and so purposely choose not to add any holdings in these sectors, at this time. I'm very under allocated to fixed income and have been for years. However, I wanted to point out the relative attractiveness of CEFs in these situations in case others have investment strategies which require them to always carry a certain allocation in fixed income and other bond proxies.
Of the four, Pioneer Diversified (HNW) is the only one I currently hold. Even there I'd want to see a discount in the high teens and a z-score below -1.5 before I'd consider adding (current discount to NAV is 14.5%). I like the diversity HNW offers in the fixed income sector: 27% High Yield, 24% Floating Rate Bank Loans, 17% Disaster Bonds, 20% International Bonds, 4% Cash, and 8% Other- but not really the general sector itself. I also like that it yields 7.7% with a duration of only 2.6 years so the interest rate risk isn't too high (a 1% increase in rates should in theory cause a 2.6% decrease in price). However, as you can see with its price, just because it doesn't have that much relative interest rate risk, doesn't mean it can't get thrown in with all other fixed income investments in a general route. With CEFs, the anomalies and mispricing's are what you want to look for.

Get Exclusive Articles from Darren McCammon
13 Reviews
Cash Flow Kingdom

The investor community where "Cash Flow is King"
At its heart Cash Flow Kingdom is a small cap growth and income service with emphasis on corporate cash flows.
• Hidden Value: under-followed or unpopular investments where heavy research and modeling can uncover hidden value.
• Dividends, dividends coverage, and DCF: deep dives into the true sustainable cash flow per share available to shareholders for their benefit, and whether this cash flow is likely to cover dividends long term.
• Risk: Proprietary Money Management strategy and diversification technique to help control risk.
Full portfolio disclosure, and same day trade notifications.
Disclosure: I am/we are long HNW.
Additional disclosure: This article discusses risky investments. I do not know your goals, risk tolerance, or particular situation; therefore, I cannot recommend any specific investment to you. Please do your own additional due diligence.