Note, this is not meant to be a comprehensive article nor even an earnings review, but merely a short piece meant to highlight Golar's very promising growth path.
Mr. Market must have attended a different Golar LNG earnings release and conference call than I did. I saw good earnings growth, high visibility for further increases in Q4, and a clear path to 1/2 billion in annual EBITDA.
To be fair however, I have always seen Golar as a longer term investment than the market may.  This is probably because I see a paradigm shift occurring worldwide with LNG supplanting diesel, coal, and high sulphur fuel oil as an energy source, and Golar LNG (GLNG) as one of the best ways to invest in that transformation. I'm looking 3, 5, and 10 years ahead, not 3, 5, or 10 days.
Golar LNG (GLNG) has projects with decent near term visibility which could put it on a path to 1/2 billion in annual adjusted EBITDA ($5.10 / share):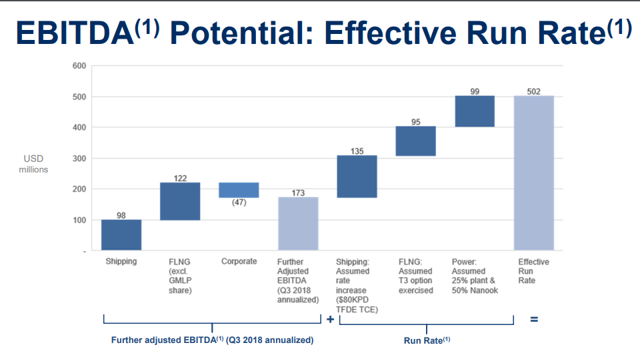 Source: GLNG presentation
The climb to 1/2 billion run rate includes items with high likelihood:
High LNG lease rates - $80k / day TFDE TCE rate is already pretty much built in for Q4, likely to be higher, and higher yet in Q1.
Hilli T3 - We should know more about Hilli T3 by end of year, but if Parenco can get the gas to port, it seems likely the spread is enough to make it profitable.  An MMBtu goes for $3.55 at Henry Hub currently vs. $10.55 in Japan and Korea.
Sergpipe - Sergpipe plant construction / Nanook FSRU deal continues to progress with first cash flow expected in 2020.
Other projects:
This adjusted EBITDA pathway however doesn't even include other promising projects with less visibility such as: Tortue, Delfin, or Avenir. Positive results on those would drive even further upside.
For instance, Avenir's goal is nothing less than to establish a worldwide hub and spoke distribution system for LNG: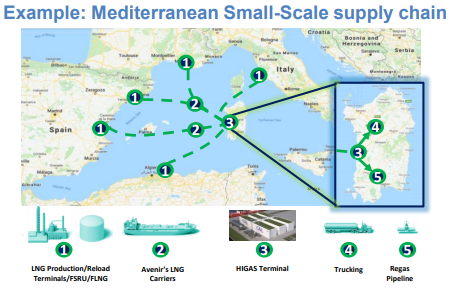 Source: Golar Presentation
Basically large LNG ships deliver from major LNG shipping ports such as Sabine Pass to an FSRU (Floating Storage and Regasification Unit).  In this case off Sardinia. In addition to feeding local pipelines and plants, this LNG is then transported via smaller LNG ships to demand locations on coasts and up rivers throughout the mediterranean. This can feed electric plants without access to harbors able to take large LNG vessels, helping to convert them from diesel or coal to LNG.  It can also build up ship bunker fuel supplies helping convert shipping from high sulphur bunker fuel to LNG, and LNG fueling stations for trucks on repeatable routes. In effect if successful this hub and spoke (maybe even break bulk?) operation greatly expands demand serviced throughout the region. Over the long run it could greatly accelerate LNG adoption and increase usage.
Golar currently forsee's Avenir having one of these in the the Mediterranean, one in the Carribbean, one in South America, one in Africa, and one in Asia.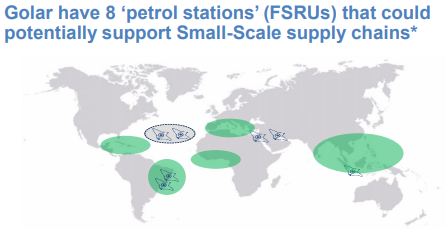 Source: Golar Presentation
If successful I imagine it then expands from there.  The goal of Avenir is therefore essentially to further displace diesel, bunker oil, and coal with LNG at smaller locations which wouldn't warrant or can't take very large LNG vessels.
LNG as an energy source typically offers much better economics than diesel or bunker fuel, as well as significantly lower pollution output, and improved engine life.  However, the worldwide logistics system to make this happen is still in its first few innings. Avenir is just another step in the very promising LNG paradigm shift from diesel, high sulphur fuel oil, and coal to LNG. One of many steps Golar LNG is involved in, "From Well to Grid".
Disclosure: I am/we are long GLNG.
Additional disclosure: This article discusses risky investments. I do not know your goals, risk tolerance, or particular situation; therefore, I cannot recommend any specific investment to you. Please do your own additional due diligence.