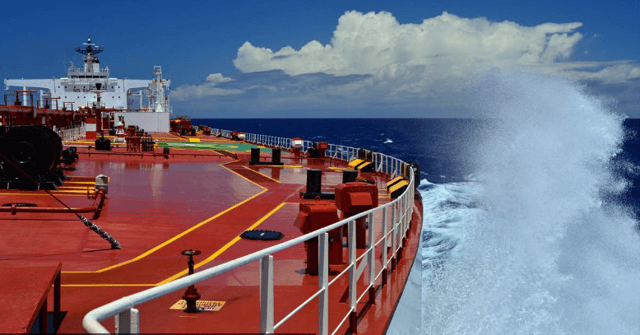 As previously suggested in, "Ship Lease Rates Are Entering An Attractive Window Of Opportunity" almost all shipping lease rates are now being carried upward on an end of year rising tide.
Part of the reason is seasonal, we are entering the winter season when weather effects-- fog, etc. -- makes the typical transit longer than normal thereby increasing demand. 
Part is related to new year regulation.  In preparation for IMO 2020, ships of various types are entering dry dock in order to install scrubbers.  This both reduces the shipping supply and is taking longer than planned.  Thus scrubber retrofits are likely to continue affecting lease rates for at least the next six months. 
Part of it is due to what I will group together and call increased inefficiency effects.  As explained in, "Will Tariffs Increase Or Decrease Shipping Ton Mile Demand?", pretty much any inefficiency in the market-- Saudi oil attacks, tariffs and trade wars, deploying and getting IMO 2020 compliant fuel, etc. - tends to results in more time and ton miles being traveled.  This reduces available supply thus increasing rates. 
And specifically for crude carriers (and to a lesser indirect effect LNG), lease rates have spiked because COSCO has been sanctioned.  COSCO is a big crude carrier so their sanctioning affects up to 7% of all crude shipping.  A 7% reduction in available supply is huge for shipping.  As a result spot rates for VLCC's have spiked as high as $150k per day.  However, I warn this last effect may be more short lived if China is able to convince the US to drop the sanctions as part of some interim trade deal.
J Mintzmyer has written a number of articles for Value Investor Edge which can help the potential shipping investor navigate these investment opportunities.  If you haven't already, I would suggest at least taking advantage of VIE's free two week trial.  Who knows maybe you'll make enough during those two weeks to pay for the next years subscription?  Also, I remind knowing when to tack and take profit, is just as important as knowing what to invest in.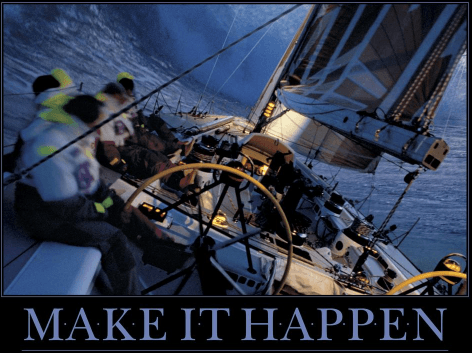 Alternately, Joeri van der Sman, one of the best shipping investors I know of, occasionally writes a free publicly available blog which many might find helpful including recent posts:
To these excellent sources, I would add TNP.pE and TNP.pF as two preferred income investors should consider. Both currently offer a sprightly 10%+ simple yield.  While Tsakos carries a quite high level of debt, >80% when including preferred, I think they now have enough wind in their sails to successfully service that debt.
Crude Tanker lease rates are doing very well and I expect product tankers to follow. TNP has a lot of ships on profit sharing, thus they almost immediately benefit.
Interest rates have dropped a lot over the last few months making it easier for TNP to refinance and service debt.
TNP recently issued convertible preferred which will likely be "in the money". Conversion results in unfortunate dilution for the common (13%), but is a positive for other preferred such as the series E and F. (Conversion of preferred into common transfers the ownership claim from a level even with the series E and F to one below them.  It usually also reduces total dividend expense.  Both of these reduce preferred shareholder risk.).
There's also a pretty decent chance funds from 1-3 above will be used to help refinance debt or pay off the preferred C* rather than increasing the common dividend.  Again debt including preferred is already high.  Needing to lower their debt is probably why the latest preferred were issued on very favorable conversion terms.  Once again paying down debt or preferred reduces claims and interest expense above or equal to preferred thus improving preferred coverage.
"May the investment winds be always at your back as you sail safely over turbulent water and weather the inevitable waves, dips and crests of the market.  May the sun shine golden upon your face as you seek treasure in Earth's infinite bounty, beauty and surprise.  May you enjoy the journey, your boat filled with insight, laughter, love and generosity as you explore the wide expanse of exchanges and discover new riches.  Fair Winds And Following Seas."*TNP.pC has a failure to redeem clause that will increase in payout if they are not redeemed by Oct 2020.
The Power of Multiple Cash Flow Streams
Since inception, the CFK Income Portfolio has generated a total return of 56.5% (verse 43% for the S&P 500, and 39.4% for the Russell 2000). This was accomplished while offering a very attractive and relatively steady portfolio dividend stream in the 7-9% range that looks like this: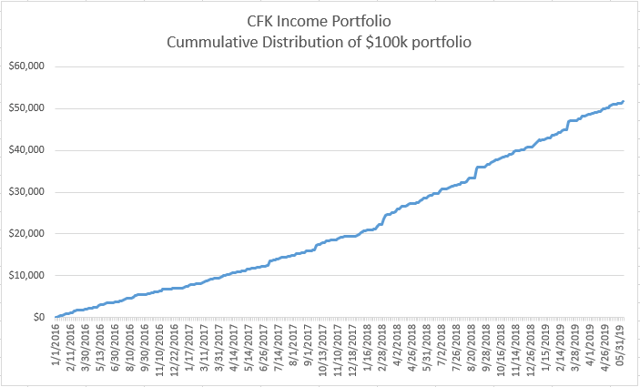 A focus on strong and growing company cash flows, as well as management alignment and capital allocation skills, is at the core of what we do. Please join us at Cash Flow Kingdom, "the place where cash flow is king", to see if we can help you achieve your financial goals.
Disclosure: I am/we are long TNP.PF, TNP.PE, GLNG.
Additional disclosure: This article discusses risky investments including volatile and thinly traded shipping investments. I do not know your goals, risk tolerance, or particular situation; therefore, I cannot recommend any specific investment to you. Please do your own additional due diligence.