**************************************************
Ladies & Gentlemen, WE ARE IN THE MIDST OF A MASSIVE SLOWDOWN. U.S.'s MARCH CHINA IMPORT NUMBERS DROP -26.5% FROM THAT OF JANUARY.
Investors should take this as the indication that we are in the midst of a major slowdown in the U.S. economy. As recently reported by the U.S. Depart. Of Commerce the U.S. imports have dropped a whopping 26.5%!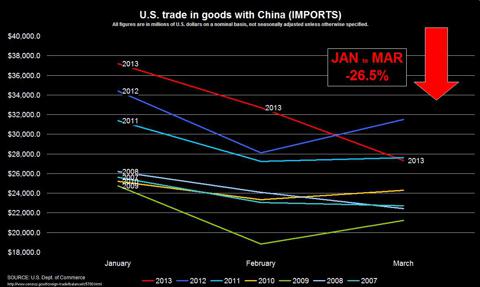 This is massive compared with normal rates of change usually experienced over this period.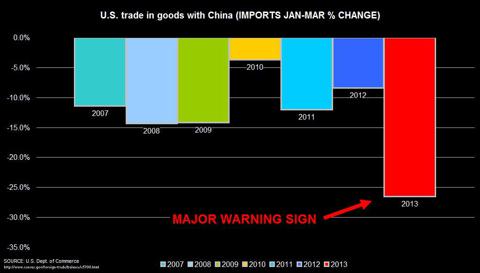 The driving factors from our analysis attributes this to many reason, but the two largest reasons being:
U.S. manufacturing slowing, which in-turn is requiring less middle-process components from China.
U.S. consumers and businesses are not confident in the U.S. economy, regardless of the efforts made by the U.S. Federal Reserve.
Accordingly, we would recommend that investors be careful of a large equity and commodity sell-off. These two areas have the largest chances of major selling. Especially those related to manufacturing, such as metals, natural gas, and import related industries.
Source:
www.census.gov/foreign-trade/balance/c5700.html
Disclosure: I am short UNG, SPY.
Additional disclosure: and many other select names/areas....