In my April 27 post ("Reasons Behind Gold's Ascent") I outlined a variety of factors that I believed were driving Gold's advance.

Point #4 on the list was "...an expectation of high future inflation."

It should be also noted that the inverse of this condition - an expectation of deflation - can serve to depress Gold's price.

This is particularly noteworthy at present, as Gold has recently been in a correction after a very steep rally.  I am very closely monitoring Gold as I believe a steep, abnormal correction could serve to (further) indicate deflationary pressures - which of course would have outsized impacts on financial markets, the economy, and economic policy (particularly QE3 or some other large intervention.)

For reference, here is the daily Gold price chart since 2008, updated through yesterday, shown on a LOG scale with both the 50dma  and 200dma lines as indicated and a solid blue trendline shown since early 2009:

(click on chart to enlarge image)(chart courtesy of StockCharts.com; annotations by the author)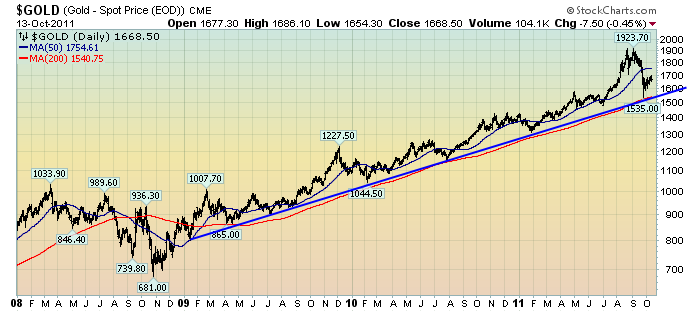 Disclosure: I have no positions in any stocks mentioned, and no plans to initiate any positions within the next 72 hours.