The last few weeks have been tough for Health Insurance Innovations (HIIQ) shareholders and today we show that it is about to get a lot worse. The only good news we have for HIIQ bulls is that they still have a couple of days to clean this company off their 13Fs.  With the September 13F filing deadline around the corner, we expect most HIIQ bulls to take advantage of the opportunity over the next few hours.  In fact, we suspect that many institutional investors have already bailed from this stock after the CEO held a conference call that lasted 8 minutes and 32 seconds with no Q&A – even after the operator explicitly claimed there would be Q&A.
In the call, CEO Southwell covered very little ground, rambling about how HIIQ aims to be a very transparent business with "101% compliance".  We believe that today's report – that provides an in-depth look into HIIQ's broker relationships – trounces that claim.
Despite a strong tape for small caps, HIIQ has struggled in recent sessions, highlighting the extreme fear in HIIQ's shareholder base.  In what we believe is an attempt to calm recent market fears, the company has now repeatedly reiterated guidance over the past few days.  HIIQ even went as far as including a selection of quotes from "important voices in the insurance industry" (former political figures) in Wednesday's press release.  If you read the quotes too quickly, you probably missed that two of the three former politicians admitted to having "professional" relationships with the company in their quotes.  In our experience, utilizing paid former politicians to defend your company's business practices is one of the most obvious signs of a phenomenal short.
HIIQ in many ways reminds us of the for profit education sector during its heyday.  Investors who followed the space a decade ago will recall that the government got sick of the industry and the abuses that it inflicted upon consumers and intervened, eventually shutting down the industry.
We think HIIQ could suffer the exact same fate.
Friendly Bear Thinks Richard Pearson Significantly Underestimated HIIQ's Problems:
Kudos to Pearson for a great report on HIIQ a few weeks back.  His report caused us to question - How tight could compliance possibly be at a company that installs its founder's wife as Chief of Broker Compliance?
While we commend Pearson's work on HIIQ, we think his report completely glossed over the 3 rd party network of brokers that HIIQ finances and utilizes to push what we believe are its junk health insurance products.
We think reasonable investors that review our report will quickly recognize that this company has no reason to exist and is an obvious anathema to society.
While we agree directionally with Pearson's report, we think that the size of HIIQ's fine is the LEAST of the company's problems. Our forensic research into HIIQ's brokers suggest to us that HIIQ will not be granted Florida licensing.  And we now view that license as necessary, regardless of how the company has tried to spin it publicly.  We believe that based on HIIQ's most recent 8-K update on the Florida OIR situation, the company has itself intimated that attaining a license is now a requirement.
Even if we are wrong and HIIQ somehow attains its license, we believe that the information contained in this report could force HIIQ to sever ties with numerous brokers, putting up to ~86% of its revenues at risk.  We also think the 42 states conducting investigations into HIIQ's business practices will find the information in this report to be highly troubling (and like Richard Pearson, we plan on sharing this report with regulators currently examining the company).
We were able to dig up very serious issues in HIIQ's broker channel (including criminal backgrounds and histories of insurance disciplinary problems). If we could so easily find so much dirt on HIIQ's brokers, what will 42 State AGs armed with subpoena power uncover?
HIIQ claims to act solely as a "third party administrator" and does not underwrite insurance policies itself.  HIIQ's largest insurance carrier (HCC) already severed ties with HIIQ at the end of 2016…we think there is a substantial risk of further carrier defections as the remaining carriers learn more about the compliance standards that HIIQ employs for vetting brokers.
HIIQ investors should study Zenefits.  Zenefits got busted for selling insurance products without licenses and the company's fortunes collapsed.  Zenefits was backed by some of Silicon Valley's most prominent players. If Zenefits could blow-up, what do you think is going to happen to Boca Raton small cap HIIQ?
Primer: How Does HIIQ Really Make Money?
There are three ways that HIIQ sells product: via its own website " Agile", via its company-owned call center, and via "third party" call centers. With respect to third party call centers, HIIQ "fronts money" (in the form of loans, which the company refers to as "advanced commissions") to brokers in exchange for those brokers going out and sourcing potential insurance leads for HIIQ.  Throughout this report, we will refer to these call centers interchangeably as "call centers" or "brokers".
These call center representatives are effectively appointed by HIIQ to go out and call on consumers in order to induce them to sign up for suspect health insurance products.  Our research suggests that the backgrounds of the individuals running these call centers is very troubling.  The fact that HIIQ is not only associating with such individuals – but actually financing them through advanced commissions – turns HIIQ into what we view as a glorified boiler room financing operation.
We believe the advanced commission scheme could leave HIIQ on the hook for the actions of its brokers.  We further believe that the economic relationship between HIIQ and its brokers points to the brokers actually REQUIRING and RELYING ON HIIQ's funding in order to exist and do business, removing any plausible deniability HIIQ may have regarding bad behavior out of the boiler rooms.
We provide examples in this report of the company financing individuals who we believe do not have insurance brokerage licenses.  Even when HIIQ does work with licensed brokers, the backgrounds of these brokers are highly troubling and we question how any reasonable compliance officer could have ever signed them up.  The backgrounds of some of the brokers we uncovered also very clearly preclude the brokers from even qualifying for insurance licenses.  We also show that HIIQ's brokers have in fact gotten in trouble numerous times for selling insurance without a license.
We encourage you to read further, but first, here is a flavor of what we found.  On the lighter end of the spectrum, one of the brokers tied to HIIQ got in trouble with state regulators because he failed to disclose a misdemeanor conviction in his insurance application forms.  In a separate instance, the man who we believe owns HIIQ's largest third party call center possesses a criminal background, has been busted for selling insurance without a license, yet allegedly continues to sell insurance without a license despite these recent busts.  This Avvo post provides some helpful information on the ability of individuals with criminal backgrounds to attain an insurance license.
HIIQ also claims to be cleaning up its act, disclosing at the end of last year that it severed ties with "two of its largest brokers".  The company never disclosed the names of the brokers it terminated, and even the language it used ("two of the largest") leaves much to the imagination (hint: two of the largest does NOT equate to the two largest).  We asked a researcher to contact the company to find out the names of the terminated brokers but never received a response.  In fact, we had our researcher send a list of 10 detailed questions to HIIQ IR but never received any response from the company even after a follow-up email requesting replies.
We also found very recent evidence that suggests HIIQ is still pushing the envelope. Our review of broker relationships uncovered HIIQ providing advanced commission financing just TWO MONTHS AGO to what we believe to be a 19-year old who did not even have a corporation registered in his name at the time that HIIQ entered into the financing arrangement with him. Furthermore, just two months ago, the company we suspect to be HIIQ's largest 3 rd party broker was allegedly caught misrepresenting HIIQ policies to customers in Nebraska, resulting in a fraud alert out of the Nebraska AG's office.
As a reminder, HIIQ sells what we believe to be junk health insurance policies (see this NYT story) that offer little in the way of coverage.  Given these policies are "junk", the sales process on these policies would obviously be challenging if consumers were fully informed.  We believe that HIIQ's intricate boiler room-based business model was therefore intentionally designed to ensure that consumers are not properly informed about the quality of the junk insurance policies that HIIQ pushes.  Interested readers should conduct a simple litigation search on HIIQ.  You will quickly find a plethora of lawsuits against HIIQ and its brokers for misrepresenting the insurance policies it sells.  These lawsuits detail HIIQ and its call centers being accused of misrepresenting insurance policies as covering pre-existing conditions, offering more coverage than reality, and even posing as real health insurers such as Blue Cross Blue Shield and Aetna.  In lawsuits, victims of HIIQ's boiler rooms have alleged that they have racked up hundreds of thousands of dollars of debt after discovering their policies cover next to nothing only after taking a trip to the hospital.
But, but! HIIQ Bulls Claim that the Company Is Moving Away from Shady Boiler Rooms
While HIIQ publicly plays up its direct-to-consumer "Agile" channel (i.e. its own website), don't be fooled. According to the company's own SEC filings, it generated ~86% of its Individual & Family Plan ("IFP") applications in 2Q from brokers (including both company owned brokers and 3 rd party brokers).  In fact, its direct-to-consumer Agile segment saw a 15% decline in IFP applications in 2Q17, while its broker channel saw a ~68% increase in IFP applications. In other words – brokered volumes drive this business.  Without brokers, there would be no HIIQ.
Due to the company's reliance on its aggressive boiler room financing model, HIIQ must file secured creditor filings whenever it fronts money to brokers.  As such, we were able to decipher the actual identities of individuals/entities that HIIQ makes loans to, providing us with a very strong proxy for the identities of HIIQ's insurance brokers. With ~86% of 2Q17 IFPs coming from the broker channel, we believe investors deserve to know the identities of the organizations HIIQ tasks with selling its product.
Our analysis suggests that Health Innovations works with brokers that we believe no reasonable compliance officer would ever sign off on. This includes brokers that have been cited by the government for criminal activity and involvement in alleged consumer scams.  And it is not as if there is just one broker that we are cherry picking to make this claim.  We have found literally a laundry list of brokers with checkered pasts– and we provide the detail in today's report.  We see huge red flags on both the business side and capital markets side of this company – and our experience with these types of stocks suggest a high likelihood of near-term wipe-out.
[Author's note 10/2/17: An individual claiming to be a shareholder of HIIQ came forward and claimed that the only reason the outfit previously identified above has been heavily promoting HIIQ shares is because he recommended the stock to the outfit.  He claims that the outfit has a long position in HIIQ shares.  Subsequent to this report, the outfit also claimed that it has never taken payment from HIIQ or "from anyone tied to HIIQ".  While the article never claimed that the outfit took payment from HIIQ or anyone tied to HIIQ, we removed the reference in light of the outfit's recent claims and claims from the shareholder who came forward with new information.  We did not make any attempt to verify his claim and do not know what position, if any, the outfit has in HIIQ shares].
Therefore, we are issuing a target price of $0 on this stock.  There is simply no reason for HIIQ to exist.  Make no mistake: in our opinion HIIQ is a nothing but a nefarious operation that utilizes shady call centers to prey on vulnerable consumers.  We believe any reasonable investor that reviews our allegations will find HIIQ's business practices to be deplorable.
So Who Exactly Are HIIQ's Brokers?
We pretty much hit the jackpot after getting back the secured creditor filings for HIIQ.  The database we received was a treasure trove that tied up our resources for the better chunk of last week as we pored through – and background checked – many of the individuals and entities that we found.  As a reminder, the Chief of Broker Compliance at HIIQ is the wife of the founder of the Company. While we offer no thoughts on her qualifications for the job, we do note that nepotism is a wonderful sign of potential corporate governance problems.  Thus, we wondered how adept Lori Kosloske has been at ferreting out problematic brokers…the results aren't pretty.
Without further ado, we introduce you to HIIQ's brokers:
Exhibit A: Steve Dorfman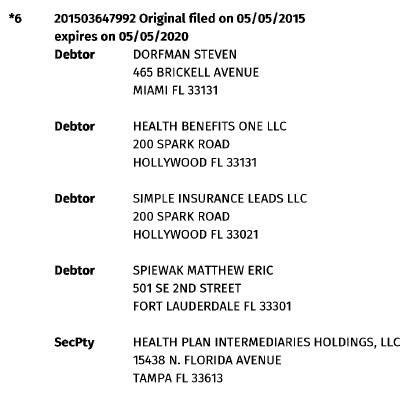 Source: UCC Filings Confirming Dorfman/HPIH connection. Note that HPIH is the same thing as HIIQ.
Steven Dorfman appears to be the CEO of Simple Health aka Simple Insurance Leads aka Health Benefits One aka Health Benefits Center.  The names of the companies keep changing, but the one thing in common has been Dorfman.  Dorfman's entities were once consolidated on HIIQ's balance sheet but HIIQ spun his entities off to be independent in March 2015. We believe that the reason for the carve-out was to distance the company from Dorfman's tactics so that HIIQ could maintain plausible deniability should Dorfman misbehave.
We asked a 3 rd party researcher to speak with HIIQ management and have also conducted our own research into Dorfman.  Based on these management discussions, HIIQ's own disclosures, and our own proprietary analysis (provided below), we believe that Dorfman is the largest 3 rd party broker for HIIQ.
As shown in HIIQ's 2016 annual report, "one distributor" accounts for 65.2% of advanced commissions.

Source: HIIQ 2016 10-K
While this distributor is not named explicitly, if one simply opens up the 2015 10-K, the picture becomes clearer.

Source: HIIQ 2015 10-K
We summarize the public disclosures in the table below:

Source: Friendly Bear analysis using publicly available HIIQ data
We repeatedly attempted to get HIIQ IR and representatives from Dorfman companies to provide us with detail on Dorfman's exposure to HIIQ but never got replies.
While we admit that this is not explicit evidence that Dorfman is still 65% of the Company's 2016 advanced commissions, we encourage investors to draw their own conclusions…
We also happened upon an informational brochure for Dorfman's Health Benefits Center (HBC) that was created in May 2015. Interested readers can track it down as we did, shown below.

Source: Google
In the brochure, HBC claims to insure 40,000 individuals, as shown below.

Source: Publicly retrieved marketing manual on HBC
Note that in Q1 and Q2 of 2015, HIIQ reported 45,769 and 50,674 STM / Hospital Indemnity policies, respectively (as highlighted below). We believe the sum of STM plus Hospital Indemnity plans are the correct proxy for insured lives given that ancillaries are purely tack-on services.

Source: HIIQ filings and our analysis
This would suggest that at least as of Q1 / Q2 2015, Dorfman was responsible for almost all of HIIQ's policy sales (assuming the ~40K figure from Dorfman is an accurate representation for policy production in the like-for-like period).
We tried to get the company to provide data on Dorfman's mix of the business and did not get a response, so we are simply not sure what proportion of the business Dorfman is today.  However, in light of the data points above, we believe it is safe to assume that Dorfman matters – big time.
So we decided to wear the hat of "Chief of Broker Compliance" and conduct a simple background check into Dorfman. Is Dorfman the type of broker that a "101% compliant" company would be proud to name as one of its most significant revenue generators? In other words, has there been any example of anything in Dorfman's past that would give a Chief of Broker Compliance any reason to cease doing business with Dorfman?
Here is what we found.
First, and notably, despite Dorfman's significance to HIIQ, a quick search of Florida public records show that he does not have a license to sell insurance.  Use this website to search for his name.  Anyone who has studied Dorfman's background will be unsurprised to discover that he has no license.
To find out why, let's work backwards and start with a July 2017 report out of the Nebraska Blue Cross Blue Shield regarding Dorfman's company "Simple Health":
According to the Nebraska Attorney General's office, "scammers" were using fake logos and addresses and misrepresenting themselves as agents of BCBS.  Why does this matter? Because when you're trying to sell junk insurance policies that cover almost nothing, claiming you represent Blue Cross Blue Shield would be a pretty effective way to convince unsuspecting consumers to buy junk insurance policies.  You may be surprised to find out that the company that the Nebraska BCBS tied to this alleged scam was none other than Dorfman's "Simple Health":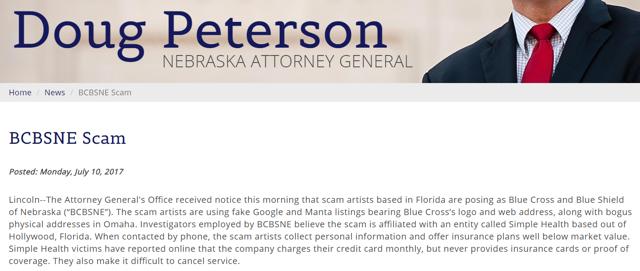 Source: Nebraska BCBS
We hope you noticed that BCBSNE investigators accused "Simple Health" of being tied to the alleged scam.  In case you were uncertain about whether Simple Health is in fact tied to Dorfman, we can alleviate your uncertainty.  The Chief of Compliance at Health Benefits One – a company that identified itself to the SunSentinel as the parent of Simple Health – lists Dorfman as a managing member: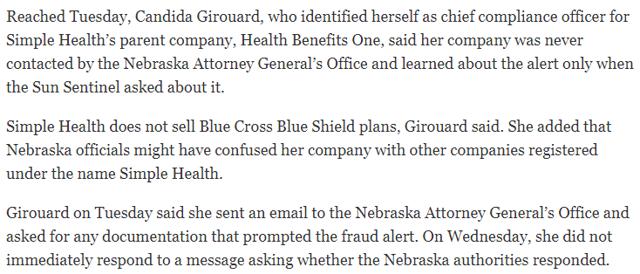 Source: SunSentinel
Amusingly, when Health Benefits One's Chief of Compliance provided comment to the SunSentinel regarding the Nebraska BCBS allegations, she never once actually denied that Simple Health had been posing as BCBS.  She simply said that Simple Health was "never contacted by the Nebraska AG" and that the company does "not sell BCBS plans".  Well DUH.
The entire allegation is that Simple Health representatives had been lying to people and claiming to represent BCBS when they in fact had nothing to do with BCBS. The fact that Girouard never outright denied the allegations is exceptionally damning.  She simply claimed that Nebraska officials "MIGHT" (emphasis on might) have "confused her company with other companies registered under the name Simple Health".  Why couldn't she outright deny the claim rather than using such vague and weak language?
Now JUST in case HIIQ tries to deny having any ties to Simple Health after publication of this story, we provide this clipping from a July 2017 SunSentinel story that claims that Simple Health sells on behalf of HIIQ:

Source: SunSentinel July 2017 story
So here we have an instance of Dorfman's company being tied to an alleged Nebraska health insurance "scam" that resulted in the Nebraska Attorney General posting a "Scam Alert". We think this incident alone should have been enough cause for HIIQ to sever its ties with Dorfman.  We have seen no press release suggesting anything of the sorts has happened. It would be one thing if this incident happened years ago.  But this incident occurred in July 2017. Two months ago. We have anecdotally heard stories of Gavin Southwell claiming that all bad apples have been cleaned out of HIIQ's broker channel. Is that claim really accurate?
How does this incident factor into Gavin's claim of "101% compliance"?  And why did HIIQ never provide any disclosures relating to this incident given Dorfman's significance to HIIQ's revenues?
But of course, it gets worse. It turns out Dorfman has had problems in Nebraska in the past.
Dorfman got slapped with a Cease & Desist Order by the Nebraska Department of Insurance in January 2012: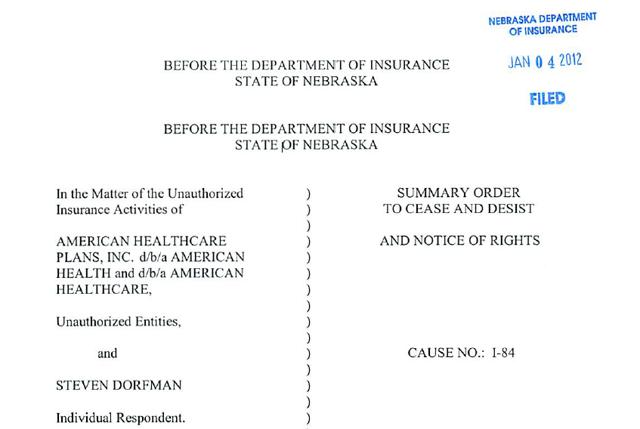 Source: Nebraska DOI
In the January 2012 C&D, Dorfman was accused of selling insurance without a license:

We think it is worth noting that these allegations bear lots of similarity to the allegations that the Nebraska BCBS made against Simple Health in July 2017.
We wonder how Lori Kosloske got comfortable with Dorfman's background in light of the 2012 Nebraska C&D – information that one could easily find through a simple Google search.
But it only gets worse.
About six months earlier, Dorfman got slapped with a very similar C&D order in Indiana over the same claim – that he was selling insurance without a license: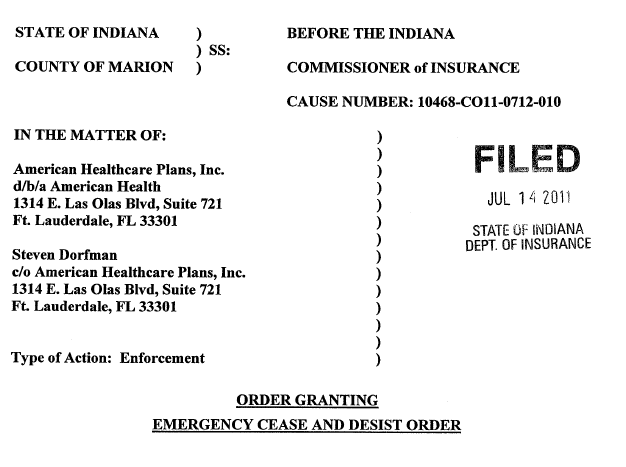 Source: Indiana Commissioner of Insurance
Perhaps even more troubling is that just a few years before his July 2011 Indiana C&D, Dorfman appears to have found himself on the wrong side of the law – this time in a felony charge stemming from aggravated fleeing and eluding.  We have provided the public documentation relating to the charges below: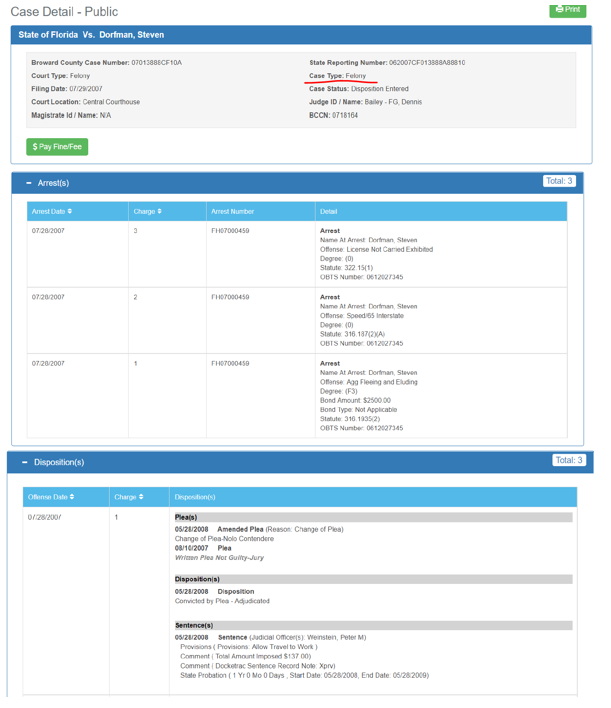 Source: Broward County Florida Clerk Records.  Note that we pulled an Intellius report that included an address for the Steven Dorfman charged with the crime above that maps out exactly to the address in HIIQ's UCC filings tying them to Dorfman.  This is why we believe that he is the Dorfman tied to HIIQ.
We raise this point because we note that the most states have strict regulations relating to the ability of individuals with criminal backgrounds to qualify for insurance licenses.  In the case of Dorfman, these regulations may be less relevant given that he has been cited in numerous instances for selling insurance without a license.  However, we think his arrest record is relevant in light of the fact that HIIQ entrusts Mr. Dorfman as a representative of their company who was once even consolidated on their balance sheet! Is this the type of background HIIQ would want to stand by as part of its "101% compliance" motto?
So in summary, what do we know about Mr. Dorfman?
He was charged for a felony relating to aggravated fleeing and eluding.  He then got hit with regulatory complaints from both the Indiana Insurance Commissioner and the Nebraska Department of Insurance arising from alleged unlicensed insurance sales.  After already finding himself in hot water in Nebraska, his company– just two months ago – has been tied to an alleged Blue Cross Blue Shield impersonation scam.
We believe the company owes more disclosures around this topic to investors.  Either way, we have a hard time understanding how any reasonable compliance officer would have ever considered Mr. Dorfman's background appropriate from a compliance perspective.  His disciplinary history with insurance regulators alone should have precluded him from ever being part of a truly compliant organization, in our view. Furthermore, given how recent the BCBS scam allegations are, there is a strong chance that there may be more shoes to drop in that situation that could jeopardize Dorfman's ability to continue to conduct insurance business. Given that we believe his companies represent significant revenue for HIIQ, anything that prevents him from doing his job could deliver a death blow to HIIQ.  Note that even if HIIQ has reduced their dependence on Dorfman, the mere fact that the company ever did business with him could easily draw ire from regulators in our view.  We expect regulators will not look kindly upon HIIQ's ties to Dorfman.
We also note that Dorfman appears to have a partner named Matthew Spiewak who also appears in UCC filings.  If HIIQ bulls think that Spiewak is the "clean" end of the Health Benefits One operation and that Health Benefits One could fix itself by disassociating from Dorfman, we disagree.  Mr. Spiewak himself was associated with selling insurance without a license.  In the Montana PAA that named both HIIQ and Health Benefits One, Montana called out Spiewak for violating insurance regulations himself: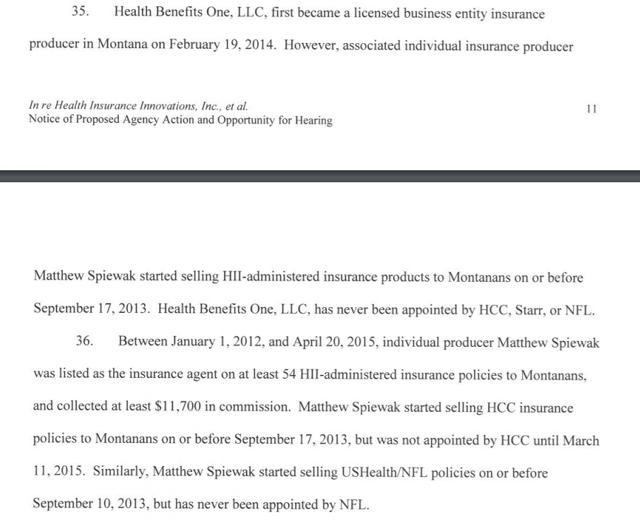 Source: Montana C&D
Now on to the next HIIQ broker profile…
Exhibit B. Michael C. Tobias, aka: "BootyBobblers"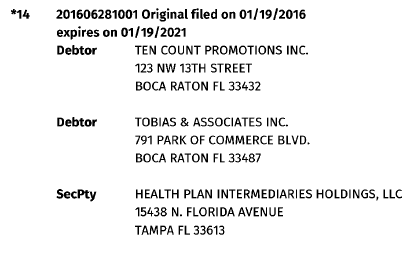 Source: UCC filings
In researching HIIQ, we discovered that many of the "entrepreneurs" that operate HIIQ-financed call centers appear to have "side hustles".  In the case of Mr. Tobias who is the owner of Tobias & Associates, his side hustle gives us a nice opportunity to pause for comic relief.
Mr. Tobias maintains a Twitter profile under the handle "@bootybobblers".  In his profile, you can see that he links to his website "getmehealthcare.com", a website that prominently displays the Tobias & Associates logo.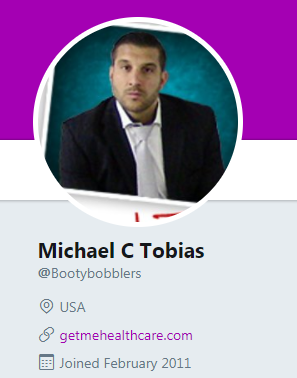 Source: Twitter
What we have been able to gather is that Mr. Tobias's main business operation is selling insurance – through call center operations that are backed by HIIQ.  However, per his Twitter profile, Mr. Tobias claims to have previously run a company that sold, as his Twitter handle suggests, bobble toys.  You know – the bobble head toys that you get on the opening day of a baseball game?  The only difference between Mr. Tobias's bobble toys and the bobble heads that you are used to seeing at ball games is that you are more likely to receive one of Mr. Tobias's bobble toys on opening day at Rick's Cabaret…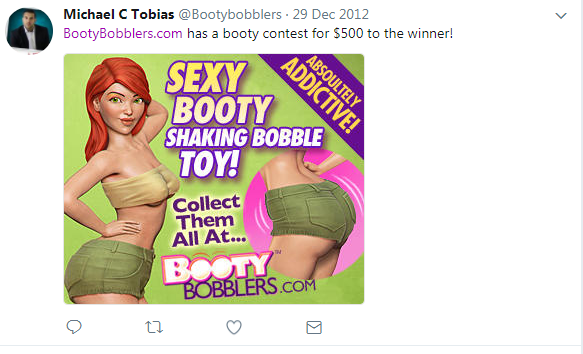 Source: Twitter
Some readers may wonder why we raise the booty bobbling at all.  We think it matters.  Mr. Tobias is entrusted with selling health insurance.  Selling health insurance is no joke – it is literally a matter of life and death.  Not only is he entrusted with selling health insurance – he's actually a key figure at HIIQ.  The Montana Proposed Agency Action against HIIQ et al includes a claim that Tobias was at some point a Senior Vice President at HIIQ (see para 48).  He ran the Insurance Center for Excellence, which HIIQ has described as its call center training facility.  In other words – he's arguably one of the most pivotal people tied to HIIQ in terms of setting a tone at the top for up and coming brokers.
We imagine that any reasonable compliance officer would likely do a social media check on a broker before entrusting the broker with the opportunity to act as a representative call center and head of training.  Does Mr. Tobias's social media presence reflect the type of profile that HIIQ would be proud of discussing publicly with investors?
We did a little more social media checking on Mr. Tobias and found the rather troubling chain on Facebook in which Tobias was flashing "checks" on his Facebook page in order to recruit people to join his call center operations.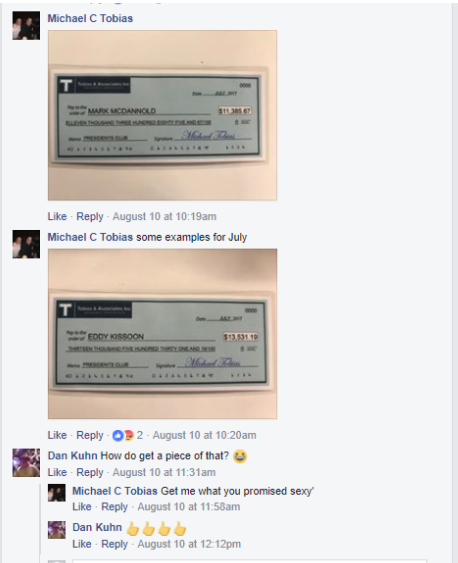 Source: Facebook
We will let you read the exchange for yourself.  When we saw the social media posts promising huge pay days, we immediately wondered – is this guy selling health insurance? Or is he selling a pyramid scheme "business opportunity"?  The pictures of checks immediately reminded us of "President's Club" marketing claims from shady pyramid schemes (the memo line on the checks posted above literally include the phrase President's Club).
One check did catch our eye – specifically, the check in the image above to a "Mark McDannold" (note the unique spelling).  We wondered – what type of person allegedly earns over $11,000 selling insurance on behalf of Tobias?
Using an Intellius search, we believe that there is only one individual currently in the state of Florida under the name of Mark McDannold.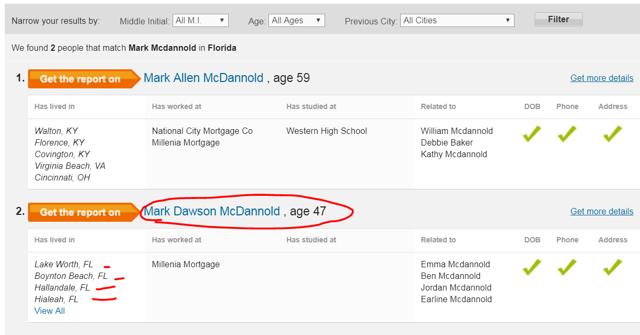 Source: Intellius.  According to various reports we searched through, the other Mark McDannold is currently in Kentucky and has had no recent address in Florida listed.
We also note that Tobias's recruiting post was related to regions right in the vicinity of where we found the one instance of a Mark McDannold – see below for his post recruiting for Boca Raton and Boynton Beach locations (areas within a ~20 minute drive of one another)

Source: Facebook
It just so turns out that an individual in that same area under the name Mark McDannold just so happens to have a criminal background: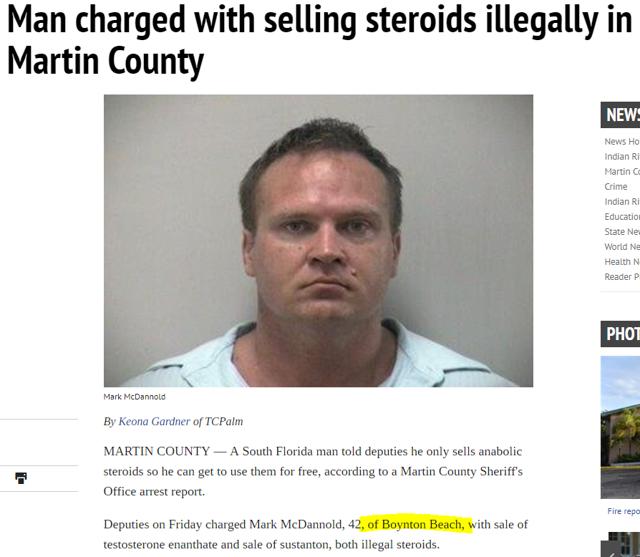 Source: TCPalm
Is this the type of broker operation that HIIQ's compliance team is proud to associate itself with?  Is HIIQ comfortable with Mr. Tobias's recruiting approach that flashes the opportunity for fast cash in front of potential recruits on social media?
It's also worth noting that Mr. Tobias was previously a signatory on a company called Health Benefits Direct:

Source: SEC Website
He proudly boasts about his time at Health Benefits Direct on his website: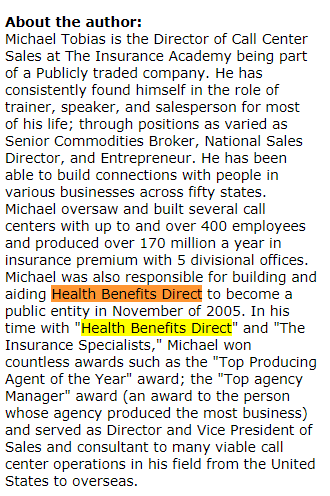 Source: CreateSpace
For what it is worth, Health Benefits Direct is now a penny stock that lost ~99% of its value.  Furthermore, the company found itself on the receiving end of a 2008 FTC citation for making telemarketing calls to people on the "do not call" list.  As many readers know, the laws on auto-dialing have gotten only tougher over the years due as consumers grow increasingly fed up with telemarketing calls.  In the United States, consumers even have the right to sue companies over robo calls.
We found this video (below) in which Tobias talks about how he utilized a predictive dialer system to help drive the robust growth at HIIQ.  In the video, he actually calls out HIIQ by name and actually presents himself as having as an employee role at the company rather than being an external broker.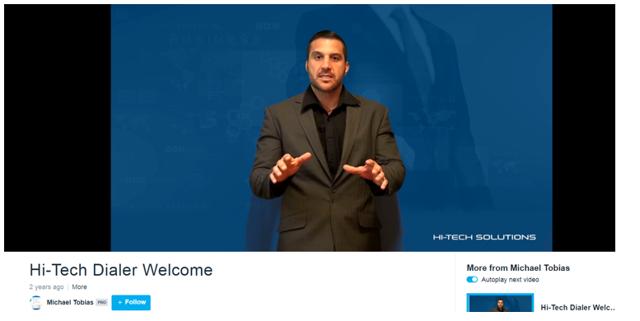 Source: Vimeo
We included this video for an important reason.  HIIQ wants investors to believe that AgileHealthInsurance.com, its own website, is becoming increasingly important to its business.  However, HIIQ is leaving investors in the dark about how often its brokers are using predictive dialing programs that we believe are broadly viewed as a major annoyance to the general public.  Here we have a significant HIIQ broker doing a teach-in on how to use a predictive dialing system.  Do investors really want to back a company that finances call centers using predictive dialers to find people to buy junk insurance?
On the topic of telemarketing laws and TCPA, a quick search of Mr. Tobias's name shows up on this website that claims to list telemarketers that have hit Texas residential/commercial phone numbers with " unlawful prerecorded telephone calls":

Source: Oklahoma / Texas TCPA List
If HIIQ had done a simple Google search on Tobias, they not only would have found the telemarketing website above, but would have also found this alleged transcript of a Tobias-linked pre-recorded phone call that claims pre-existing condition coverage:

Source: Oklahoma / Texas TCPA List
So pause for a moment. If HIIQ really sold an insurance product that consumers wanted, would they really need to rely on such aggressive outbound telemarketing tactics in order to grow the business?
As an additional note, Michael Tobias was, at least at some point in time, a direct employee of Health Insurance Innovations.  We already noted that the Montana PAA claimed Tobias was an SVP at HIIQ.  Also see the Company's 2016 10-K below which claims that an entity called ICE (aka the Insurance Center for Excellence) is a consolidated subsidiary of HIIQ:

Source: SEC filings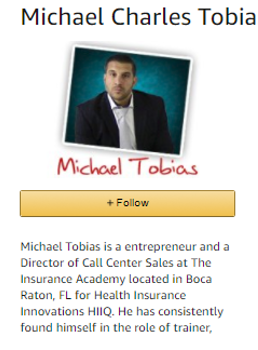 Source: Amazon
Oddly enough, Tobias claims in an interview that he runs something called the "Insurance Academy" which he describes as a training center for HIIQ (consistent with the description for ICE that we found online):

Source: DailyConversions.com
On this page, he even claims to have run Insurance Center for Excellence, specifically.  Sunbiz records confirm his involvement in ICE prior to its sale to HIIQ.
Montana claimed Tobias has been an employee of HIIQ.  Tobias also claimed his company was "owned by HIIQ" in an interview.  However, Tobias also appears to be financed by HIIQ in UCC filings and we are puzzled by this situation.  We don't know the exact timing of when (or if) Tobias went from being an employee of HIIQ to an externally financed broker for HIIQ.  What the Tobias employment anecdote DOES demonstrate, however, is that HIIQ's brokers are inextricably intertwined with the company.
We think the Tobias "back and forth" makes it harder for HIIQ to argue to state regulators – and investors – that these brokers are anything other than a direct extension of the company.
It will likely also not surprise readers to discover that Tobias too was called out in the Montana regulatory complaint for operating without proper licensing: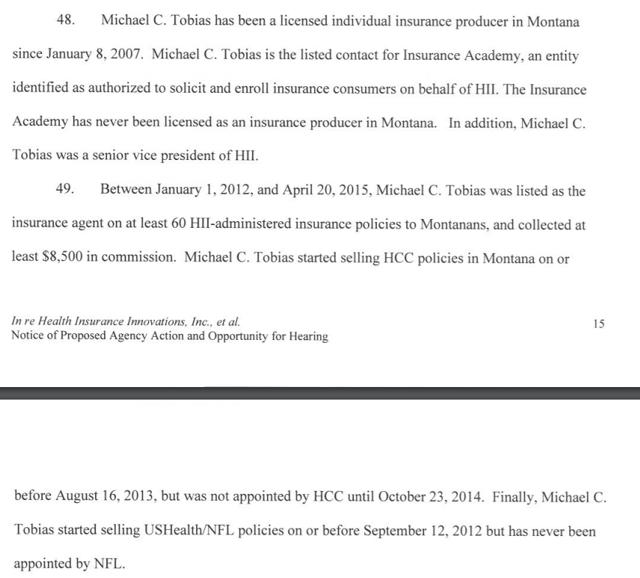 Source: Montana PAA
Exhibit C. Kyle Daniel Minors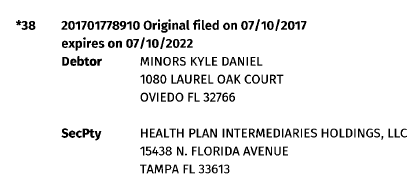 Source: UCC filings
Using a reputable people search program, we found only one Kyle Daniel Minors in the United States.  His year of birth is 1997, making Mr. Minors 19 years of age.  On July 17, 2017 (just TWO MONTHS ago), we found a secured creditor filing showing that Mr. Minors had just become a debtor to HPIH aka Health Insurance Innovations.
So we ask a rather simple question. What in the world is HIIQ doing financing a 19 year old???
We poked around on the internet to see if Mr. Minors has any experience in the health insurance space.  All we could find is that Mr. Minors had a mean jump shot during his high school basketball playing days at Oviedo High.  We also discovered that Mr. Minors claims on his Facebook page to be the CEO/Co-Founder/Owner of UTrack GPS.  Using public records, we found no reason at all to connect Mr. Minors to the health insurance industry.
We are not really sure why any compliance officer of a public company would sign off on business financing of any form to a 19-year old.
And in case there was any ambiguity, we have clear proof that the financing to Mr. Minors was related to advanced commissions based on this text that we got straight out of the actual UCC filing: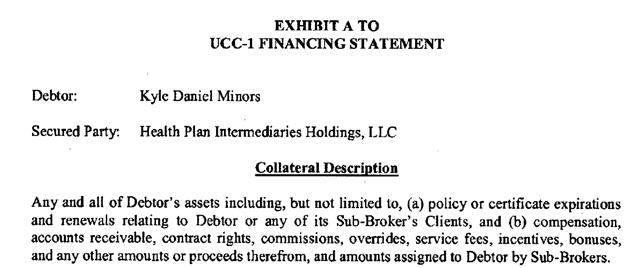 Source: UCC filings

Author's Note 10/17/2017: The remainder of this section of the article previously discussed an LLC tied to Mr. Minors that we had reasonable belief was tied to HIIQ. Based on our conversations with individuals who claimed to be involved in the LLC, we do not believe this section of the article contained any factual errors.  However, an individual representing himself/herself as being tied to Mr. Minors has come forward alleging that there Mr. Minors was potentially taken advantage in connection with this financing arrangement. We are currently looking into these claims.  As a result, and after further due diligence, we have decided to pull that portion of the article because it does not matter in the broader context of HIIQ's suspect business practices.  We reserve the right to publish additional information relating to this transaction and arrangement as we learn more.
Exhibit D. Matthew B Panzer

Source: UCC Filings
Mr. Panzer showed up as a debtor to HIIQ on March 7, 2016 (see above).  In fact, we think the specific date of Mr. Panzer showing up in the HIIQ UCC filings is of note.
This is because on March 4, 2016 ( 3 days prior to the UCC filing above), Mr. Panzer got hit with a Consent to Order from the Iowa Insurance Commissioner: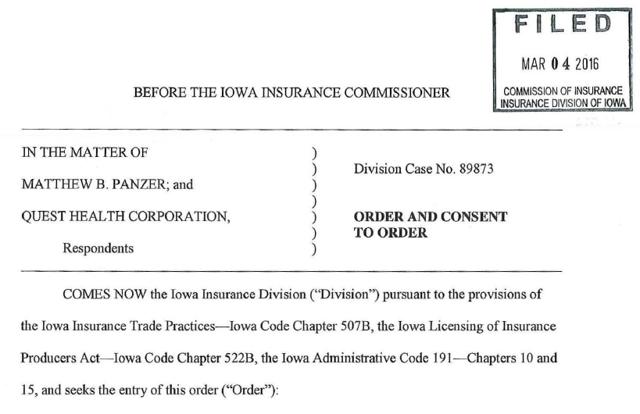 Source: Iowa Insurance Commissioner Records – see the filed date.
So why did Mr. Panzer get hit with this order in March 2016?
Well it turns out that that Iowa accused Panzer of engaging in unfair and deceptive practices within the state of Iowa.  Worse yet, Iowa also noted that Panzer was charged with aggravated battery with a deadly weapon, a felony charge.  He ultimately plead no contest to battery and possession of drug paraphernalia, both misdemeanors.  However, Iowa accused Panzer of omitting these facts from his insurance license application in the section asking whether he had any misdemeanors.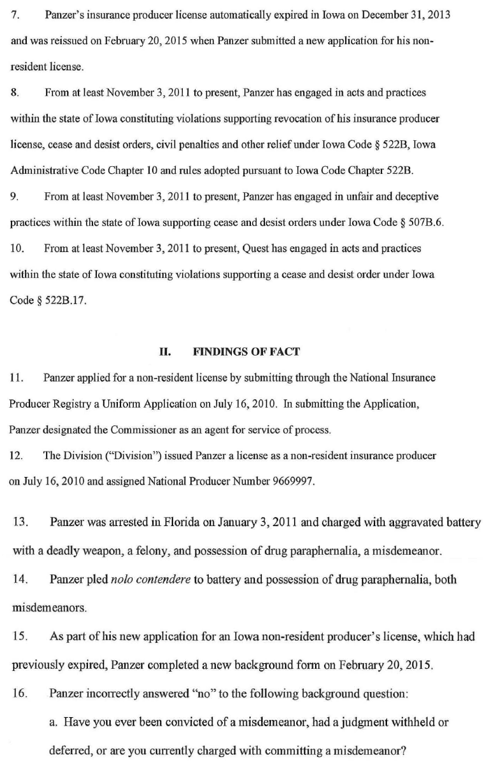 Source: Iowa Insurance Commission Division Case No. 89873
Again, we ask a simple question.  Why did HIIQ close on a financing arrangement with Panzer given his criminal background and Iowa troubles only 3 days after he got hit with a very serious insurance disciplinary action by the State of Iowa?  Would a reasonable chief compliance officer consider this a wise business and legal decision?
Exhibit E. Frank Anthony Mirando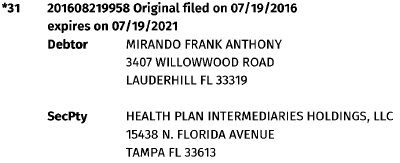 Frank Anthony Mirando represents himself as the President of Liberty Group Insurance.  His address in UCC filings tied to HIIQ also connect Liberty Group Insurance Inc. to the address listed above (the entity is registered in his name).  As you can see below, Liberty Group consists of both Mr. Mirando and Mr. Herman.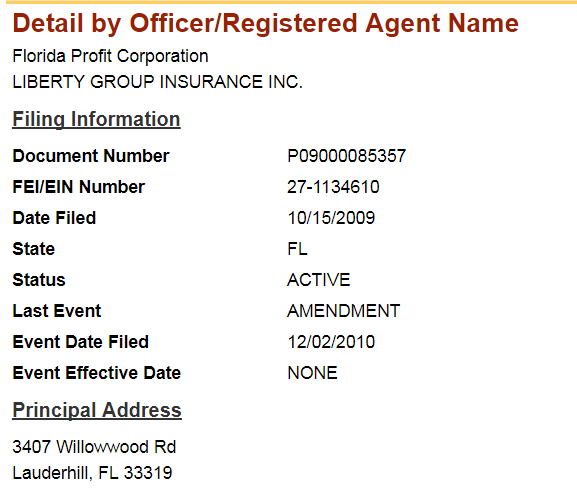 Source: SunBiz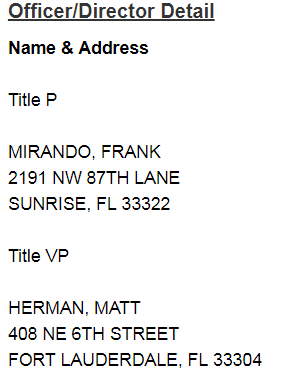 Prior to Liberty Group Insurance, Mirando was involved in another venture – a company called My Booking Genie Inc.  See below for the names of all individuals involved in My Booking Genie Inc.: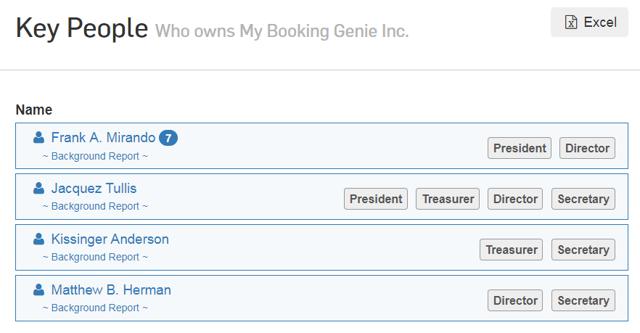 Source: CorporationWiki
As you can see, according to CorporationWiki, Mirando was President of My Booking Genie Inc. alongside Jacquez Tullis.  Mr. Herman was also involved in My Booking Genie according to CorporationWiki.  It appears that Mirando has a history of working alongside Herman.  In fact, not only did they work alongside one another at My Booking Genie, but they even did it in the same office.
First, the Officers & Directors of My Booking Genie are presented below: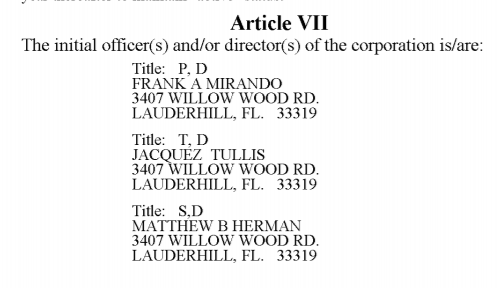 Source: Florida Sunbiz Records
Second, note that the address of My Booking Genie is a dead on match for "Liberty Group Insurance":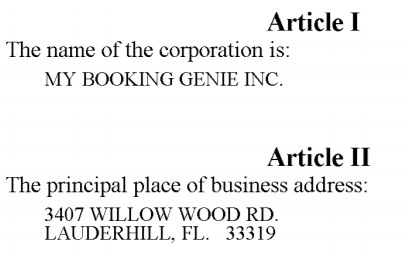 Source: Florida Sunbiz Records
So what happened to My Booking Genie?
In December 2015, the Office of the Attorney General of Florida brought suit against My Booking Genie, alleging that the company had been ripping off people in a vacation package telephone scam: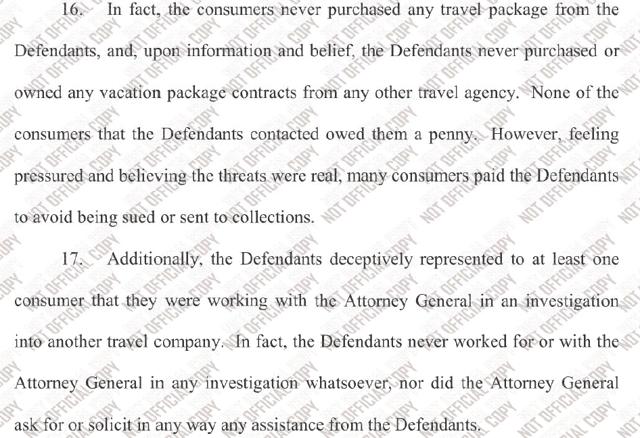 Source: CACE-15-022021 Division 14, Office of Attorney General, State of Florida Department of Legal Affairs v. My Booking Genie, Inc. and Jacquez Dion Tullius
Both Mirando and Herman were officers of My Booking Genie Inc. according to public records.  This lawsuit should have been easy to find during any background check on Mirando or Herman.  It is very hard for us to understand how any reasonable compliance officer would have been willing to do business with a group of individuals that had been tied to these types of allegations.
But HIIQ signed up a financing arrangement with Mirando only 7 months after the aforementioned suit was brought against My Booking Genie Inc.
So yet again we have a clear cut case of alleged white collar fraud taking place in the ranks of HIIQ brokers and yet HIIQ's compliance team went ahead and signed Mr. Mirando up as a broker.
Exhibit F. Grab Bag of Other Brokers
In the interest of brevity and not dragging individuals through the mud for smaller infractions, we have left out profiles that also triggered issues.  However, we think it is worth noting that the list of charges, allegations, and offenses tied to HIIQ brokers that we found include domestic battery, various drug infractions including cocaine possession, concealed weapon charges, credit card fraud, and alleged involvement in time share scams. Based on our review and analysis of secured creditor filings, our opinion is that problematic backgrounds are the norm rather than the exception when it comes to the HIIQ broker network.
Conclusion
We have a hard time believing any reasonable compliance officer aiming for "101% compliance" would have signed off on any of the brokers we have thus far profiled.
But alas here we are and we have given just six detailed examples of HIIQ brokers being involved in alleged scams and criminal activity that simple due diligence would have uncovered.  This includes cases of broker malfeasance that have allegedly taken place as recently as two months ago, weakening any argument HIIQ may have about its broker problems being an issue of the past.
So we ask a question of investors.  Do you think that any company that truly strives for "101% compliance" would do business with any of the brokers we profiled in this story?
We also ask investors to wear the hat of the 42 state insurance regulators that are investigating HIIQ.  If we were able to dig all of this dirt up on HIIQ's brokers so easily, what will the 42-state investigations find on this company?
We also note that the brokers described above are just six examples – but six examples out of a total Florida UCC financing statement that included only ~30 unique filing entries (we attempted to exclude double counted brokers in that total).
What we believe the above profiles show is a systematic problem at HIIQ with regards to its broker compliance thresholds.  We believe investors should be very worried about being invested in a company that appears to be so aggressive in terms of its broker relationships.  There is even more acute risk for HIIQ given that there are 42 states actively probing the company and a Florida license pending after the state already gave HIIQ grief for disclosure problems in its first application.  How would all those state insurance regulators look upon a company that continues to do business with so many brokers that have such awful regulatory problems?
In summary:
The Company works with what in our opinion are incredibly shady brokers that we think any reasonable compliance officer would never sign on.

The Company would like you to believe that the few "bad apple" brokers it had in its ranks are no longer affiliated with the Company. We believe the company is misleading investors on this front.  We tried (unsuccessfully) to get the company to size up its relationships with certain brokers profiled in this story.

The Company would like to keep the identity of Steven Dorfman (who we believe is the largest HIIQ 3

rd party broker) out of investors' view.  We believe this is because Dorfman appears to have no insurance license, has an apparent criminal background, and has been issued C&D orders from both Nebraska and Indiana -  yet his company continues to be implicated in alleged scams in Nebraska as recently as July 2017!

The Company wants to continuously claim independence from unlicensed broker actions, but at the end of the day HIIQ is financing these broker operations and we believe is the one keeping them afloat.  We also note the curious case of Michael Tobias who was called a Senior Vice President employee at HIIQ despite us finding evidence of HIIQ providing him 3

rd party financing
We believe that HIIQ has no reason to exist.    We expect that state insurance regulators will find the information presented in this report very troubling.  We are very suspicious of HIIQ's business model and believe that it is structurally designed to deceive consumers.
In light of our findings, we doubt that HIIQ will attain a license from Florida and expect the business to unravel in short order.  Even if the company does get its license, we think the company will have to sever its ties with its broker channel and invest heavily in compliance.  We think the 42 state investigations into HIIQ are likely to ultimately bring an end to this company.  We believe this company has legitimate going concern risk and believe management has not provided enough disclosure to the market about just how bad the regulatory problems are at this company.  We therefore advise investor to stay away from HIIQ and expect the company to result in a near-term wipe-out for shareholders.
Disclosure: I am/we are short HIIQ.
Additional disclosure: I am/we are short HIIQ. All information for this article was derived from publicly available information. Investors are encouraged to conduct their own due diligence into these factors. Additional disclosure: This article represents the opinion of the author as of the date of this article. The information set forth in this article does not constitute a recommendation to buy or sell any security. This article contains certain "forward-looking statements," which may be identified by the use of such words as "believe," "expect," "anticipate," "should," "planned," "estimated," "potential," "outlook," "forecast," "plan" and other similar terms. All are subject to various factors, any or all of which could cause actual events to differ materially from projected events. This article is based upon information reasonably available to the author and obtained from sources the author believes to be reliable; however, such information and sources cannot be guaranteed as to their accuracy or completeness. This article reflects the author's opinion at the time of publication. The author makes no representation as to the accuracy or completeness of the information set forth in this article and undertakes no duty to update its contents. The author may also cover his/her short position at any point in time without providing notice. The author encourages all readers to do their own due diligence.