Skillz: The Short Report And The Facts
Please Note: Blog posts are not selected, edited or screened by Seeking Alpha editors.
Summary
Wolfpack Research published a short report against Skillz yesterday.
There are a lot of mistakes in the attack. Just googling and reading allows you to refute several claims immediately.
This short report doesn't bother me. I see a lot of false information and vague insinuations but little substance.
Introduction
Yesterday, Wolfpack Research, a short seller, issued a short report about Skillz (SKLZ). In this article, I want to address that short report. But first a bit more on short reports in general.
Short Reports
If you are not really familiar with short reports, they can sound intimidating. The reason is that shorters are often convincing authors and they push our fear buttons very well. They know that people have a tendency to be intimidated by articles that put everything in a certain negative light. The title is already dramatic fearmongering:

Drama, strong words, two (lousy) puns, the "disaster coming"... it's all there to scare you.
I have read a ton of short reports in the last few years. There were very substantial ones, like the one of Muddy Waters about Luckin Coffee. There were ridiculous ones, like the several short reports of Citron Research on Shopify (SHOP), claiming things that could not be controlled or were taken completely out of their context. Shopify fell almost 12% the day of the first attack but I hope that it didn't scare you out of your position. This is the result since the short attack: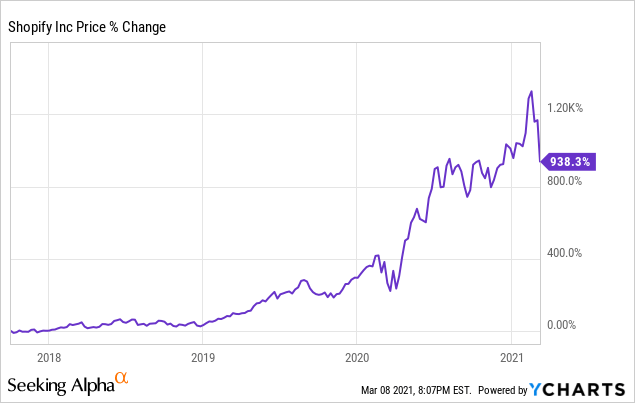 In 2019, Citron put out another short report, with the subtitle 'Shopify to $100 in the next 12 months'. Oops. One year later, Shopify traded near $500.
The Wolfpack short report
Because fear is a very powerful emotion, I will refute the arguments of the short report against Skillz with facts. Here we go.
1. The timing of the short attack
The timing of the short attack is already questionable. If a company gets short-attacked, they normally respond quickly. But right now, Skillz is not allowed to respond to any questions because it's the quiet period before earnings, which come out tomorrow (Wednesday) after the market has closed.
The earnings report quiet period is imposed by the SEC for any company. It basically says that four weeks before the end of a fiscal quarter and until the company releases its earnings, nobody associated with the company in any way can release any information about the earnings or things related to the earnings. The timing of Wolfpack Research, a few days before the earnings are released, is obviously because of this. The company is not allowed to refute the accusations. 
2. There is no deal with the NFL (say what?)
This is the claim of Wolfpack Research:
Skillz's developer portal showed no evidence of an NFL deal or contest being held.
The deal with the NFL was only announced on February 5, just a month ago. If Wolfpack would have read the press release, it would have read this (my highlight):

This is another one of Wolfpack's arguments:
A site search of nfl.com does not even register the term "Skillz" unless we count slang used in the message boards. We were unable to find any reference to this purported partnership from the NFL's side.
This site does the official NFL communication and it is there: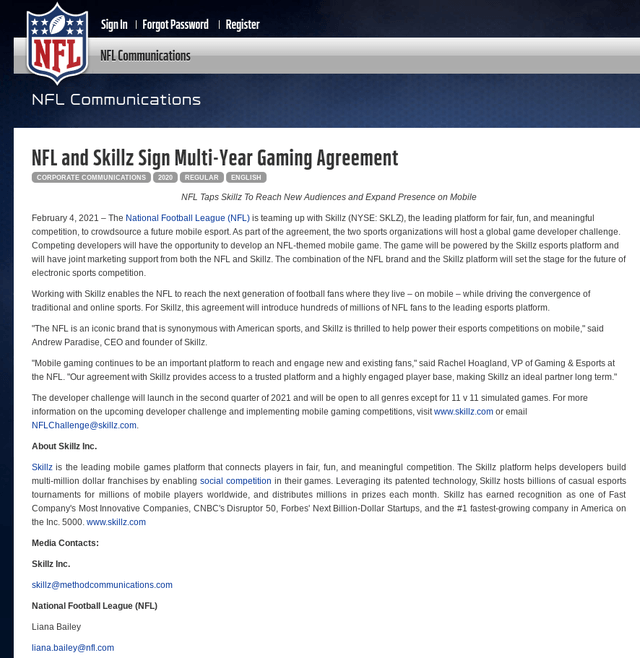 Showing a complete lack of skill, an email inquiry (sent to the email address referenced in the PR) from our developer profile on Skillz platform bounced back to us, saying the email account did not exist.
This makes me think that the one who went on the platform disguised as a developer couldn't even send an e-mail.
Somebody on Twitter did the same and got a very quick reply: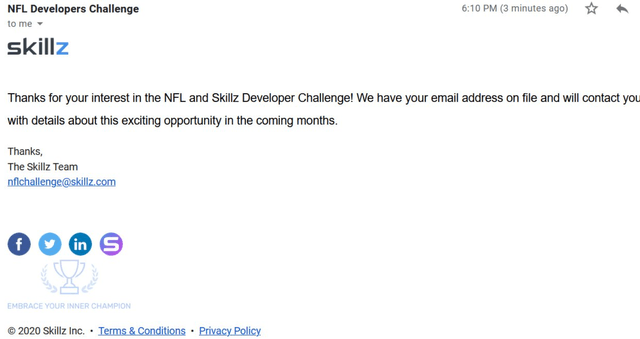 If a bouncing e-mail is a reason to short a stock, then you are desperate.
3. The lower number of downloads
Third-party app data shows installations of the three games responsible for 88% of SKLZ's revenues all declined substantially in Q4 2020. Q1 2021 is in full free fall showing us that Jan and Feb 2021 YOY are +2% and -20% respectively: To meet its projected 61.4% YoY growth in 1Q21 after such poor numbers in January and February, SKLZ would need 3.6 million downloads in March alone.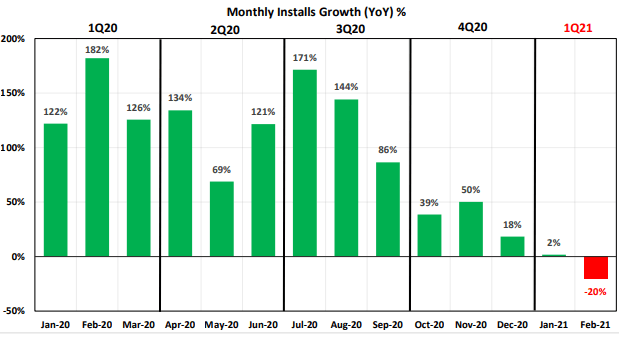 (Source)
Now, this looks probably a bit scarier. But there are a few things to know here.
The first is that this is just from 3 games of the hundreds that Skillz has on its platform. Skillz has made these games big over the last year. They came from a very small basis. Then growth seems higher, of course.
Secondly, Skillz has said that it wanted to promote other games to go viral, one after another. So, just three games may not be representative.
Thirdly, you should know that normally, Skillz focusses all of its marketing on the first quarter. That's why you see in the other quarters often lower user growth. The company does this in this way after extensive testing and data analytics and concluded that Q1 made the most sense to promote the games. The other quarters take care of themselves, as you see. The growth numbers last year's Q1 were very strong.
I'm not sure of this, but maybe this year, Skillz has not promoted their games in January and February. On March 1, Google changed its Play Store policy and that could have launched Skillz on Android. The report claims now that this won't be allowed. It's about the only thing that I saw in the whole report that I hope to hear more about on the conference call Wednesday.
Nevertheless, Android downloads, with a work-around, grew twice as fast as on iOS. You have a Skillz app on Android but you have to download the games from a site because Google didn't/doesn't allow the Skillz model of making money.
4. Cashing out
The accusation of insiders cashing out always sounds good, of course, and yep, Wolfpack pushed that button too:
Skillz's former shareholders took as much cash off the table as soon as possible in the SPAC deal.
But if cashing out was the reason for becoming a public company, why would the insiders commit to a 24-month lock-up period, much longer than the normal 6 months? And insiders really didn't sell much, no single one sold more than 1.83%: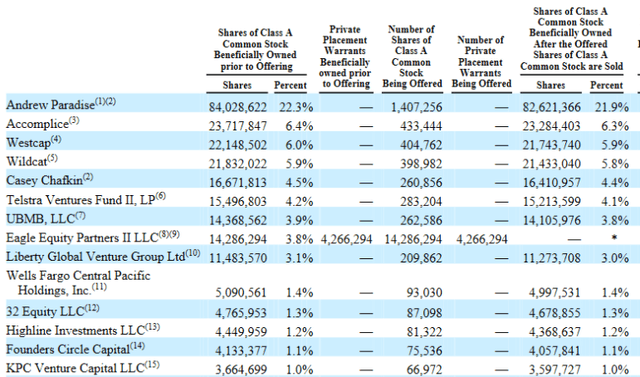 (Source)
As you can see, founder and CEO Andrew Paradise still has 21.9% of the company and Casey Chafkin, co-founder and CRO still owns 5.9%. I know a ton of executives and other insiders who cash out dozens of times more.
5. Andrew Paradise is a bad CEO
This is what Wolfpack says:
We've rarely experienced so many interviews with former employees who universally share such a negative opinion of their company's CEO as we did with SKLZ and Andrew Paradise."
First, there is no way to control if they really have spoken with former employees, with how many, how they have recruited them etc. If you look up who Andrew Paradise is, you find that he's demanding, as most great CEOs are, but the Glassdoor ratings are really good:

(Source)
A ton of great CEOs were not seen as great people. Steve Jobs and Jeff Bezos got their share of criticism about their personality too.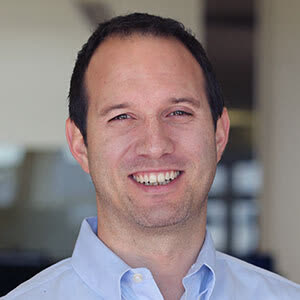 (Andrew Paradise, from the company's website)
6. The attack of Andrew Paradise as an entrepreneur
Wolfpack then attacks CEO Andrew Paradise personally, claiming he is not a successful entrepreneur.
CEO Andrew Paradise loves to describe himself as a serial entrepreneur, often touting the two businesses he has previously sold – let's take a closer look at that:

While we have to give him credit for selling AisleBuyer to Intuit for $20 million in 2012,14 the only other business we could find Mr. Paradise claim to have sold was "Photrade." However, we wouldn't consider his sale of Photrade to MPA, Inc. (who went bankrupt 2 years later) for $3,829 in warrants, or the price of a used treadmill sitting in a basement, enough to qualify him as a "serial entrepreneur."
The reason why Andrew Paradise got such a low price for his first company is exactly that MPA went bankrupt and that is not a single-day event but unrolls over time. The warrants had become almost worthless. This has happened to a lot of people; Jeff Lawson of Twilio (TWLO) had it too after he sold his first company. He lost everything because the company went bankrupt, so not even $3829. Again, a lot of insinuation but little substance. And the fact that Intuit (INTU) bought AisleBuyer for $20M and hired Andrew Paradise also speaks volumes. And again, it's a very weak argument against Skillz.
7. Unattainable goals
Wolfpack Research says that Skillz will never be able to reach its goals and names an ex-employee, Eric Cooper:
SKLZ recently settled a lawsuit with Eric Cooper, Skillz's former Head of Finance and Administration, who claimed he was fired for not going along with CEO Andrew Paradise's unattainably aggressive financial projections.
(Source)
Sounds scary, right, that Andrew Paradise has "unattainably aggressive financial projections"? Unless you know, of course, that Cooper was fired in 2015 and the case was settled in 2016.
That's typical shorters' talk. They know 'recently settled' sounds scarier than 'settled 5 years ago'. Wolfpack also conveniently leaves out the fact that these aggressive financial goals have been attained. Skillz was named America's fastest-growing company in 2017: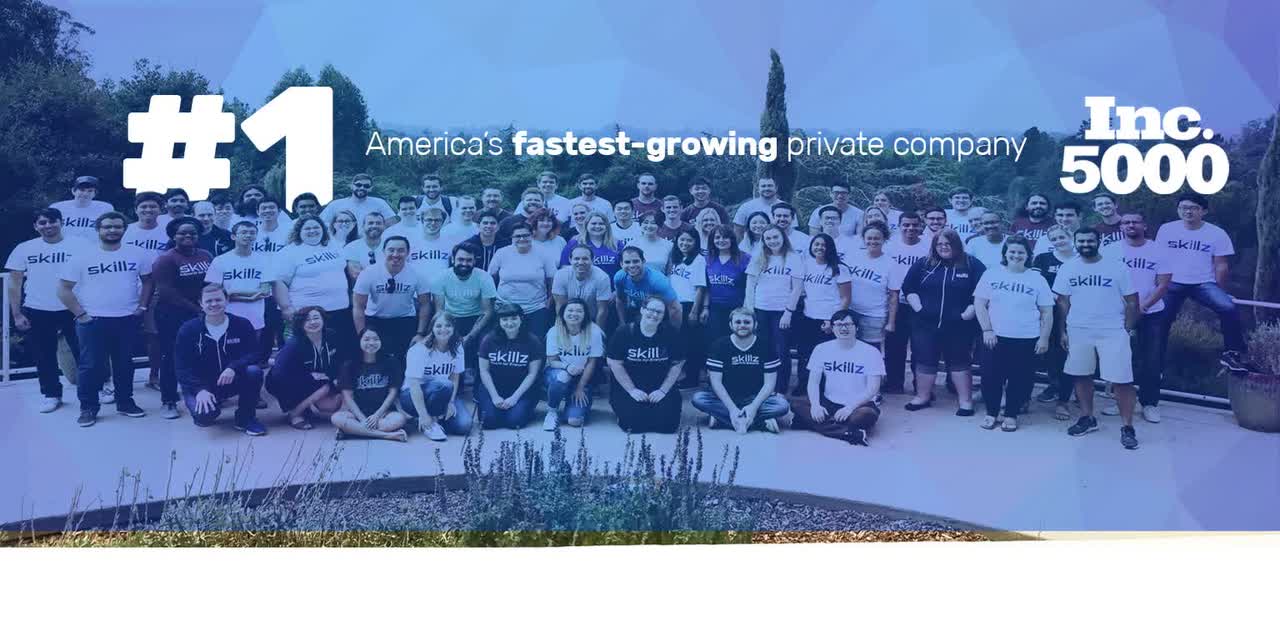 Over the previous 3 years, Skillz had reached an incredible 50,000% (!) revenue growth. I can imagine that looks like an unattainably aggressive financial projection but in hindsight, it looks like an incredible achievement.
Conclusion
All in all, this is a very weak short report. I am used to reading short reports and they can sometimes really challenge your investment thesis sometimes, especially if they are well-written. But this one doesn't bother me. I see a lot of false information and vague insinuations.
I even have the feeling of 'Is this all you could come up with? Then this company is doing great.'
Let's stick to the facts and concentrate on the earnings Wednesday.
In the meantime, keep growing!
Potential Multibaggers focuses on finding multibaggers early on to have life-changing returns.
These are some of the picks: Shopify at $77.36, Livongo at $24.86, The Trade Desk at $195.90, Okta at $64.55, Sea at $54.39, Cloudflare at $39.08 etc. A huge majority of the picks beat the index, most by triple digits. I am invested in all my picks, so I have skin in the game, just like you. 
At Potential Multibaggers, you get deep research, constant updates, weekly overviews, live portfolios, watchlists, a great community and much more. 
Feel free to start the 2-week free trial now!
Analyst's Disclosure: I am/we are long SKLZ, SHOP, TWLO.
Seeking Alpha's Disclosure: Past performance is no guarantee of future results. No recommendation or advice is being given as to whether any investment is suitable for a particular investor. Any views or opinions expressed above may not reflect those of Seeking Alpha as a whole. Seeking Alpha is not a licensed securities dealer, broker or US investment adviser or investment bank. Our analysts are third party authors that include both professional investors and individual investors who may not be licensed or certified by any institute or regulatory body.