Since a few articles (i.e. this one) mentioned the correlation between asset performance (particularly VXX) and fund flow change, and the easiest way to track the money flows is by looking at the number of shares outstanding, I started tracking XIV price and VXX / XIV shares outstanding since June 2011 till now. Below is the lately updated chart and it is indeed worth a second look.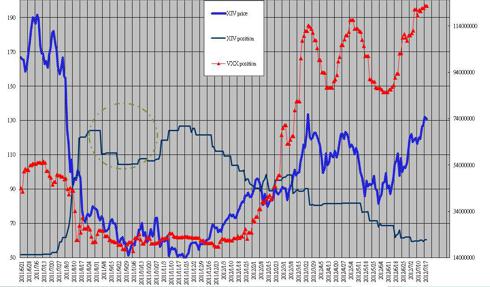 (NYSE:A) If we multiply shares outstanding with price, it shows the market cap of VXX barely changed between last December and now. The VXX price fell from 46 to 12, and shares outstanding increase from 30 million to 114 million accordingly.
(NYSE:B) Excluding the "Extremely volatile" period between Aug. to Nov. 2011, the shares outstanding change of VXX demonstrates positively correlation with XIV price. Once further data been collected, I could implement statistic analysis and discuss whether it is an indicator for market timing.
Any comment / idea for the chart is welcome.
Disclosure: I am long XIV.