By Chris Diodato
It's Friday, and the end of another exciting week of trading is upon us. Looking through my stock screeners, I found that Western Union (NYSE:WU), looked ready to break out to the up side.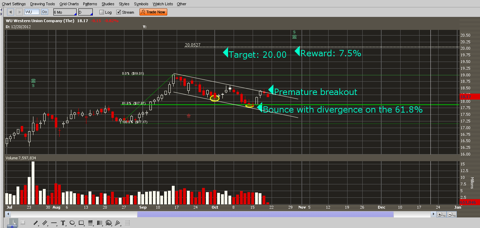 Now this is a short-term trade, as I expect the broad market to top very soon, and with that, most stocks. We are looking for a quick 7.5% gain to walk away with. Take a look at this video for the analysis and the strategy.
Happy trading!
~Chris Diodato
Disclosure: I have no positions in any stocks mentioned, and no plans to initiate any positions within the next 72 hours.