​By Chris Diodato
"A stock is never too high to go higher, nor too low to go lower." That's a quote from one of my favorite books, ​Reminiscences of a Stock Operator, ​ as the main character was explaining his reasoning for buying stocks as they reach new highs. This will be one of those "buy high, sell higher" type of trades.
EOG resources has been a market leader in the energy sector as of late. Below is a ratio chart of the energy sector ETF, (NYSEARCA:XLE), divided by price of (NYSE:EOG). These "ratio charts" are used for comparing two stocks, and give an easy to read visual representation of which stock is outperforming.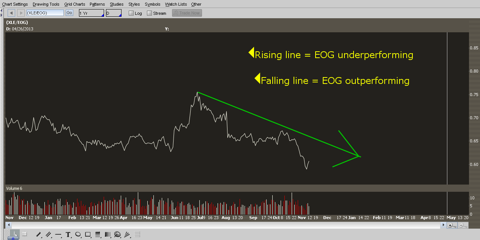 As you can see, the line is clearly declining, which means that EOG is outperforming. This trend actually started in October of 2011, when EOG mustered enough strength to become a market leader.
So what's the trade Chris? Take a look at this video to find out! Included are more technical signals, the risk management plan, and the target!
Happy trading!
~Chris Diodato
Disclosure: I have no positions in any stocks mentioned, but may initiate a long position in EOG over the next 72 hours.