By Christopher Diodato
August 8, 2011
May 17, 2012
November 15, 2012
What's in common with these dates? These are all of the dates during the past two years that the market has reached the formal definition of "oversold" as explained by J. Welles Wilder. That is, the market has crossed below the "30″ level on the Relative Strength Index. In the past four years, shortly after the market reaches this point, the market had made a lower, panic low, then reversed back up. Especially with the bullish hammer formation we saw on Friday, I believe that a market bottom may be in the near future. The hammer occurred on very high volume especially in inflationary issues, such as energy stocks. Therefore, I would not be surprised if energy stocks emerged as a market leader in the next rally.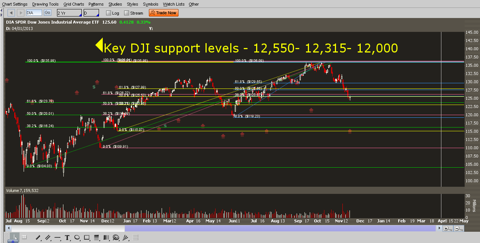 Check out the video here for the RSI and candlestick analysis. Also included (in the above picture too) are the new support levels for the Dow Jones Industrial Average.
Happy trading!
~Chris Diodato
Disclosure: I have no positions in any stocks mentioned, and no plans to initiate any positions within the next 72 hours.