By Christopher Diodato
Since the start of September, gold has been floundering around in a well-defined trading range between about 1610-1750, not really deciding to trend in either direction since. Since that time, however, the gold market has been consolidating into a price pattern that allows us to project intermediate-term targets. The pattern I see is a descending triangle.
There are two targets on this chart. The bull target would be activated once the price breaks above $168.50, corresponding to $1685 for the actual spot price of gold. The bear target is activated once $161 is broken, and confirmed as a strong sell signal once $159.50 is broken.
Which direction do I see price breaking out? Well, it's looking bullish in the very short term. First off, today's price action represented a "bullish engulfing" candle pattern. After these patterns occur, there is, at least, some follow through with a short term price rise.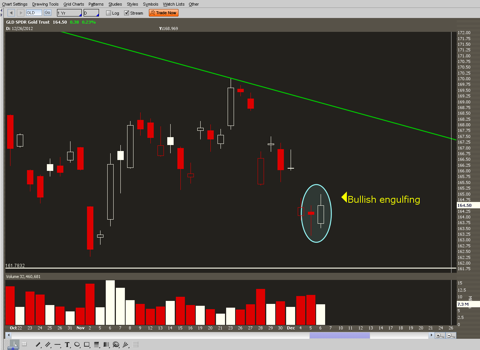 Other momentum indicators show minor divergences in price, which usually precede a price rise. Still, that price rise might not be sufficient to trigger a breakout. What I would like to see is an advance on high volume, such as the volumes seen in the August-September rally when gold rose over $250 in one month Average daily volumes on both rallies and declines is current about half the Aug.-Sept. levels. Once that buying interest comes back, it's time to catch the gold bug again.
Happy trading!
Disclosure: I have no positions in any stocks mentioned, and no plans to initiate any positions within the next 72 hours.