By Christopher Diodato – TradersBase.com
A while ago, I was suggesting Starwood Hotels & Resorts (HOT) as an attractive stock to short.  I was expecting a symmetrical triangle breakdown through a support level.  Once the level was broken, short positions would be taken.  This is, at first, what I saw.

From the looks of it, on may 16, there was a downward breakout.  However, in the last two days, this pattern failed completely and broke out to the upside with monster volume.  What happened?
Take a look at this chart, and notice the new, green line that I inserted which trails underneath the current price.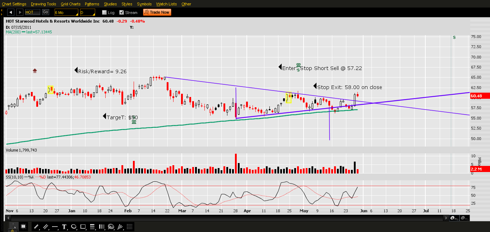 What is that line? The 200 day moving average.  The 200 day MA is widely recognized by the investment community as a moving trendline which gives traders an idea of which way the market is going.  In addition, a popular, low- risk, trading strategy among professionals and trend traders is to buy when the price touches the 200 day MA from above.  In essence, the MA can act as a potent support level.
A MA can not only be a support level, but also a resistance level, depending on if the price is above or below the MA.  The more used a MA is by the trading community, the more likely it is to become a significant support or resistance level.  Some of the most used MA lengths by the trading community are the 20, 50, and the 200 day.
So in HOT, I admit, I should have remembered to look at the MA before my initial post.  If I would have, I would have only recommended the trade if it broke beneath the average. I usually dislike using them to trade, but it would be a mistake to brush aside their importance in the markets.
Happy trading!
~Christopher Diodato
Disclosure:
I have no positions in any stocks mentioned, and no plans to initiate any positions within the next 72 hours.